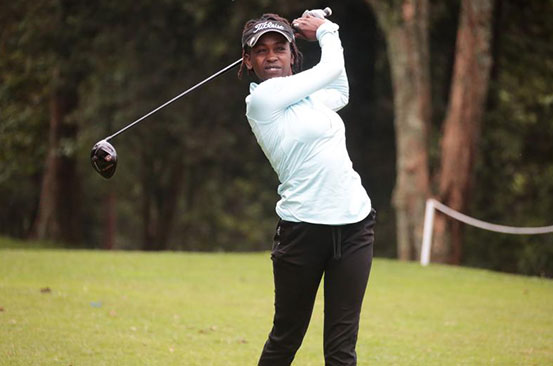 Naomi Wafula talks about the skills she has gained from golf and how these come in handy as she weathers life through the tough times
She is a woman on a mission. She wants to be the best golfer there ever was – at least in Kenya. And if recent news reports are anything to go by she is well on track to achieve that dream.
Just last week, the young woman made history by becoming the first lady golfer to play all four rounds at the Safari Tour Golf Series.
This tournament has never seen a woman go past the first two rounds. In a sense, Naomi Wafula broke the glass ceiling.
"I am happy that I made the cut and managed to play in the last two rounds. My performance was strong in the first two rounds and thus the progression.
Elusive for women
"I did not perform as well in the last two rounds. But still I am really happy that I was able to achieve that which has been elusive for many women in a long time," she says.
READ MORE
But this latest performance was no fluke. Wafula has been training all her life for this and more. She was only six when she first played golf.
"My aunty, Rose Naliaka, was probably the best golfer of her time. I would tag along with her whenever she went to play and practice. From her I learnt the sport. It is certainly because of her that I am playing golf today," Wafula says.
Naliaka – Wafula's aunt – is indeed a Kenyan great. She would arguably qualify as the most decorated female golfer in Kenya.
Naliaka too made history as the first professional female golfer from Kenya and has represented the country at numerous global events.
She is also the founder of Rose Naliaka Foundation which runs a golf academy for young girls – especially the underprivileged.
"She is actually more of a mother to me than an aunt," Wafula says. "She has mentored me and grown the sport in me."
But the decision to stick with golf was entirely Wafula's. At Makini School, where she studied, students were encouraged to explore sports.
She says: "Exploring sports was encouraged and our teachers were quite supportive of students who showed greater interest in the pitch."
Wafula participated in many games. She won medals swimming, playing basketball, volleyball and athletics.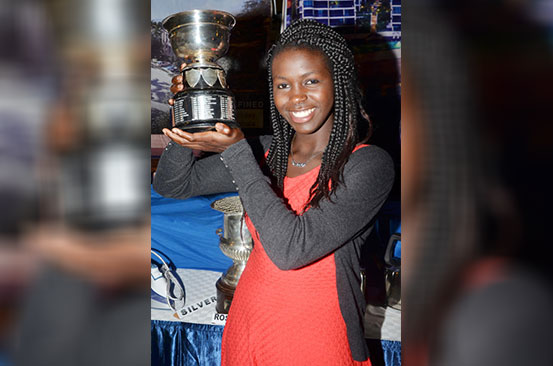 Tiny ball, big dreams
"I was really an all-rounder," she says. She had plenty of options therefore. But the tiny golf ball had already captured her in its gravity.
Wafula eventually decided to focus her energy on golf. She got so good at it that her golfing exploits earned her a partial high school scholarship that saw her continue her studies with much ease.
Among her achievements thus far is being named in the national team to represent Kenya in 2010 when she was just 12 years old.
In 2011, aged 13, she won Sport Personality of the Year (SOYA) Awards as the most promising sportswoman of the year.
In 2012, aged 14, she travelled to Botswana to play in the Junior All Africa Challenge Trophy and she came back home with the trophy.
She has performed well and won a few other golf tourneys in between. And this year, in February, she played at the Sigona Ladies open.
It was, therefore, no surprise to those who know her when she became the first (and the only woman) to ever go past the first two rounds at the Safari Tours Gold series last month.
Golf has seen her explore the world: having played in the United States of America, Scotland, Botswana, Zambia, and Zimbabwe.
Love for sports
No one can predict the future but this much can be said about Wafula and golf: her love for the sport comes almost naturally.
The reason could perhaps be the fact that the sport offers her refuge – a safe place where she can escape the vagaries of life.
"When I am playing I feel relaxed. I feel free from stress. I feel a certain sense of sanity," she says.
Off the pitch, the skills she has gained from golf – responsibility, honesty, focus, discipline, etiquette, ambition, endurance and persistence – come in handy as she weathers relationships.
"Golf arms you with skills to deal with a bad breakup. It prepares you for the tough times," she says.
Wafula currently works as an agent at a sports betting company. That same company sponsors her matches.
"The gadgets for playing the sport are very expensive," she says. "I have a set of 14 clubs and they cost more than Sh100, 000."
Golf has some affluence to it. Wafula says she is an exception because despite coming from an average household she has been able to hold onto the sport.
She hopes to play golf professionally and make it a fulltime job someday. "Specifically, I want to earn a living playing golf and running a business."