Home
/
Achieving Woman
Kenyans unimpressed by gender ministry's support for Anne Waiguru after impeachment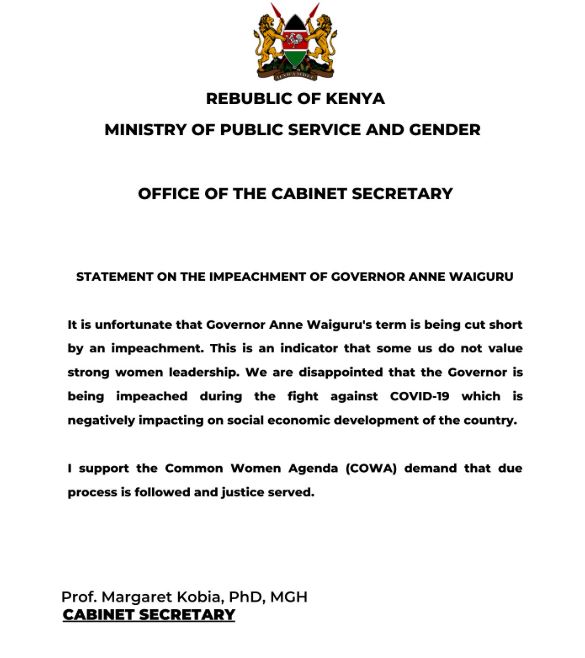 A section of Kenyans are not impressed by a statement by the Ministry of public service and gender on the impeachment of Governor Anne Waiguru.
Following the impeachment of the governor on 9 June 2020, the ministry through CS Prof Margaret Kobia released a statement registering disappointment in the impeachment and said that the move was an indicator that some people do not value strong women leadership. She went on to note that the move especially during this Covid-19 period is negatively impacting social economic development of the country.
The statement has been met with strong reactions as some Kenyans accuse the ministry of playing the gender card. Others pointed out the inconsistency in support as the same ministry failed to speak up when Senator Susan Kihika was recently ousted as the Senate Majority Whip.
In fact the Kihika herself tweeted asking whether a similar letter for her and Cecily Mbarire from the ministry after their ouster.
Wondering if a similar letter from @CSMargaretKobia 4 @CecilyMbarire & I got lost in the mail? Could the Ministry of Gender not be aware that we are women too? Cess, perhaps it's time for you & I to send Kobia our naked pics then she might stand up for us against the bully too ???? pic.twitter.com/NwglthfT51
— Sen. Susan Kihika (@susankihika)
June 10, 2020
Kipchumba Murkomen, Elgeyo Marakwet senator, also weighed in on the issue.
@susankihika and @CecilyMbarire Kenyans want to know who you really are. In actual fact are you women or you have been fooling us all along? CS Kobia you don't have to do everything to keep your job. Learn something from strong women like Susan and Cecily. He is misusing you https://t.co/eonqqVHTmV
— KIPCHUMBA MURKOMEN, E.G.H (@kipmurkomen)
June 10, 2020
When Waititu was impeached, did you hear men defending defending him? But now because it is Waiguru, CS Kobia and her Ministry are here ranting to us. Didn't you see what happened Cecily Mbarire and Susan Kihika? This is why I've always been skeptical about women leadership. pic.twitter.com/FTtqHS9Ptq
— ReporteRobertMwangi (@robertmwangi254)
June 10, 2020
Professor Kobia Played some gender card about what happened in Kirinyaga yesterday whereby Anne Waiguru was impeached on the grounds of misuse of office and public funds. Many people are asking CS Kobia where was she when Susan Kihika was ousted only to defend Waiguru now pic.twitter.com/XVTAE0OhRG
— Global Voice ???? (@larrykipz)
June 10, 2020
Dear Kenyans, Isn't the constitution clear on the political neutrality of appointed public officials? This is a breach of the Leadership and Integrity Act. Why is CS Kobia supporting a politician who is undergoing a constitution impeachment process? @gathara https://t.co/kL41Z58xXQ
— Kelly G. Gitahi (@KellyGitahi)
June 10, 2020
Was Eviction of people in both kariobangi and Ruai during this economic hard time and covid-19 pandemic justified or rather necessary. Let Cs kobia define leadership
— Robert (@barohghechoz)
June 10, 2020
Waiguru has been impeached on fair grounds. CS Kobia and the rest should not play the gender card in matters of public service. It is in the best interest of the people of Kirinyaga and the country at large
— Mulamwah (@MulamwahKe)
June 10, 2020
Related Topics