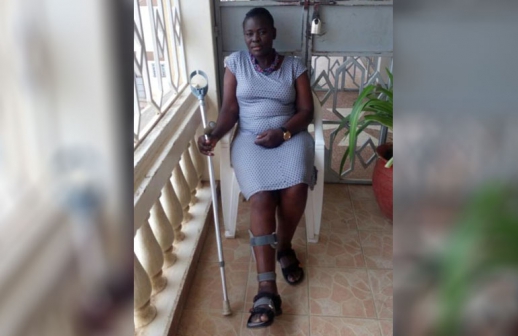 After the birth of her second-born Millicent Achieng' Audi developed a temporary paralysis in her hands and legs, which doctors later diagnosed as a disease of the joints. For a while, she was almost completely immobile but is now on the road to recovery.
I am 43 years old and a mother of two. In the year 2000, I was having my second child. I was then working at a hotel in Jamhuri Park and my husband and I were undergoing some financial challenges. Because of this, I opted to have my baby at Pumwani instead of at Emmaus Clinic in Umoja where I was attending antenatal clinic. It had not been a difficult pregnancy so I expected an easy delivery.
I gave birth to my daughter Edwina Achieng'. She weighed 3.5kg. Unfortunately, my hands and legs became temporary paralysed. The nurses encouraged me to be hopeful saying that the paralysis was probably as a result of pushing out the baby and would pass. It didn't. I moved from one hospital to another seeking an answer.
I regained use of my hands but my legs from hip down remained immobile. I was admitted to Kenyatta National Hospital (KNH) where I was diagnosed with a pathological fracture, that is, a fracture that comes about for no reason at all. Marie Stopes Eastleigh admitted me to determine if the problem could be gynaecological. After three days the doctor told me that I needed to see an orthopaedic specialist.
Before this, I had been taking care of two of my younger siblings. Because my children were still young and my husband was unable to take care of me, my parents took us home. My mother feared for my life. She would take me to Siaya District Hospital for treatment and to herbalists for massages. After two years, my husband came and took us back.
He believed he was now able to take care of us, but this was not to be. I left again with my children and went to Nairobi. I was taken care of by my relatives, and I survived by doing small jobs. I got a job in a hotel and moved with my daughter to Kiambio slums. The pain in my hips was intense and at some point I resorted to using ceregem therapy, which is a Korean-made machine that somewhat reduced the pain. After a while the hotel was closed and I was without income.
I moved back to my marital home in Ahero in 2012. I was then unaccustomed to rural life, but managed somehow. I was mostly alone as my children were away in school and my husband in the city. I would get someone to clean the house whenever I had money and would send a boda boda driver for food at the market, which is basically how I still survive.
READ MORE
When my children were home, they would help. And then in December 2014, some doctors from India were holding a medical camp at Kisumu District Hospital. They diagnosed me with severe osteoarthritis. Both hips were badly affected and needed replacement.
I sought medical assistance at Kijabe but the cost of operating on just one hip was too high. In February this year, Dr. Otsyeno operated on me at Nazereth Hospital at a slightly more manageable fee. My leg has since been numb. I go for therapy at Rusia Provincial Hospital and they say that my nerves may have been affected and will take time to heal. Therapy involves nerve stimulation and exercise. My left hip still needs to be replaced. I am grateful that I can now move with one crutch but I am not able to squat or bend beyond a certain level.