Home
/
Reproductive Health
No more shame for girls during periods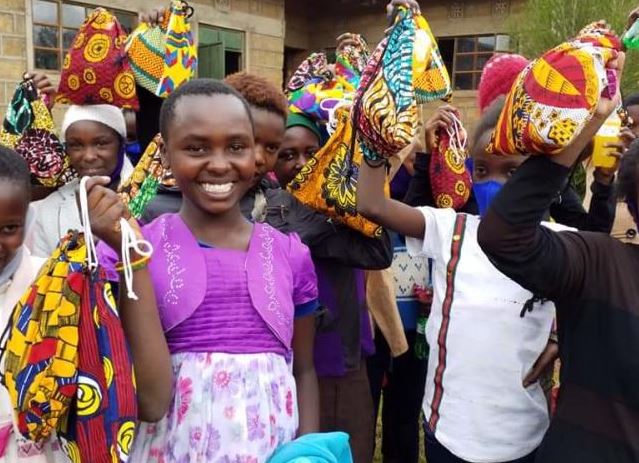 A 16-year-old Form Two student at Nyahururu Girls has been locking herself inside a dormitory during her menstruation to avoid shame and discrimination that comes with the cycle.
The experience left Nancy (not her real name) distraught, affecting her academic performance and social life.
Nancy, who lives in Pipeline Estate in Nakuru town, would also not play with her colleagues as she did not have sanitary towels to use.
Her mother, who does casual jobs like washing clothes to make a living, could not raise money to purchase sanitary towels for her.
Nancy is among teenage girls undergoing menstrual and reproductive health education coordinated by Nakuru County's department of health and health partners aimed at boosting their self-esteem during menstruation.
At least 35,000 teenage girls and 15,000 boys are being sensitised on menstrual health to prevent discriminatory social norms.
The teenagers have been mobilised from the counties of Nakuru, Bomet and Laikipia in a campaign dubbed "Red Line Campaign".
Nancy is a beneficiary of reusable sanitary towels.
"Lacking sanitary towels can be tormenting for girls. Imagine locking yourself in the dormitory for fear of being shamed for soiling your clothes," said the teenager.
She told The Standard that at times, she would fake sickness to be allowed to stay in the sickbay, where she could easily take care of herself.
"Many girls have gone through terrible bullying ordeals due to lack of sanitary towels. I am hopeful that the education will help avert such problems," she said.
Sixteen-year-old Brenda from Bahati Sub-county in Nakuru County has been reluctant to share information about menstruation with her mother due to shame.
Discrimination
At times, she would lie that she was sick so as not to report to school where she says she would be discriminated against by her fellow students.
She said she was reluctant to tell her mother about her situation because she struggles financially.
Days for Girls Organisation is among the organisations spearheading menstrual health amid the Covid-19 pandemic.
Alice Wambui, the coordinator, said shame as a result of menstruation was an impediment to achieving girl-child empowerment in the country.
Under the "Red Line Campaign", teenagers are trained on menstrual health hygiene and reproductive health.
"Most girls have low self-esteem during menstruation, but through the training, we encourage them to be at ease as we show them how to handle themselves to prevent being victims of discrimination," said Wambui.
Needy girls are given re-usable sanitary towels with a lifespan of four years. Raw materials for making the sanitary towels are sourced locally.
Wambui said the campaign began last year after a 13-year-old girl was reported to have committed suicide in Bomet County for being shamed during her menstrual cycle. She said the training had helped a number of girls improve their school grades.
Nakuru County Chief Nursing Officer Virginia Njenga said community health volunteers were being used to reach out to teenage girls and boys.
Initially, health officials would partner with the department of education to conduct menstrual hygiene education in schools, but the initiative was halted with the Covid-19 pandemic.
Related Topics