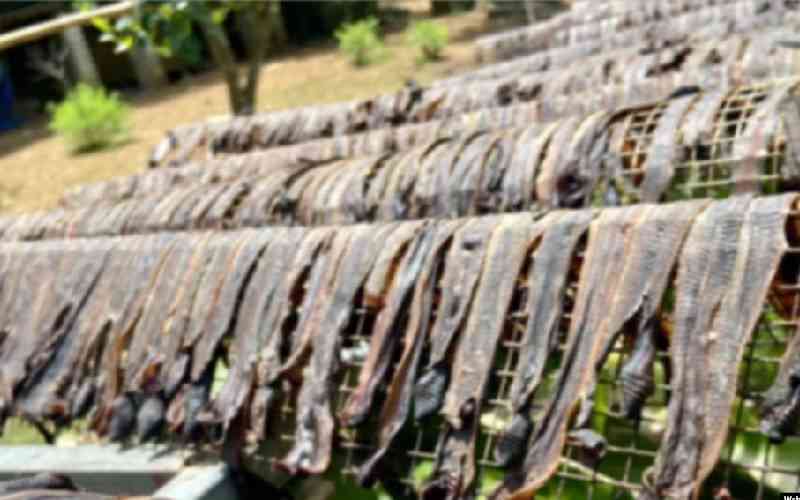 Practioners of traditional Chinese medicine use earthworms dried to a powder or distilled in liquid to treat fevers, arthritis, asthma and bronchitis. But overharvesting in China has nearly wiped out the country's earthworm population.
Now, hunters are poaching and purchasing earthworms unearthed in Vietnam, upsetting Vietnamese farmers who depend on them to keep their fields fertile and environment balanced.
The earthworm rush has plagued Vietnam's northern provinces, as poachers, driven by bounty offered by Chinese merchants, trespass private fields or fruit orchards to catch the invertebrate, the online VnExpress news outlet reported. Most of the hunters are Vietnamese, eager to cash in on the Chinese demand.
The rush is yet another marker in the sometimes fraught, centuries-long relationship between China and Vietnam, its largest trading partner. The two nations have long been locked in a territorial dispute over islands, fishing grounds, and drilling rights for oil and gas in the South China Sea.
Now, orange farmers in Hoa Binh province are on 24-hour alert to stop earthworm poachers, according to a VTC News report. The farmers have asked the Ministry of Agriculture and Rural Development to help. VOA Vietnamese contacted the ministry but received no response.
Catching earthworms is "easy money" for poachers, Vietnamnet newspaper reported, with each kilogram of wet earthworms fetching between $3 to $3.30. Some poachers can capture up to 100 to 120 kilograms of earthworms per night, earning hundreds of dollars, according to Vietnamnet.
Using a battery-powered device, the hunters use electric pulses to flush the earthworms above ground. They then gut and dry the earthworms before selling them to Chinese merchants, Vietnamnet said.
The practice has led to an "extinction-level ecological disaster" in China, where poachers now face a crackdown that has sent them to Vietnam.
"Dilong have been overfished in China, so Chinese merchants have to look to Vietnam," Vo Tong Xuan, an agronomist who is also president of Nam Can Tho University, told VOA Vietnamese in a phone interview, referring to the Chinese name for the earthworm, which means "earth dragon."
Biologist Nguyen Lan Hung, a professor at the Hanoi National University of Education and chief of the Vietnam Association of Biological Sciences, pointed to the earthworm's utility in traditional medicine to explain why they are valued.
"During the anti-French independence war, our soldiers used to eat earthworms to treat malaria. Now, they are sourced to make cardiovascular or neurologic drugs," Hung told VOA by phone.
Both Xuan and Hung warned that earthworm electrocutions damage soil quality, crops and the overall ecosystem. Xuan emphasized the earthworm's role in keeping soil loose, porous and ultimately fertile.
"With earthworms absent, soil becomes so compacted [that] roots find it hard to absorb water," Xuan said. "Crop yields deteriorate over time, while poorer water retention may result in inundation."
He added that the electric current also destroys microorganisms essential for tree growth.
Hung hailed the earthworm as the "natural plowman" and warned that the electrocutions will eventually lead to their obliteration. Although earthworm eggs are abundant, their hatchings cannot keep up with the rate of electrocution harvesting, he said.
While the Vietnamese cannot ban the traders, Xuan said farmers should resist the temptation of profiting from Chinese market demand.
He would like Vietnam to criminalize the gathering of earthworms with electricity. For now, detained poachers are released after authorities confiscate their devices and catches, according to VTC News. Those detained must also pledge to not electrocute more earthworms in the future, VTC News said.
Nguyen Quang A, founder of the Hanoi-based Institute of Development Studies and an outspoken government critic, told VOA Vietnamese the earthworm situation "certainly feeds into the anti-China narrative."
"We've seen such incidents happen from time to time in the last couple of decades, one after another," he said.
In the past, Chinese demand for buffalo hooves, leeches, cashew leaves and young areca nuts has caused environmental damage in Vietnam.
Nguyen Quang A said to quell "toxic" anti-Chinese sentiment, the government should initiate talks with China to stop sourcing from Vietnam to meet sudden market demand.
Hung recommended commercial farming of earthworms to prevent poaching, based on Vietnam's experience with raising compost worms for use as livestock feed.
Related Topics