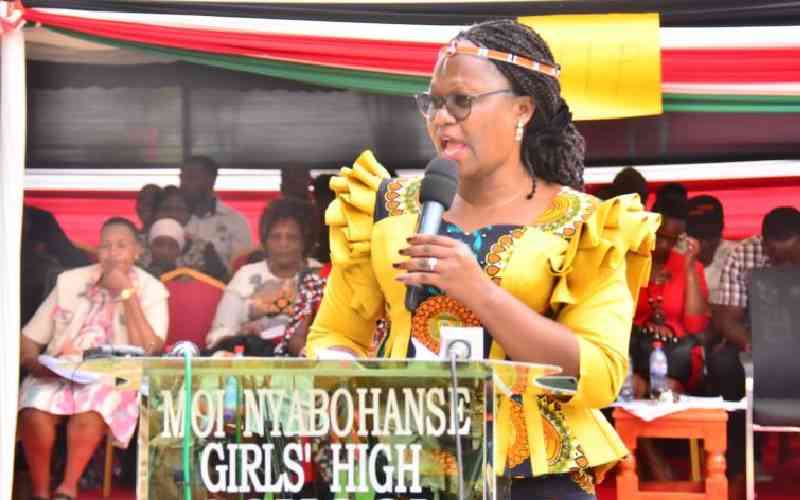 Seven First Ladies drawn from counties practising Female Genital Mutilation (FGM) have joined hands in the fight against the vice as they had the Kuria community sign a document which will help end the retrogressive cultural practice in Migori.
The seven First Ladies, who include, Alamitu Guyo Jattani (Marsabit), Sabina Mwadime (Taita Taveta), Scovia Chebet (West Pokot), Agnes Ntutu (Narok), Edna Lenku (Kajiado), Emily Nyaribo (Nyamira) and Agnes Ayacko (Migori), said it was through community engagement that the vice could be ended.
"We have realized that we have to work as a community to eliminate this practice. The Kuria community has agreed that this practice is going to be ended. We had them sign a document that will help end the practice," Ms Ayacko said.
Ms Ayacko said that through a four-day activity where they engaged 200 girls, parents and elders from the four clans of the Kuria community at Moi Nyabohanse Girls High School in a program dubbed Kambi la Wasichana, they realized that a lot of time and money had been spent on FGM.
According to the Migori First Lady, it appeared that some people had turned FGM into a business.
The First Ladies called on their communities to embrace good cultural practices and abandon harmful ones like FGM.
According to the first ladies, some people were hiding behind culture in order to perform vices.
"The biggest hindrance is culture. For us is firming up and saying we have good cultures that we can hold," Ms Jattani said, adding that they will promote good culture but reject FGM.
The First Ladies are hopeful that by 2030, they will be able to end the practice.
West Pokot First Lady Scovia Chebet called on men to embrace and marry girls who have not been cut as part of ways of ending the vice.
Starting businesses for women who cut girls during FGM seasons instead of them being punished was part of the resolutions the First Ladies had.
Additionally, the First Ladies said that girls from the communities practising FGM needed to be employed or empowered to open businesses after they finished school.
Ms Ayacko said Kuria East MP Mathias Robi promised that funds would be issued to have women cutting girls abandon the practice and start business at the beginning of next year.
The Kambi la Wasichana initiative which is expected to be a continuous program in ending FGM in Migori County was initiated owing to the high statistics of FGM, gender-based violence and lack of knowledge on the harmful practices.
According to Kenya Demographic Health Survey 2022, 34 per cent of women in Kenya have experienced physical violence with Migori having a high figure of 51.1 per cent.
The FGM prevalence rate has since reduced from 78 per cent to 60 per cent, a number considered high compared to other counties.
The report indicated that the prevalence of FGM in the country was recorded to have reduced from 21 per cent in 2014 to 15 per cent in 2022.
According to KHDS, the prevalence of FGM increased with age where at least one out of 10 girls aged between 15 to 19 years were found to be cut whereas four out of 10 women above 45 years were cut.
Related Topics