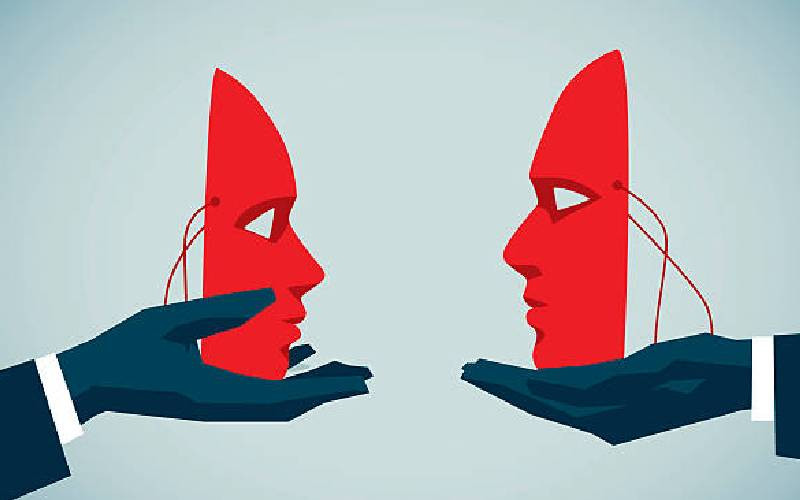 A new study by the government has laid bare the country's health, social and nutrition status.
The newly published 2022 Kenya Demographic and Health Survey shows Kenya is making good progress on most globally recognised measures of health care quality and economic and social indicators.
It however remains behind in stemming pervasive vices like teenage pregnancy and female genital mutilation which continue to plague most parts of the country.
The report, released on Tuesday by the Kenya National Bureau of Statistics (KNBS) director general Mcdonald Obudho, is the seventh KDHS survey implemented in the country.
Kenya National Bureau of Statistics (KNBS) in collaboration with the Ministry of Health (MoH) and other stakeholders implemented the survey.
"The report provides a comprehensive and detailed picture of the health status of the Kenyan population," said Dr Stephen Jackson, United Nations Resident Coordinator to Kenya.
Though the number of Kenyan teenagers having babies has dropped over the past few years, the survey finds regional clusters with strikingly high teen birth rates, raising alarm among State officials and experts.
The report says Samburu (at 50 per cent), West Pokot (36 per cent), and Marsabit (29 per cent) lead the country in the raging teenage pregnancy crisis.
The survey polled Kenyans around the country last year between February and July. It shows 15 in 100 Kenyan teenagers have had babies in their lifetime, compounding the crisis of teen mothers.
The findings of the survey aim to provide the government with up-to-date estimates of demographic, health, and nutrition indicators to guide the planning, implementation, monitoring, and evaluation of population and health-related programs at the national and county levels. About 37,911 Kenyan households were polled in the survey.
The report, for the first time, also paints a portrait of Kenyans' little-known sexual behaviour. It reveals that multiple sexual partners are now common among Kenyan women and men.
According to the report, 20 in 100 Kenyan women say they've carried on more than one sexual relationship at a time during the past year.
Conversely, 30 in 100 Kenyan men equally say they've carried on more than one sexual relationship at a time during the period.
The report says Murang'a and Kericho Counties reported the highest percentage of women who had an addition of two sexual partners in the last 12 months at 11 percent and 6.5 per cent respectively. Other counties that had high percentages were Busia (6.2), Kiambu(5.8), Bungoma (5.5),, Nairobi (4.8) and Kilifi (4.7).
At the same time, the report singles out Muranga (27.7 per cent) and Kericho (27.9 per cent) as having the highest proportion of women who reported they had intercourse in the last 12 months with a person who was neither their husband nor lived with them. Others were Nandi (25),Uasin Gishu (24), Bungoma (23), Nairobi (22), Kiambu (22)Homabay(21), Samburu (21) while Meru, Kirinyaga and Kajiado at 20 per cent.
As regards men, Narok(42) and Migori (28) took the baton as counties with the highest proportion of men with multiple sexual partners. Others with a high percentage were Elgeyo Marakwet (28.5), Embu (25.5), Muranga (22.6) and Mombasa (20.9).
The percentage of men that had intercourse with people that were neither their wives nor those they lived with in the past 12 months was high in Narok (61.9), Elgeyo Marakwet (49), Uasin Gishu (45), West Pokot (44.5), Migori (44.1),Nairobi (43.6),Murang'a (43.3) and Tharaka Nithi (41.3).
All of these behaviors raise the risk of contracting HIV and other sexually transmitted diseases (STDs) with the report classifying the behaviour as high risk.
But a majority of Kenyans are undeterred, the report says. It's not all gloom and doom however as the report also paints a picture of progress in several other social and health outcomes.
According to the survey, for instance, one in four persons in Kenya (26 percent of females and 27 percent of males) have some form of health insurance, underlining access to health care quality.
The State-backed National Hospital Insurance Fund (NHIF) is the most common type of health insurance. The study shows the proportion of persons covered with any health insurance is higher in urban areas (39 per cent among females and 41 per cent among males) than in rural areas (20 per cent among females and 19 per cent among males).
The study also says nearly all Kenyan women (98 per cent) reported receiving antenatal care from a skilled provider for their most recent live birth or stillbirth in the 2-year period before the survey.
At the same time, 73 per cent of women with a live birth in the 2 years preceding the survey received a postnatal check within 2 days after delivery in a boost for efforts to reduce maternal deaths.
Unequal access to health services and poor-quality care for pregnant women has been known to hamper progress in meeting international goals for eradicating deaths during childbirth.
UN member states agreed a year ago to reduce the rate of maternal mortality, defined as a woman's death during pregnancy, childbirth or within 6 weeks after birth, to fewer than 70 per 100,000 live births globally by 2030 as part of the UN Sustainable Development Goals (SDGs).
The report says Kenya is on track with Early Childhood Development.
According to the report, a higher percentage of children in urban (87 per cent) than rural (73 per cent) areas are developmentally on track.
Researchers say more years of early childhood education support may offer kids the best odds of lasting academic and life success.
Kenya is however yet to make good progress in several other indicators. Among the misses include pervasive gender-based violence and vices like female genital mutilation.
The report for instance says more than a third of women in Kenya have experienced physical violence since age 15.
Related Topics