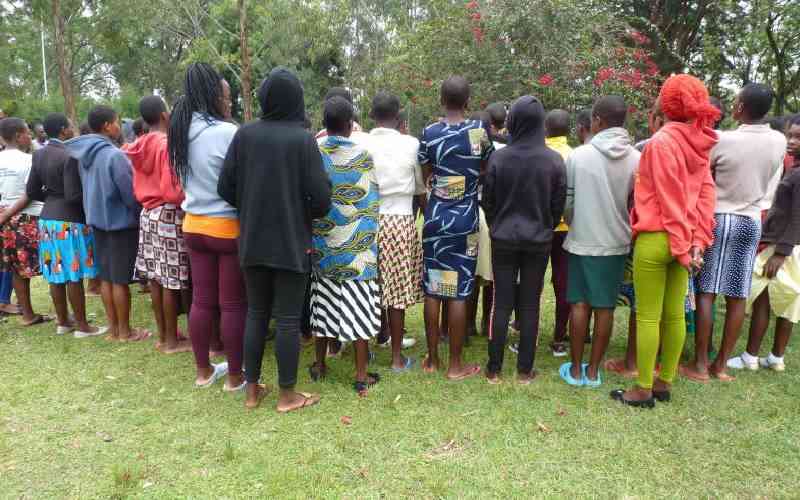 The UN has asked stakeholders in Kenya and the globe to partner with and engage men and boys so as to win the fight against Female Genital Mutilation (FGM).
Failing to engage the male gender has been listed as a major hitch in the fight against the vice which violates the rights of girls and women.
In a joint statement released during the commemoration of the International Day of Zero Tolerance for FGM held on Monday, UNICEF director Catherine Russell, and UNFPA Executive Director Dr Natalia Kanem said engaging the male gender will shift unequal power relations and challenge attitudes and behaviours caused by gender inequality that lead to FGM.
The two global health experts said engaging boys and men in the fight will transform approaches and challenging social norms into anti-FGM programmes.
"Changing gender and social norms that encourage FGM is critical. Men and boys are powerful allies in the effort. Increasingly, they are challenging power dynamics within their families and communities and supporting women and girls as agents of change," Russell and Kanem said.
In Kenya, the commemoration of the day was held in Migori County, under the theme 'Partnership with Men and Boys to transform Social and gender Norms to End FGM.' Russell and Kanem said that FGM violates the rights of women and girls and limits their opportunities for the future in health, education and income.
"We are witnessing significant opposition from men and boys to FGM in any country. In Ethiopia, for example – a country with one of the highest rates of FGM globally – male opposition to the practice is 87 per cent, according to a recent UNICEF analysis," added the statement.
FGM they said is rooted in gender inequality and power imbalances, it is an act of gender-based violence that harms girls' bodies, dims their futures, and endangers their lives.
This year, 4.3 million girls are at risk of female genital mutilation, according to the latest UNFPA estimates.
The cases are projected to reach 4.6 million by 2030, as conflict, climate change, rising poverty and inequality continue to hinder efforts to transform gender and social norms that underpin this harmful practice and disrupt programmes that help protect girls.
In Kenya, the prevalence of FGM stands at 15 per cent, according to the 2022 Kenya Demographic and Health Survey (KHDS), a reduction from 21 per cent in 2014.
According to the report, the prevalence of FGM increase with age, for example, at least one out of 10 women in the age bracket of 15 and 19 years were found to have been cut, as compared to four women out of 10, in those above 45 years.
UNFPA and UNICEF further asked states to invest in national-level policies and legislation which protect the rights of girls and children.
Among policies is the development of a national action plan to end FGM, by 2030.
UNFPA, jointly with UNICEF, leads the largest global programme to accelerate the abandonment of FGM, a programme that currently focuses on 17 African countries and also supports regional and global initiatives.
Ending FGM by 2030 is part of the Sustainable Development Goals (SDG).
Eliminating the practice is a step forward in achieving gender equality and improving health and well-being, safe motherhood, quality education, inclusive societies, and economic growth.
"But we know that change is possible. With just eight years left to reach the global target of eliminating FGM, only collective and well-funded action across a diverse group of stakeholders can end this harmful practice," added the statement.
The UNFPA-UNICEF global Joint Programme on the Elimination of FGM has supported over 3,000 initiatives within the last five years, where men and boys actively advocate to bring an end to the practice.
"Today is a reminder of the urgent need for even more targeted and concerted efforts to turn our shared goal of ending FGM into a reality.
We must work together with all 67 stakeholders – including men and boys – to protect the millions of girls and women at risk and consign this practice to history," Russell and Kanem added.
Marsabit is among the counties that have developed an action plan, in partnership with UNICEF, to end FGM. The plan proposes the creation of an enabling environment to eradicate FGM, which includes setting up paralegal training for women and girls.
It also addresses access to healthcare, training on reporting cases, accessibility of information, and the establishment of more centres to handle cases.
Community leaders from various sectors have also taken up the male ally challenge and are advocating against the vice.
Sheikh Mohammed Nur of Jamia Mosque Marsabit said the mosque involves men, in fighting the vice by training them on negative effects.
"We educate congregates, more so men, on negative health effects of FGM. This is a retrogressive culture that continues to harm our girls," he says.
"Men are decision makers in families. If they are equipped with knowledge, we are likely to end the vice," the Sheikh says.
"FGM is a cultural practice that has no space in Quran. It is wrong for individuals to hide the vice in Islamic religion," he says. "I engage council of elders, who are key when we talk about culture. They are gradually helping fight the vice, which I am optimistic shall end."
"We need to tell our communities that girls should be valued, and not an easy source of income so that people know girls have rights. We need to strengthen structures that help fight FGM," says Jeremy Ledaany, Marsabit County Tourism, Culture, Gender and Social Services Executive.
Related Topics