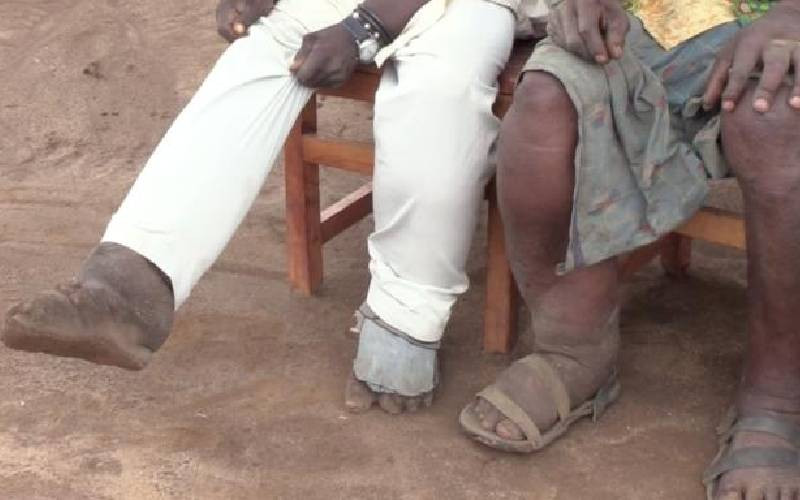 Katana Chengo, a resident of Mbaoni village, Magarini sub-county, Kilifi can't recall his age but for as long as he can remember, he has been suffering from the effects of a disease that is tormenting quite a number of men in his village.
"My condition started in the 1970s. Even after going through surgery two years ago, I still have a vein that swells that was not operated on. It's still painful, and it's affecting my operations. When I eat, I can't walk. I have to press the vein first," says Chengo.
Chengo suffers from hydrocele, a collection of fluid in the male reproductive parts. His legs are also swollen from elephantiasis, scientifically known as lymphatic filariasis.
In Bofa, we meet 45-year-old Changawa Bulushi who works as a security guard at a nearby primary school. He is a hydrocele survivor. He narrates to us how the condition stagnated his economic growth. He had to survive on local herbs until he went through surgery.
"My condition started in 2008. I have suffered. There is a sharp pain that comes from around the pelvis. My scrotum started swelling in 2010. I got diagnosed with hydrocele at a referral hospital. They wanted Sh7,000 for treatment which I didn't have it," Bulushi says.
One day the headteacher of the school where he works told him of a medical camp that was going on. He attended the camp and qualified for surgery at Kilifi Referral Hospital.
"After a few months of healing, I feel like a young boy. I can even play football. My wife is now happy that I can perform my other duties. The swelling was heavy like a stone. It was painful when the veins were full of water. I could only wear baggy shorts to hide the swelling. I couldn't work, and my family suffered economically," Bulushi says.
At first, he thought he was bewitched. He says he was afraid to seek medical services as he believed that he could die in surgery. But, to his surprise, all went well.
Lymphatic filariasis is an endemic parasitic disease that is transmitted by mosquito vectors, with humans being the definitive hosts. It is prevalent in coastal regions, including the counties of Mombasa, Kilifi, Kwale, and Taita Taveta.
The disease, which is classified as a neglected tropical disease manifests in different forms. Infection with lymphatic filariasis is a major cause of disfigurement and disability in endemic areas, leading to significant economic and psychosocial impacts.
"The infected person will start itching at the spot as the mosquito deposits the parasites that affect the lymphatic system. The worms will obstruct the lymph. As a result, one will experience swelling," explains Mildred Santa, a nurse at Kilifi Referral Hospital.
"After the itchiness, one will have rough skin which hardens with time. As the fluid caused by obstruction of the lymph nodes increases, the affected organ will keep enlarging," Santa says.
The disease affects the legs, hands, and groin area. For women, hands and legs are mostly affected, and men's legs and scrotum are the most affected, which is scientifically termed hydrocele.
"There are women whose vulva also swell, but they won't open up to say that. Men open up since when their private parts swell, it will be visible, painful, and they are not able to wear trousers," Santa adds.
In 2015, the government embarked on a continuous treatment and mass drug administration to end the endemic lymphatic filariasis disease in the coastal region. Though there are several medical camps to offer surgery to those affected, the fear and stigma that come with the disease have hampered its eradication.
Those who seek medical services in Kilifi are mostly men whose private parts have been severely affected and, most of the time, go to the facility when it's too late.
"People go to the hospital because they are in pain, but in filariasis, the swollen legs are mostly painless hence delays in seeking medical services," Santa says.
When one's legs and hands are already swollen, there is nothing that can be done in terms of treatment, but those with hydrocele can undergo surgery, and their lives are likely to go back to normal.
Residents of Kilifi County have been receiving filariasis prevention drugs yearly. A combination of albendazole, ivermectin which is anti-parasitic medicine, and diethylcarbamazine is distributed to those above two years in different dosages.
"In the whole Magarini sub-county, we had 158 people who were affected, either by hydrocele or elephantiasis. Around 45 have received surgery. But again, apart from mass drug administration, we have the surgeries that we are conducting. But at the moment, there is no more transmission of the disease, which is going on as we have been doing mass drug administration to prevent infections. Only those already affected will remain that way," explains Walter Kagoho, Magarini Sub-county medical officer of health.
Mildred Santa says most men fear coming out in public to seek medical assistance, ending up being isolated and hiding.
"Those affected face stigma, they are nicknamed, they have no fitting clothes, they lack the confidence to mingle, and they isolate and feel useless, some get suicidal," she explains.
Dr Daud Mwaura, a consultant surgeon at Kilifi referral hospital, says those affected by this condition live close to water bodies as the coastal strip is full of stagnant water. Away from the ocean, there are also rivers, such as River Sabaki, which is a mosquito breeding area.
"The number of those presenting filariasis has been going down in the last ten years due to sensitisation, " Dr Daud says adding that early treatment for those affected goes a long way.
Related Topics