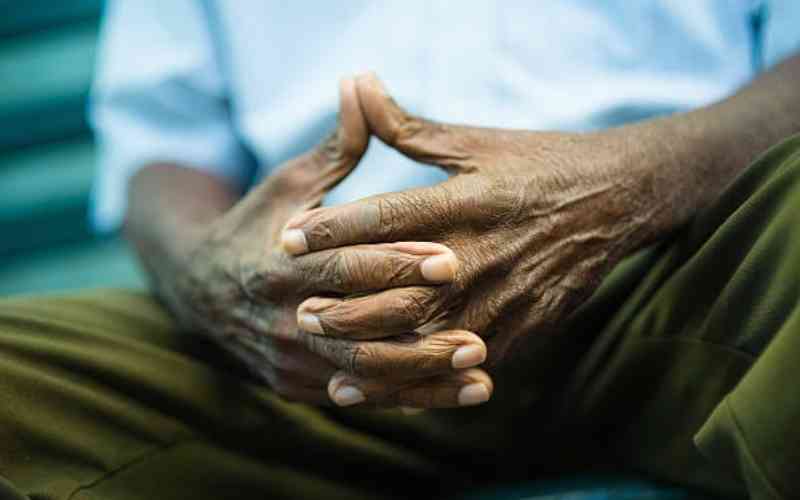 Perhaps the only other exciting time in the life of an adult besides college life is retirement. This is an opportunity when you have all the time in the world to rest and pursue leisurely activities freely. Unfortunately, for many men, retirement is a torturous time.
It is a dog's life for retired men. Adjusting from 'loss of a stable work routine', the associated sense of purpose and importance, to getting used to the boredom of waking up and sunning yourself like a lizard and staying at home daily.
Needless to mention the lack of enough money with which to 'exercise power' at home and the consequent marital issues due to inability to assert authority and lack of meaningful and engaging activities to replace work. Many men tend to be exposed to boredom and a sense of purposelessness, which leads to depression. To say the least, it is an awkward fish-out-of-water experience for many.
For Mzee Njoroge, his cows are the only company he has, since his wife of 35 years flew to Denmark to be with their daughter, her husband, and their 'new-born' granddaughter seven months ago.
In what has become a daily ritual, he will feed his cow and then head to Karuru, a nearby shopping centre — a row of shops in the Kiambu County township much smaller than what he was used to in his glory days when he worked with a prominent bank in the city — to indulge in his favourite drink, equally far removed from the finer whiskies he used to partake.
There's nothing in Mzee Njoroge's life to suggest he once straddled Nairobi like a colossus, sampling its social and nightlife.
In between, he brought up three daughters and a son — who have long stopped communicating with him, except when they must. Only his wife enjoys the privilege and the invites to city and overseas visits. Njoroge's tribulations are an illustration of why many men approaching retirement age feel apprehensive and for a good reason.
"My dad never survived three years after retiring to a home he had built in Ngong, on the outskirts of Nairobi," says Antony Murimi. His old man had been a senior civil servant from the generation that went to university when a tertiary education equaled the good life. After his undergraduate studies at Makerere, he landed a government scholarship that took him to Europe for post-graduate studies.
When he came back, a job in the higher echelons of the civil service and the good perks of life awaited him.
"He used to hang out with the who's who of the time. I remember going with him to Nairobi West where he would chat with his buddies over a glass of his favourite Glenfiddich Solera Reserve whisky," recalls Murimi.
He had bought some prime land in Ngong' town and built a three-bedroomed house. But life changed — drastically — when he retired. The stimulating company of his peers was no more, their place now taken by farmhands and the township's layabouts.
The Special Reserve whisky was gone, too, replaced by potent brews that he consumed daily. Murimi remembers going to visit his dad and wondering what had happened to the intellectual he once revered. His conversation was mundane. He looked shabby and despite several warnings from his doctor, he still drank himself into a daily stupor. In three years, he was gone.
Neglected men with 'tourists' for wives
Murimi's father had an excuse. He was a widower. His wife's death barely a year after retirement and the resulting loneliness could have sent him into depression. But many men are uprooted from their careers and social lives into what easily becomes a life of desolation, hand-to-mouth survival and, in some cases, quick death because they feel neglected, lonely and bitter.
Nicholas Musungu, a 63-year-old retiree based in Bukura in Kakamega County, says: "Life changed dramatically after my retirement. My job, which defined me, was gone and for some time, I didn't know who I was. I was devastated to learn that my sons had to be prodded by their wives to call me, yet I know they are always calling their mother."
"Their mother, on the other hand, treats me like a nuisance and an intruder. She avoids our matrimonial home at all costs; she is always visiting distant relatives and the children or she is at keshas (religious night vigils), weddings and funerals — all in faraway towns," he complains.
Poor Musungu is left to fend for himself for days on end. He looks emaciated and aged while his wife grows round and her skin glows. With no one to talk to, the old man ends up in the company of his animals and the evening tipple as a matter of necessity.
At his age, it is becoming increasingly difficult for Musungu to prepare meals for himself. To make life even more complicated, his wife somehow systematically managed to incite the children against him. They all resent him.
Apparently, he was a bad father who never had time for his family, he has since been told. He cannot remember when he last talked to the children he painstakingly took to prestigious private schools as a father should to his children.
"They were fed lies about me. They don't talk to me or assist me financially. When their mother gets a cough, they send air tickets, but when it's me, nothing. She lied to them that she is the one who paid their school fees while I fooled around with other women. How could she have managed to educate them on her salary, which was peanuts?" Musungu wonders bitterly.
Dealing with runaway kids and the torture of raising grandchildren
54-year-old Mzee Oloo on the other hand chose to take matters into his own hands.
"I looked at these fellows and realised they were playing with me. So, I sold a piece of land and used the proceeds to build a rental house that brings me a little income. And then I married another woman. You should have seen the hullabaloo that followed!" the old man from Gem in Siaya County recalls with a chuckle.
"Sons I had not seen or spoken to for months suddenly drove home in big cars and sat me down to an angry meeting. They wanted to know what that 'woman' was doing in my bedroom and why I had sold the piece land. I reminded them that it was land I bought with my sweat and that I had a right to sell it. I asked them to their face who they thought was 'rubbing my back' when they kept their mother in Nairobi for months. None of them had an answer," he laughs.
It should be no surprise, therefore, that many retired men even become suicidal. Retirement, for them, is like the old lion in the jungle, which discovers that its pride of dotting lionesses is gone and that no more will the wife place choice steaks before him and watch him eat to satisfaction before she takes a bite.
But it's not just the well to do that suffer. Mzee Oliver Matundura complains that his homestead is full of grandchildren and that as a result, he rarely gets well-fed. "There are seven grandchildren here. Their mothers abandoned them and went either to get married or to work in towns. By the time I wake up, they have drunk all the tea. During supper, they finish their portions and start staring at my food. I have no choice but to pass it to them. Look at me. I don't eat well," he says.
Hamida Mwanamisi, a 62-year-old woman from Mumias, says she has no apologies to make for abandoning her husband, Ismael.
"I raised these children on my own — selling chang'aa and firewood while this man enjoyed the good life in Nairobi. He even squandered his retirement package and married another woman who now has six children. Why should my children feed the children of a harlot he collected on the streets, yet he never did anything for them? When I needed him, he was not there and I see no reason why I should sleep in his bed at my age," she says.
Gender wars might be on for constitutional offices in Government with women getting the shorter end of the stick. In many marriages, women are still seen and not heard. But in retirement, they all have it mapped out. Theirs is a coup de tat that sentences the former dictator to years of loneliness, penury and an early grave. Elderly men can, however, successfully adjust to retirement and spare themselves these agonies by developing hobbies; staying physically active, through walking more; volunteering in charity or church activities and staying in touch with other people and creating social networks.
Related Topics