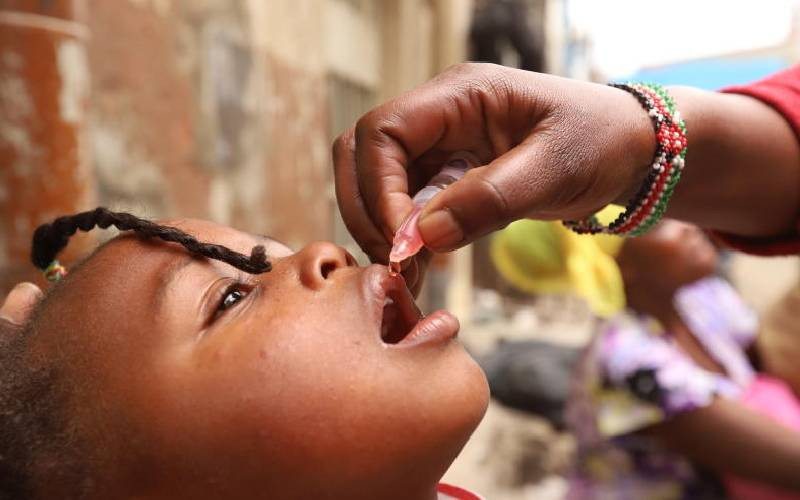 When we arrived at Gimomoi assistant chief's office in Hamisi sub-county, the morning sky was awash with a golden light, a good omen according to village elders.
The golden rays of the morning sky swept across the dewy grass, making each droplet shine like a precious gemstone.
Humphrey Lubare, the assistant chief, armed with wet piece of cloth, was cleaning plastic chairs erected in three tents in readiness for a chief's baraza.
"I called for the baraza so that the locals can bring their babies for vaccination against measles, polio and tuberculosis among other ailments," said Mr Lubare as he ushered us into his office.
Lubare together with his village elders and Nyumba Kumi officials have been on the forefront to with a clarion call of having young children get immunised.
To them, every social gathering, be it at a funeral place, church service, a wedding or a chief's baraza, it's an opportunity to sensitise the locals on the importance of disease prevention through immunisation.
Lubare and fellow administrators have been working closely with healthcare workers from local health facilities in together with community health volunteers in driving Vihiga county to a vaccination triumph.
"We sat with healthcare workers who informed us that there was low uptake of vaccines in the county. They wanted us to help them fast track an improvement in the uptake of vaccines," said Lubare
He added: "I called for two barazas and the medics sensitised the community on the importance of immunisation. I used the village elders to mobilise people to attend the subsequent barazas and whenever we met, children got immunised."
Through there concerted efforts, Vihiga county managed to over 96 per cent of its children under five years get all their childhood vaccines.
This is according to the 2022 Kenya Demographic and Health Survey (KDHS) report showing that Vihiga lead in immunisation coverage at 96 per cent in the country.
This means that nine in 10 children are fully immunised against basic antigens which is above the country's national average of 80 per cent.
In the last KDHS report of 2014, Vihiga had a vaccine coverage of about 94.4 per cent of all basic antigens as compared to the national average of 79 per cent.
Other counties with high uptake of vaccines include Nyandarua (95 percent), Muranga (95 percent), Tharaka Nithi (95 percent), and Mombasa at 93 per cent.
Counties with low immunisation rates include Turkana (60 per cent), West Pokot (49 per cent), Wajir (49 per cent), Mandera (29 per cent) and Garissa at 23 per cent.
"For a long time, our people took the issue of immunisation casually, resulting to many children contracting measles and polio. Some became paralysed while others died. Under our watch as administrators, we vowed to help the health care workers to have many children get immunised," said Lubare
According to Edith Anjere, Vihiga County Head of Immunisation , CHVs conducted door to door visits and ensured that all children under the age of five years have been immunised.
Ms Anjere said that each location is served by 60 CHVs who besides administering the vaccines, they also recorded deaths of children below five years.
"The county government has increased the number of health facilities to around 98 that provide healthcare services to the locals. We have met the World Health Organisation (WHO) threshold of the 5km radius of distance between one health facility to another," said Ms Anjere
She added: "We want to thank the chiefs and their assistants for being the front line worries in seeing to it that our immunisation campaign became a success story. CHV's also played a pivotal role in ensuring that at least 96 per cent of children under five got immunised,"
The Afya ya Mama na Mtoto commonly known as 'Ottichilo care' programme, an initiative started by Governor Wilber Ottichilo also played a key role in ensuring that all expectant mothers visited a health facility for antenatal and postnatal care.
The initiative gifts expectant women with Sh1,000 in intervals as an incentive to encourage them visit antenatal clinics and also ensure their children are immunized once born.
The immunisations that are routinely administered include measles, polio, pneumococcal, rotavirus, and BCG.
Vaccination is done to prevent childhood diseases that contribute to infant morbidity and mortality.
In Kenya, routine childhood vaccines are guided by the Expanded Immunization Program (EIP).
Childhood vaccinations under the programme include Bacillus Calmette-Guérin (BCG)- administered at birth for tuberculosis, rotarix (rotavirus vaccine) at weeks 6 and 10, and DPT (diphtheria, pertussis or whooping cough, and tetanus).
Other vaccines include Hepatitis B, Haemophilus influenzae type B, pneumococcal, measles and rubella.
The schedule also includes inactivated polio vaccine that was introduced as part of routine childhood vaccines in 2015.
The vaccination coverage rate for basic antigens increased dramatically between 1989 and 1993 and dipped to a low of 52 per cent in 2003. There has been a sustained upward trend since 2008–09, with coverage in 2022 at 80pc.
Related Topics