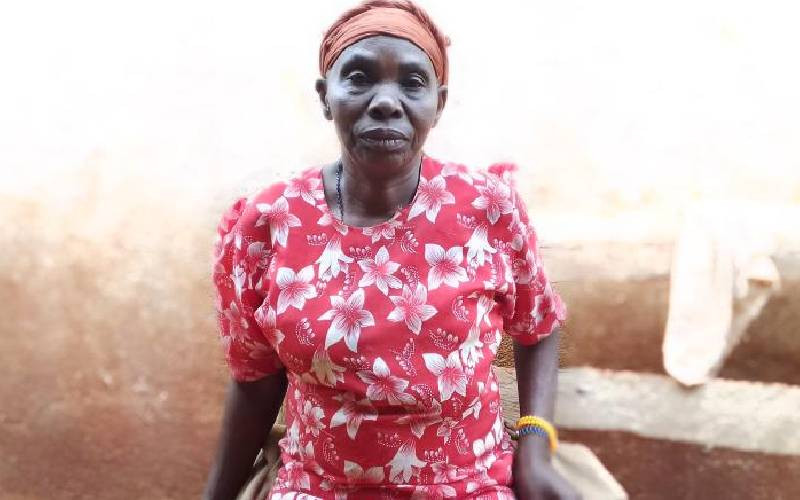 It was a normal day at work for Alice Ratemo, a casual labourer. Having just completed the task of weeding the section of a farm, she was thinking about what she had to do next when she suddenly felt her legs give way.
When she came to, she found herself in hospital. After a few tests, a medic told her that she had diabetes. "I was shocked at the news. It felt like a death sentence as the disease runs in the family and some family members who had it had died," Ms Ratemo narrates.
She says that sometime after the diagnosis, she developed high blood pressure and ulcers. "The cost of managing all these conditions kicked in and I started to worry about how I would treat them," Ms Ratemo says.
Living in a remote village in Kisii County, Nyamage sub-county, Alice, now a 67-year-old grandmother, struggles to provide for her family following the diagnosis 10 years ago.
She explains that she incurs a lot of expenses from constantly monitoring her blood sugar and blood pressure and buying drugs to manage the symptoms.
"Filling a 10-day prescription costs Sh100-150. I cannot afford it because I am not employed. The little casual work I find pays less than Sh500 a day. I still need to take my grandchildren to school," Ms Ratemo says.
"When the symptoms are at their peak, I suffer a lot as I experience pain, mostly in my legs, making me unable to walk. I feel really helpless when I don't have the money to buy the drugs so I just have to sleep in the house until I can find money," Ms Ratemo says.
According to the Centers for Disease Control (CDC), 47 per cent of adults have hypertension or are taking medication to manage the condition.
"There is a strong connection between diabetes and hypertension. Two out of three people with Type Two diabetes also have high blood pressure or are under medication to lower their blood pressure. Both diseases are due to lifestyle and aging. Sometimes, the two diseases share common risks factors although they can easily be managed," says Valine Ayango a Clinical officer at Yoshwa Hospital.
According to the American Diabetes Association, a person with diabetes is four times more likely to develop heart failure, cardiovascular diseases, and also stroke as hypertension is the major risk factor for these microvascular complications as compared to someone who does not have either of the conditions.
If not managed, hypertension can lead to many complications of diabetes such as diabetic eye disease and kidney diseases. High blood pressure is sometimes known as a silent killer as it usually has no or limited symptoms, although some people with high blood pressure say they experienced headaches.
"The blood vessels in the brain are susceptible to damage due to the high blood pressure and the chronic high pressure can also lead to early onset of stroke and dementia," Ms Ayango says.
She adds that lifestyle and diet change is important. Watching what you eat and making sure you exercise can help reduce the severity of the symptoms.
"To also contain diabetes and high blood pressure, one needs to monitor and restrict the intake of salt to 2.3 grammes per day while also eating plenty of fruits, vegetables, fish and also grains," Ms Ayango says. "Patients are also required to monitor their blood sugar levels, take medication, exercise regularly, and also monitor their weight each time," she explains.
The Centers for Disease Control (CDC) says that limiting the intake of alcohol is also important in controlling the severity of the disease and lowering one's chances of hospitalisation.
"The community around me has been very supportive in just making sure I am okay. However, I have experienced stigma and rejection, sometimes even from family members who still think the disease can be transmitted to them. My request to the government is to raise awareness about these diseases and work harder to help us access treatment and drugs, which are very expensive to buy," Ms Ratemo says.
"Being diagnosed with diabetes and hypertension is not the end of life. I still have a long life to live and children to take care of. All you have to do is just find support from the community around you. It is a manageable condition," she says.
Related Topics