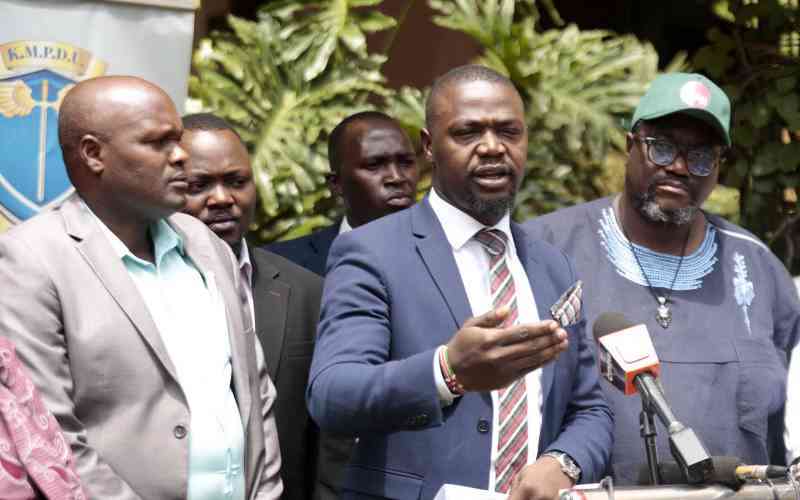 Doctors in five counties out of the six whose healthcare staff had staged a walkout due to failure by the respective counties to pay doctors have returned to work.
Kenya Medical Practitioners, Pharmacists and Dentists Union (KMPDU) Secretary General Dr Davji Atellah said the doctors returned to work after the counties paid their March salaries.
The doctors' union had announced the strike for health workers in Murang'a, Kisii, Embu, Meru, Kisumu and Taita Taveta counties which had delayed paying salaries to the workers.
''We can confirm that our members in five counties have returned to work except for Kisumu County whose matter has now gone to court because the county had written to doctors forcing them to return to work instead of paying them first,'' said Atellah.
Atellah spoke on Wednesday during a press conference after a two-day conference of the East African Sector Health Union's Network(EASHUN) in Nairobi to discuss the status of healthcare in East Africa.
The EASHUN is an umbrella body of healthcare worker unions in East Africa consisting of Kenya, Rwanda, Uganda, Tanzania and Burundi.
''Countries in the region and across Africa face severe shortage of health workers. Its worrying that 37 out of the 55 countries are listed on the red list of World Health Organisation(WHO) on the health workforce shortages in the world are African states,'' said Baba Aye, global health and social sector officer of Public Services International(PSI).
He added: ''It's particularly pathetic that while we have insufficient numbers of employed health workers who are underpaid under inhumane terms and conditions of employment, we still have large numbers of unemployed health workers graduating from our colleges of medicine and health.''
The EASHUN is now calling upon the East African member states to develop a regional strategy for health workforce employment that will promote mass employment and ensure that the health workers enjoy improved salaries and better working conditions.
According to EASHUN, the challenges have been caused by underfunding of public health care delivery in the region yet it's impossible for any countries in the region to attain the Sustainable Development Goals(SDGs) without committing adequate resources to health.
This is despite the Abuja Declaration in 2001 by African leaders in the Abuja meeting held between April 26 to 27 where they all resolved to commit 15 per cent of their annual budgetary allocations to healthcare.
According to EASHUN, only Rwanda has been able to honour that declaration of healthcare funding of 15 per cent of the country's annual budget followed by Tanzania at 2 per cent, Burundi(10), Uganda(7.1) and Kenya trails the top five at 4.4 per cent.
''We call on all member states in the EAC, and indeed the governments of all counties in Africa to walk the talk and heed this promise made to the African people. EASHUN demand that all EAC countries set aside at least 15 per cent of govern general expenditures on health,'' said Aye.
The union also expressed concerns on EAC member states privatising healthcare institutions which they said undermines health equity and universal access.
''The expansion of ''for-profit'' interests in the delivery of healthcare furthers the commodification of health, which should be a fundamental human right as explicitly stated in the constitution of the WHO,'' said Aye.
The union said claims that private sector providers can help with resource mobilisation and bring efficiency are myths which are not backed with evidence.
"On the contrary, it has been established time and again that they lead to worsening health conditions for the majority of the populations of our country. Just a handful of people who can afford these privatised services benefit,'' he added.
Related Topics