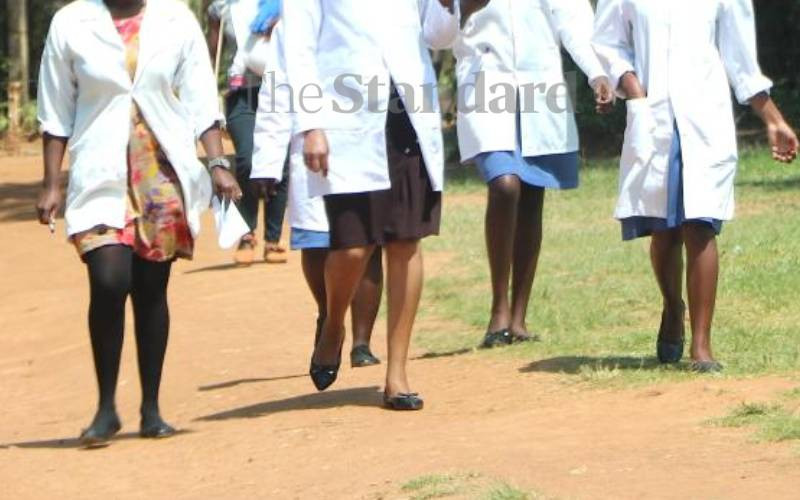 Nursing interns have vowed to withdraw services from all the health facilities across the 47 counties over unpaid seven-month salaries.
They also cite an unconducive working environment, saying it is hurting them.
According to a statement by their lobby, nursing interns have witnessed a frustrated lot of young nurses, who languish in delayed internship posting, unemployment and underemployment in deplorable measures over the past few years.
They claimed such happenings have not only affected their mental health but also caused physical and social turmoil. "Nursing officer interns contribute largely to the healthcare delivery workforce in Kenya, which form part of their mandatory one-year internship post-graduation from a recognised institution of higher learning," the nurse interns said in a statement.
The nurse interns claimed to be living a life of financial incapacitation owing to their inability to meet their daily basic needs as well as support their siblings, parents and guardians.
While referring to a case where an intern at Chuka Teaching and Referral Hospital committed suicide due to such delays in monthly stipends in 2021, the nurse interns claimed to have engaged the Ministry of Health (MOH) in talks for the past six months.
They cited the new Constitution under the Nurses Act, which lays down a provision to provide nursing interns with a stipend plus allowances for a one-year internship period.
Accrued salary
According to the nursing lobby, the family of Stephen Kirimi, who was an intern at Karatina Sub-County Hospital, has never received an accrued salary for their son or compensation after he died in a road accident while heading to the hospital for a night shift in December 2022.
"We are deeply saddened to announce that since deployment in September 2022, we have never received our hard-earned returns to date and no official communication from MOH on why our stipend and allowances have taken seven months to be processed," the interns said.
They noted that their attempts to hold talks with MOH have always fallen on deaf ears, with empty promises.
The nursing interns also declared they would no longer provide services in all Level four and five hospitals across the country until their accounts have the past seven months' salary.
They vowed to camp at the Ministry of Health offices until their demands were met.
The interns want the State to honour the employer-employee contract and pay them their stipend and allowance arrears accrued from September 15, 2022 to date.
Related Topics