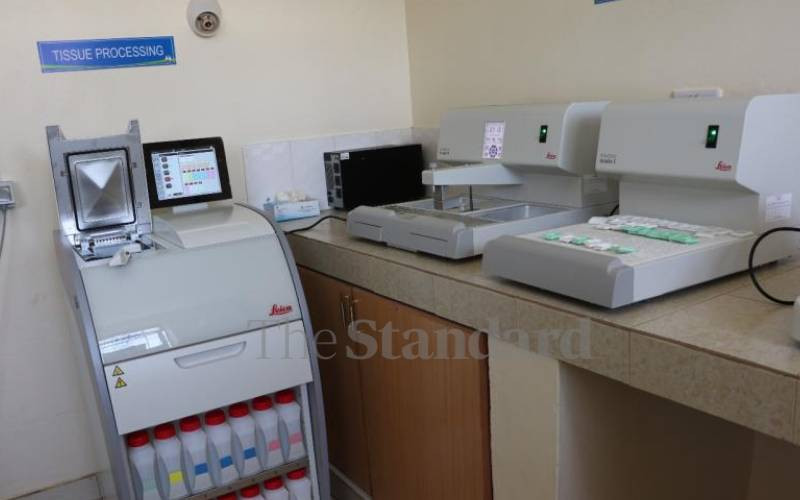 Cancer patients in Meru and neighbouring counties have been left helpless after the cancer unit at Meru Teaching and Referral Hospital (MeTRH) was closed over safety concerns.
The National Cancer Institute of Kenya (NCI Kenya) Regulation and Compliance Directorate closed down the units after concerns over biomedical safety were raised following inspection.
The NCI Kenya inspection team was led by its head, Dr Martin Mwangi, Clinical Oncologist Dr Joel Okumu, Clinical Oncology Pharmacist Dr Caroline Wafula and others.
After inspecting the level of development at the centre, the NCI Kenya inspection team found that the hospital does not have the structural and technical capacity to offer oncology services and had not met the requirements for designation as a middle-level cancer centre.
"The purpose of the inspection was to assess the oncology services of the cancer centre and determine if the facility meets the recommended minimum standards as per the national guidelines for the establishment of cancer centers," said the team.
"The following were considered: equipment requirements, human resource capacities, in-patient and out-patient capacities, waste management procedures and patient documentation protocols, among others," they added.
However, the team said they had found that MeTRH has not met the minimum requirements for the set-up of a cancer centre.
"The hospital is to stop giving chemo immediately and refer all their patients to nearby hospitals," they directed.
MeTRH's Acting CEO, Dr Pauline Gacheri, said they were preparing to move the cancer services to a new centre that is currently under renovation, even as she appealed for patience from the patients.
The hospital management said as the unit remained closed and as they complete the renovation of the new centre, they had organised to have chemotherapy administered temporarily at the private doctors' plaza.
"We are completing the main chemo machine because it has several technical things. Then NCI Kenya will come inspect," she said, adding that the new state-of-the-art centre will offer an improved patient experience and better healthcare outcomes.
Patients who were being treated at the hospital have now been forced to seek services at private hospitals, which they say are more expensive and unaffordable.
"It is a very frustrating situation for both patients and staff. Patients with no insurance cover will no longer be able to afford services at the private facility," said a MeTRH nurse who requested anonymity.
Related Topics