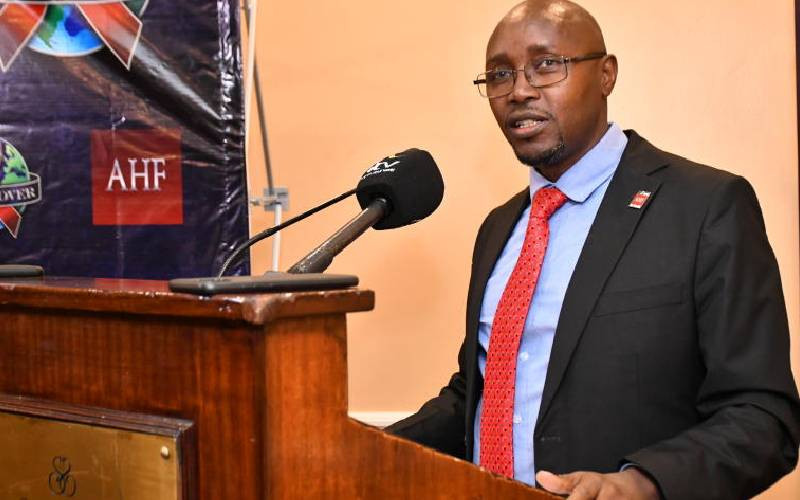 Stigma and sexual violence are among the major issues that continue to hamper the fight against HIV.
Other issues derailing progress according to Dr Samuel Kinyanjui, the Country Director of Aids HealthCare Foundation (AHF), include ignorance and policy loopholes. He was speaking during World Aids Day celebrations in Rachuonyo South, Homa Bay County.
Compared to the 1990s when one in 10 Kenyans had HIV, only five people in 100 live with it currently, noted Dr Kinyanjui.
Despite the progress made, the disease greatly burdens certain groups heavily and spills over to the next. A case in point is the high infections among men over 50 in Makueni and 15-24 year-old girls.
Dr Kinyanjui said irrational attitudes and perpetuating negative judgements against people with or at risk of HIV discourage them from testing, accessing health care, and adhering to treatment.
"It is in everyone's interest to positively support people at risk and those with HIV," he said.
Normalising HIV conversations, the medic said, encourages testing, and medication adherence, halting the spread of infections.
"For instance, people injecting drugs are at a 53 per cent risk of contracting HIV. Men who sleep with other men are at a 20 per cent risk."
"Society often chooses to seclude these people, compromising their well-being. For fear of judgement, many in the marginalised population don't disclose their challenges and end up staying in denial," he explained. "In the end, the risk spills over to the general population."
Mary Nyaguthii, head of the prevention programme at AHF in Kenya, said as much as the community prefers abstinence and faithfulness as the silver bullet against HIV, people still engage in extramarital affairs, and school-going children still engage in sexual intercourse.
"The entire population is in denial. A study we are undertaking in the suburbs already reveals that the average middle-class woman has four or five sexual partners," she said.
The purpose of the study was to uncover the evolution of sex work and why married middle-class women were increasingly testing positive.
But according to Nyaguthii, a registered nurse, using condoms, ARVs and PrEP could help reduce infections.
"Recently, data revealed that of every four new HIV infections in youth between 15 and 24, three are girls," Dr Kinyanjui said.
"This number skyrocketed during the Covid-19 pandemic, and should show us the importance of keeping our girls in school," he said. The fact that there are more girls than boys in this age group that are infected, the doctor said, is perpetrated by gender inequalities.
"That number corresponds to infections in men over 35, meaning that many lure school-going girls with promises of an improved life," he said.
Organisations such as Aids Healthcare Foundation are working to curb the vice in South Nyanza region by putting young girls and teen mothers through school, college, and starting businesses.
In Central Kenya, where boys are more endangered than girls, their programme dubbed boys to men helps boys identify employment opportunities and school fees.
According to Nyaguthii, men don't generally like hospitals.
"Unlike men, women have unique needs that make them associate healthcare with help. Women visit hospitals for childbirth, immunisation for their kids, family planning, and treatment when their kids fall sick," she said.
"Men, on the other hand, associate hospitals with pain. The only time they need a hospital is when they're in pain."
To bridge the gap, AHF partnered with Huduma centres in Kisii and Mombasa counties to install testing, counselling, and treatment centres. She said their clientele consists of 90 per cent men.
The success of the two counties, Nyaguthii hopes, will compel other Huduma centres to formalise such partnerships.
Dr Oliver Mito, the AHF western regional manager, said there needs to be a multisectoral approach towards coming up with a policy rather than each department working and implementing its own policy.
"In most cases, it's the chiefs and assistant chiefs addressing SGBV cases at the community level. Many opt to reconcile the community but forget the victim. To ensure justice and proper healing of the entire community, the county commissioner should issue a decree that blocks chiefs and assistant chiefs from handling SGBV cases at the community level," he said.
Dr Mito said all these departments could collaboratively identify, document, and indict all perpetrators. They can also obtain data of all SGBV victims and work towards providing targeted education, healthcare, and psychosocial support, all under one policy.
"The fragmented way of dealing and documenting these cases allows perpetrators to take advantage of the system by bribing chiefs and parents, and helps ignore SGBV survivors," said Dr Mito.
Condoms, Kinyanjui notes, are also heavily taxed. "Condoms are classified as medical devices and hence are heavily taxed. A policy change is long overdue to include them under medical supplies to exempt taxes.
As a result, there has been a growing shortage of condoms in the country.
"A month's supply of condoms would cost the government Sh120 a month per person," he said.
"Conversely, the direct cost of ARVs per person costs the government Sh2,000 per person," said Dr Kinyanjui.
"These numbers show that much still needs to be done before we have the virus under control."
Related Topics