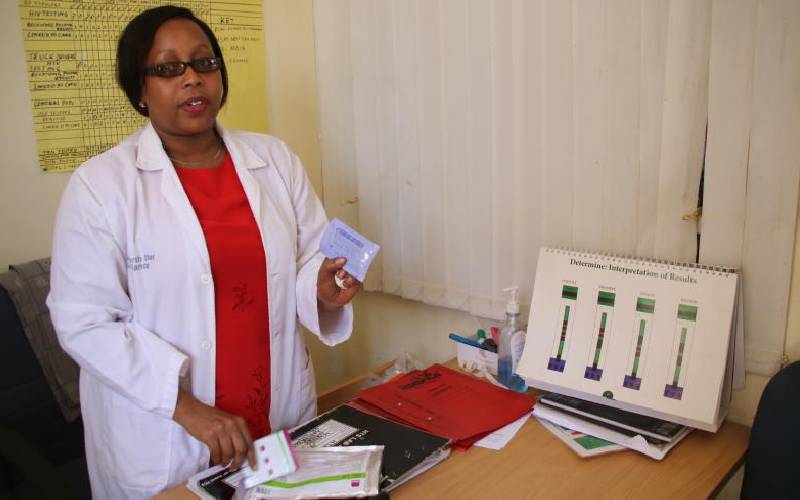 The country is faced with an acute shortage of HIV testing kits, risking transmission of mother to child infection.
The kits are reported to be lacking in public hospitals across the country for the past three months.
Stakeholders have told The Standard that the most affected are pregnancy mothers, who are now delivering without undergoing mandatory tests, as per the HIV prevention guidelines.
HIV/AIDs Coordinator in Elgeyo Markwet Rose Maina said at least 52 hospitals in the county do not have the kits.
The county has been borrowing the kits from Uasin Gishu and low volume hospitals to test pregnant mothers and those within the delivery ward.
"We have been using dual testing kits at Antenatal clinics, but we cannot get any at now," she regretted.
Inpatient services in respective counties are also affected, as patients are not being tested.
Maina regretted that failure to test willing individuals' risks reversal of gains made in the fight against HIV/AIDs.
"Initially, Kenya Medical Supplies Authority (Kemsa), has been distributing the kits to us, but there is no communication. This is a worrying trend as we might end up with increased infection among the general public," she observed.
According to survey by the Kenya Population-based HIV Impact Assessment (KENPHIA), the prevalence of HIV/AIDs in Elgeyo Markwet stands at 3.5 percent.
Kenya has recorded 32, 000 new HIV infections in the past one year, according to data by National Aids Control Council (NACC), as compared to 42,000 recorded last year.
At least 5, 492 new infections were among teenagers from the ages of between ten to nineteen years.
According to 2018 data by the National Aids Control Council, approximately 1.5 million people in Kenya were living with HIV.
In 2017, at least 28,214 HIV/AIDs-related deaths were reported in the country.
Use of Antiretroviral Therapy increased from 627,900 in 2010 to 1,388,200 in 2017, with at least 635,500 HIV-related deaths averted since the scale-up of ART began in 2004 through to 2017.
Additionally, at least 53,236 women living with HIV received ARV prophylaxis to prevent transmission to their newborn children.
Uasin Gishu County Hospital, the VCT centre is lacking both Determine and OraQuick testing kits for self-testing are lacking.
Determine kits used for rapid test, with whole blood serum or plasma has been lacking for the past three months, while the supply of OraQuick has been on and off.
OraQuick is a screening test for HIV-1, the virus that causes AIDs.
It is a single-use qualitative immunoassay that detects antibodies to HIV-1 in a finger stick sample of blood.
"Kemsa supplied us with self-testing kits two weeks ago, but it is out of stock," said the employee.
National Empowerment Network of People Living with HIV and AIDS in Kenya (NEPHAK) coordinator in Nandi, Anne Rono also said there is a shortage of the kits in the county.
Rono told The Standard that testing kits are supplied by National AIDS and STIs Control Programme (Nascop), but there hasn't been communication on the hitch.
"We do not know the cause of the shortage. We hope there will be supply, for smooth provision of health care," said Rono.
Nascop head Dr Catherine Njogu admitted there has been a shortage of testing kits after the supplier delayed delivery.
"We had low stocks but they came last week and are being distributed," said Dr Njogu.
CEO Pharmaceutical Society of Kenya Dr Daniella Munene said shortage of testing kits might hamper the fight against HIV/AIDs in the country.
"There should be adequate testing kits and personnel to boost the goal in the fight against HIV/AIDs," said Munene.
All HIV commodities are supplied by Global Fund, USAID, and the national treasury.
Related Topics