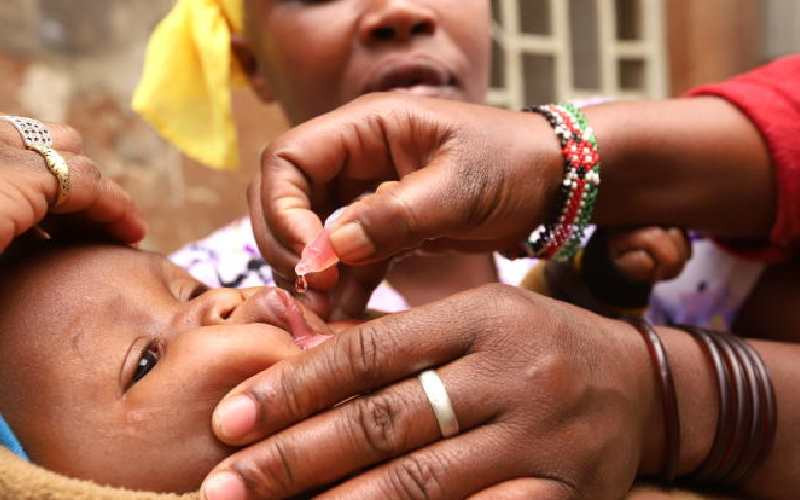 The World Health Organisation (WHO) has called for sustained efforts to eradicate polio globally.
Kenya joined the rest of the world in marking International Polio Day yesterday, with WHO Director-General Tedros Ghebreyesus reporting 99.9 per cent reduction in incidences.
Dr Ghebreyesus cited misinformation and interruption in immunisation programmes in various parts of the world among the major challenges facing the global efforts to eradicate the virus.
"There are indicators that polio will remain a global threat until it is eradicated everywhere. We continue to face challenges, among them misinformation and community fatigue," he said.
In Kenya, a section of communities and religious groups are still opposed to modern medicine and vaccines, which has curtailed the fight against diseases that are easily preventable.
In his statement, Ghebreyesus said the fight against polio was also facing hurdles in areas with hard-to-access populations.
"Historic backsliding of immunisation programmes, which deliver polio vaccine, has added to the challenges. Without concerted action, we could lose the gains we have made," he warned.
Although Kenya last reported polio in 2013, it continues to face the risk of imported cases from her neighbours, especially Somalia where vaccine-derived type of polio has been reported.
With the two countries experiencing the movement of persons in and out, the risk of the spread of the contagious virus into Kenya cannot be overlooked.
The world is banking on the Global Polio Eradication Initiative (GPEI), which began in 1988 and has recorded 99.9 per cent reduction in incidents to date, according to Ghebreyesus.
According to WHO statistics, the 350,000 cases reported per year at the beginning of the initiative had dropped to only six cases in 2021.
"GPEI has a five-year strategy aimed at overcoming the emerging challenges on the global efforts. Donors have committed $2.6 billion (Sh315.25 billion) to fund the strategy," said Ghebreyesus.
He said the funds will, among other activities, aid in rolling out a new Type 2 oral polio vaccine for which over 500 million doses have already been administered.
He underscored the need to enhance access to maternal and child care in the affected countries, saying such regions continue to face challenges in protecting themselves from contracting polio.
"We haven't truly helped a child if we protect them from polio but they die from measles. We must address the underlying drivers of diseases, including the conditions in which children are born and raised, their access to nutritious food, safe water and sanitation and clean air," said Ghebreyesus.
Harold Kipchumba, a polio ambassador and survivor, says the county and national governments need to work together in the fight against the disease.
"The two levels of government should ensure there is a sustained campaign and immunisation drive. This has been largely left to the national government and has not been as effective," said Kipchumba.
Related Topics