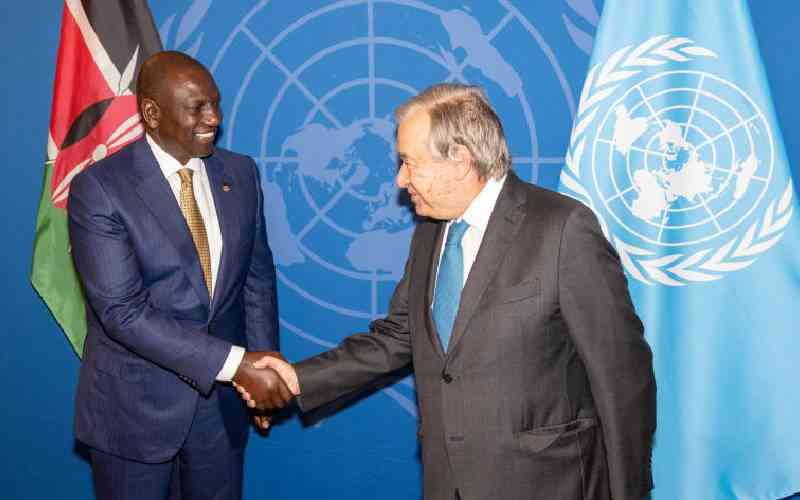 African countries have been urged to participate fully in the upcoming COP27 in Egypt and bring viable ideas to combat the current climate crisis.
Speaking ahead of the UN Climate Conference (COP27) in Egypt this November, UN Secretary General Antonio Guterres said no country or economy is immune from the raging climate crisis.
Currently, African government representatives are meeting in Kinshasa for pre-COP to prepare for the upcoming summit. The COP27 has been termed the African COP where African countries have to present concrete measures to adapt to mitigate the effects of climate change and speak in one voice as they seek enough climate finances.
Africa has also been challenged to step up budgetary allocations to climate change adaptation and mitigation measures instead of over-relying on funds from developed countries.
On Monday, Mr Guterres said this is time for a game-changing, quantum-level compromise between developed and emerging economies. "The world cannot wait. Emissions are at an all-time high and rising. COP27 is critical, but we have a long way to go," he told the Kinshasa meeting.
He said there is no time for pointing fingers or twiddling thumbs, adding that the collective commitments of G20 governments are coming far too little and far too late.
"The actions of the wealthiest developed and emerging economies simply don't add up. Taken together, current pledges and policies are shutting the door on our chance to limit global temperature rise to 2 degrees Celsius, let alone meet the 1.5-degree goal," he said.
He regretted that the war in Ukraine is putting climate action on the back burner while the planet itself is burning. "We have seen backsliding in some areas of the private sector – namely, around fossil fuels - while the most dynamic climate actors in the business world continue to be hampered by obsolete regulatory frameworks, red tape and harmful subsidies that send the wrong signals to markets," he warned.
He said every government, business, investor and institution must step up with concrete climate actions for net zero.
"Failure to act on loss and damage will lead to more loss of trust and more climate damage,"he added.
This week's pre-COP can determine how this crucial issue will be handled in Sharm el-Shaikh.
Ministers in Kinshasa must work to ensure action at COP27 – not another dead-end discussion.
On finance, the world needs clarity from developed countries on where they are this year on the delivery on their $100 billion dollars a year promise to support climate action in developing countries.
Guterres said funding for adaptation and resilience must represent at least half of all climate finance. He said COP27 is for all countries – led by the G-20 -- to show they are in this fight and in it together. "I am urging leaders at the highest level to take full part in COP27 and tell the world what climate action they will take nationally and globally," he added.
Related Topics