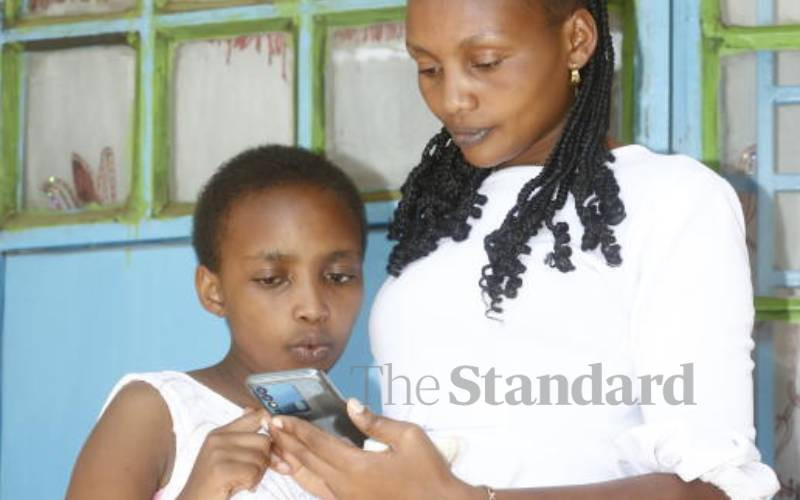 While most patients are driven to hospital by symptoms, the same wasn't the case for Shyann Wanjiru. At just 14, she is a survivor of a rare type of ovarian tumor - immature teratoma.
The journey to her diagnosis and battle with the cancerous tumor began in 2020 when she suffered a fall on a veranda while playing with other children at her church in Nakuru city.
After the incident, Wanjiru suffered an endless pain in the belly, which grew into a swelling that made her mother, Dorcas Wambui, to rush her to hospital for medical attention.
"I was having an on and off pain that lasted for weeks, thinking it was an injury out of the fall," recalls Wanjiru. "In the hospital, I was told that the swelling that was developing was a result of a blood clot."
The then Grade 7 pupil was put on medication for 'dissolving the clot' and H Pylori, which, however, proved difficult to disappear.
Her mother says as days passed by, the swelling kept growing and she at times thought Wanjiru was pregnant.
"She was approaching puberty and at one point experienced bleeding, which she assumed to be normal but kept it to herself," explains Wambui. "With time, her belly grew big that we joked that she could be pregnant."
The swelling was coupled with gradual weight loss and Wanjiru had to be taken back to hospital where doctors recommended an emergency operation.
"After the surgery, the doctors removed a tumor weighing 3.5kg. I thought that my daughter's health was now back until results on further analysis of the tumor were out," says Wambui, a single mother of four who had just lost her job at the height of Covid-19 pandemic.
The positive cancer diagnosis on her daughter meant that her life was now on a rollercoaster.
"I became speechless when doctors at the Nakuru Level Five Hospital Cancer Centre told me that they would take the financial burden. My daughter and I went through counselling," says Wambui.
Wanjiru had one of the most enviably long hair among her peers and losing it as a result of cancer treatment was one of the biggest worries to her mother. She plaited it for the last time.
"She started losing her hair after three cycles of chemotherapy. Tears would fall from my eyes as I watched her doing her hair only to be left with a bunch of it in her hands," says Wambui, adding that her daughter's schoolmates were supportive after teachers, with her consent, explained to them that Wanjiru was on her path to full recovery.
"Months after her final chemotherapy session, her hair started growing. It is now darker and almost the same length as it was previously. She has regained her weight but I have to provide her special diet," says the mother.
She says after the treatment, Wanjiru returned to her previous school where she sat her Kenya Certificate of Primary Education (KCPE) exam and scored 324 marks out of the possible 500.
"The director of my current school, Anestar Precious, learnt about my story and has sponsored my secondary education," says Wanjiru. "I am now in Form One. In future, I want to be a gynaecologist or oncologist."
Clinical oncologist Siwillis Mithe, who attended to Wanjiru, says immature teratoma accounts for over 20 per cent of germ cell tumors that predominantly occur in women below the age of 20.
"They are rare and young cells found in the young population. It becomes progressively less common in older women and cannot be detected easily. It starts as an abdominal swelling as was the case for Wanjiru," says Mithe.
The oncologist explains that detection involves performing an ultrasound or scanning to verify the presence of the mass followed by its removal and testing for cancer.
"There is no genetic or environmental disposition or underlying condition that literature is aware of that causes immature teratoma as it is sporadic. There is nothing in particular that causes it," she says.
Mithe says most cases turn out to be non-cancerous in which case the patients, after surgery, do not need further medication, with an estimated one per cent of the cases turning out to be malignant and need aggressive therapy.
"People should undertake regular checkups. Detecting it early makes it easy to recover. It becomes dangerous if detected at late stages like any other type of cancer," she says.
The oncologist says Wanjiru's case was detected at the third stage, which exposed her to the risk of losing her uterus and ovaries.
"One of her ovaries had been affected. When we realised that her uterus was being invaded we reverted to another cycle of chemotherapy. The treatment was successful and we saved her from losing her femininity," says Mithe.
She says Wanjiru was her second patient with such condition, adding that her first patient is now married and a mother of one.
Related Topics