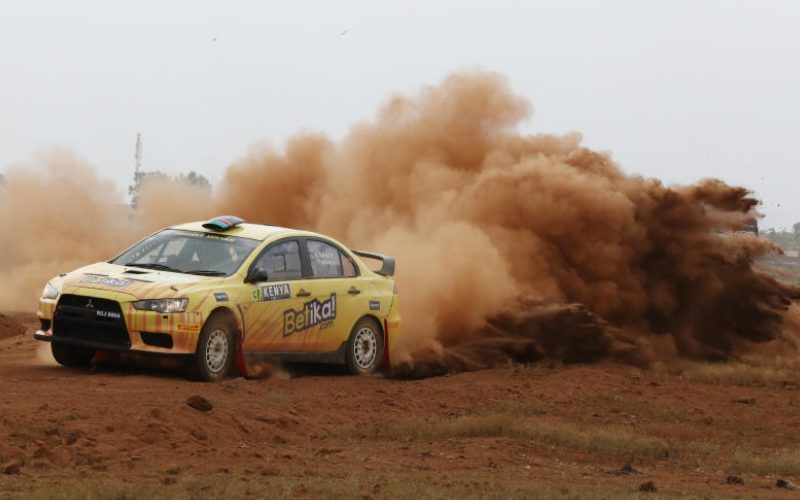 Exactly a week ago, Femi One, King Kaka and Mbithi came together and released a banger, Hepi, which sets the tone for this weekend.
"Juu masaa ni ya hepi, chunga masaa ni ya dhambi/ I will see what I can do na wababa wa vitambi... Hangover kesho itakuwa kama ya watu wawili/ Mara moja itabidi nimemeza mara mbili/ Tunachoma sana ju kwa sababu ya hepi," raps Femi One in the song.
This definitely describes the shenanigans that we are about to see this weekend. Petrolheads and speed junkies are all camped at Moi South Lake Road, Naivasha for the World Rally Championship (WRC) Safari Rally.
"This is quite thrilling, I have never experienced these rallies and when they made a comeback last year, I promised myself I won't miss the next round. We left Kisumu on Tuesday with a friend and we will be sure to catch all the action. I do not know about others, but we are here specifically just for the cars," said Yeltsin Opiyo, a car enthusiast.
The stage has been set and the narrative has been sold above and beyond. Not forgetting the hundreds of MEMES that have dominated social media the whole of this week depicting this weekend as an annual merry-making season.
But, before the dust settles, the YOLO lifestyle is expected to kick in and with many throwing caution to the wind.
As early as Wednesday, droves of fans, old and the young alike, started making a mass exodus from different regions, heading to 'Vasha' (Naivasha), creating a cocktail of adrenaline awe and fun moments.
There is no doubt the rally will be full of thrills, spins, and flying jumps, but above all, the 'sherehe' that is going to go down this weekend is of a whole different magnitude.
"We had guests booking our rooms since the beginning of June and at the moment we are totally sold out," says Elijah Muimi, a hotelier who admits they usually make a kill around this time.
Event organisers know this way too well and are out to make the maximum out of it. Most parties this weekend have shifted locations to Naivasha where loads of Pulsers have pitched camp.
The now-famed Koroga Festival, for example, will be going down at The Gardens, Moi South Lake Road in Naivasha and Jamaican reggae musician, Tarrus Riley will be headlining the show. Several other tailormade concerts are also going down in the same small town.
This is the norm when such happens with some booking accommodation as far as Nakuru. Airbnb business is also booming as people - mostly cliques get themselves a quiet tranquil place of their own just to avoid the hassles of a hotel.
"I have four houses that have all been booked. I admit, of late, Airbnbs have been getting bad media, but for us, we are giving our clients value for their money and we have no hidden cameras like most claim. Our houses go for between Sh2,500 to Sh10,000 per night according to one's preferences and of course the depth of their pockets," says Doreen Chuma, an entrepreneur in Nakuru.
"Due to the numbers we are experiencing we also have tents for hire just to give our clients a camping experience while they enjoy the thrills," she adds.
Last year, when such an event happened, the 'Subaru Boys' as they are commonly referred to had a time of their own, and this year a repeat of the same is expected.
They are the highlight of most racing events and are notoriously linked to randy behaviour and powers to make "your girl disappear" for an entire weekend.
"Anza ku accept mapema that this weekend she's not yours!! You cannot afford Naivasha bro," says one Twitter user, Dark Hub.
The Subaru Boys attend in their numbers, and truth be told, they ferry skimpily dressed ladies in their thickly tinted cars with loud music booming from their 'beasts' while dragging and racing anyhow.
As Femi One put it, hii ni masaa ya dhambi. "My friends and I have pulled together to get to the venue. The rest we are sure will be catered for. As long as we have our fare to and from, drinks, food and accommodation will be taken care of - we just don't know by who," says Jackline Mueni, a college student in Nairobi.
"We booked our hotel early enough and we will be heading there today with my boyfriend," says musician, Shay Diva.
Last year's event revealed photos and videos of Pulsers heavily drunk, while others got kinky and intimate in the bushes.
Related Topics