Home
/
Health & Science
Teens to get Covid-19 jabs as Kenya yet to hit target
Health & ScienceBy Mercy Kahenda | Tue,Nov 16 2021 00:00:00 UTC | 3 min read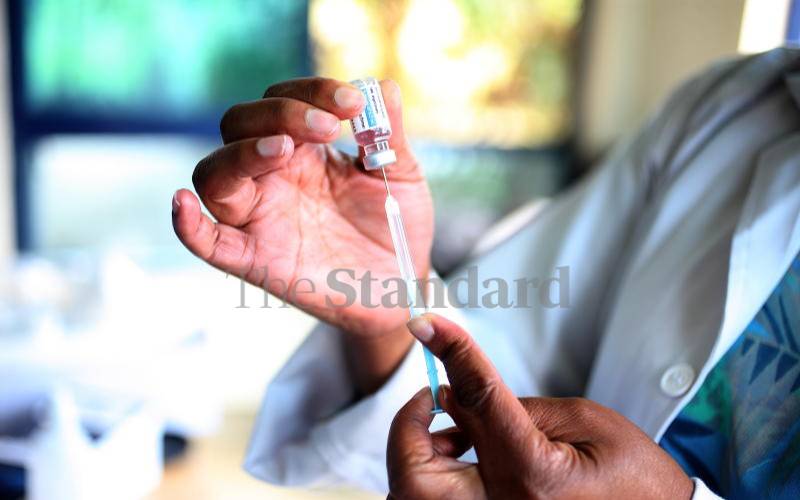 The Ministry of Health plans to inoculate teenagers against Covid-19 ahead of the target 10 million by December.
Vaccination in teenagers will be guided by data from Pfizer vaccine that is currently being reviewed by the Pharmaceutical and Poisons Board.
Andrew Mulwa, the Acting Director of Medical Services Head Directorate Preventive and Promotive Health said inoculation of children was a policy consideration that would be announced by the ministry.
"Most developed countries are vaccinating children above 12 years, with some vaccinating those aged five and above. We are still deliberating before we make a policy decision," Dr Mulwa told The Standard in an interview.
If given a nod, Kenya will be the second country in Africa after South Africa to inoculate children.
South Africa has planned to start vaccinating children aged between 12 to 17 with Pfizer, next week.
Unlike adults who have reported hesitancy in the uptake of the jabs, Mulwa reassured the public that the same would not be experienced in children.
Kenya has received a total 9.3 million doses.
A total 5,990,974 vaccines have been administered, of which 3,884,449 have partially been vaccinated, with only 2,110,357 people fully vaccinated as of yesterday.
"There will be no difficulty in vaccinating teenagers, as the country has been carrying out routine vaccination for a long time," he said.
"We rolled out HPV vaccine among teenagers and before Covid-19 hit, we were doing almost 90 per cent of coverage. So I don't see any difficulty in this."
Head of the National Public Health Institute (Kenya CDC) Sultani Matendechero said there was need to embrace a 'Whole of Society' approach in advocating for increased uptake of the vaccination.
"It is the responsibility of the general public to walk in the village, find out who has not been vaccinated, and encourage them to take the jab," he said.
Dr Matendechero said even though the country had recorded a low positivity rate in the past weeks, "we are not yet out of the woods".
"It is worrying that people are not putting on masks and frequently washing hands; and social distancing seems to have been thrown to the wind. These are measures that helped contain the spread of the virus. Let us not relent," said the official.
The medic remained positive that the country would attain 10 million inoculation target by December, and 27 million people by 2022.
He attributed hesitancy to vaccine nationalism and lack of capacity, an issue that affected the rollout of the vaccination exercise. "Change of messaging will help woo more people. We initially did not have enough vaccines, but they are here. Let us go for the jab," he told the public.
The ministry has identified hesitancy in the Northern frontier counties and western Kenya counties.
Kakamega, a county ranked third in population has recorded less vaccination, as compared to Taita Taveta, with a low population.
To reach the 10 million target by December, the ministry is planning to conduct outreach programmes.
"Through outreach programmes, we shall take vaccines to the people. We shall also conduct mass campaigns where we target to vaccinate at least 300,000 people per day to get to 10 million people target set by the end of the year," said Mulwa.
Meanwhile, Bill and Melinda Gates Foundation will pump $150 million (Sh16.8 billion), as a financial guarantee to help Unicef procure vaccines and other health-related supplies for low- and middle-income countries.
"The world cannot have a system in which supplies that are critical to improving the health of all people are auctioned to the highest bidder, forcing poorer countries to go without," said Chris Elias, president of the Global Development Division at the Bill and Melinda Gates Foundation.
Related Topics