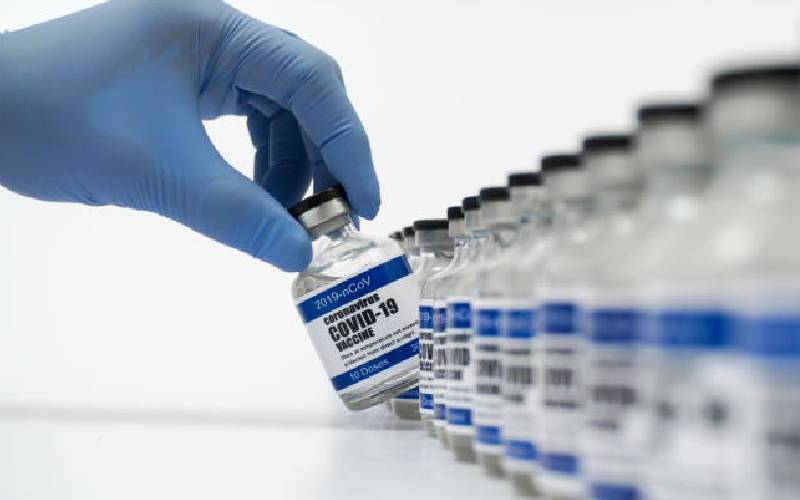 There was confusion and anxiety as countries eagerly waited for vaccines following the outbreak of the coronavirus disease last year.
Each case load counted, with scientific vaccine trials on effectiveness closely followed for update.
There was a ray of hope after the World Health Organisation (WHO) issued its first emergency use validation for the Covid-19 vaccine on December 31.
The organisation listed the Comity Covid-19 Messenger RNA (mRNA) for emergency use, making the Pfizer/BioNTech vaccine the first to receive emergency validation.
The WHO's Emergency Use Listing (EUL) opened the door for countries to expedite their own regulatory approval processes to import and administer the jab.
There was no vaccine selectivity, with Kenya having been among countries that acquired the first 1.02 million doses of Oxford/AstraZeneca vaccine through Vaccines Global Access (Covax) programme.
But with the approval of more vaccines, some people are not sure which to go for, and why.
"I'm confused which vaccine between Oxford/AstraZeneca and Johnson & Johnson I should pick," said Sofia Mohammed from Nakuru.
Hers is just fear. "I do not have specific reasons on why I am yet to take the jab. I just fear. I read some information that there are adverse side effects," she said.
Ms Mohammed is not alone. Hundreds of Kenyans are not sure on the jab of their choice.
Spoilt for choice
Since March, the country has received more than five million doses of vaccines, including Moderna, Johnson & Johnson and Oxford/AstraZeneca, with a consignment of Pfizer-BioNTech expected to arrive soon.
Nyambura Kimani had been yearning for Johnson & Johnson, but has no specific reasons. Even with arrival of the single shot vaccine, she is now even more confused if to go for others.
"My parents have been vaccinated with Oxford/AstraZeneca, my brother had Moderna and I am preferring Johnson & Johnson. But I prefer Pfizer, only if I had the means," says the 27-year-old.
Like many Kenyans, Caroline Shaman fears injection. She therefore would prefer Johnson & Johnson-a single-shot dose.
"I'm still trying to gain gain courage, reasons to why my preference is Johnson & Johnson," said the Nairobi resident.
Pfizer/BioNTech, Moderna, AstraZeneca/Oxford, Sinopharm and Sinovac are recommended for two doses each.
So, which is the best Covid-19 vaccine?
The Ministry of Health Acting Director General Patrick Amoth notes that all vaccines are pre-qualified approved by WHO for use.
Dr Amoth, also the WHO Executive Board chairperson, says all vaccines are effective, irrespective of whether it is viral vector, or mRNA-based.
"The best vaccine is that which is easily available. In terms of efficacy, all the vaccines go through a robust system of analysis before they are deployed.
"Kenyans should get any vaccine that is available at a nearest health facility irrespective of the vaccine."
Prof Matilu Mwau, a virologist and Kenya Medial Research Institute (Kemri) deputy director, and Dr Moses Masika, a virologist at the Kenya AIDs Vaccine Initiative (Kavi), Institute of Clinical Research and Department of Medical Microbiology, University of Nairobi, agree.
"All vaccines in the country have undergone trials and approved for use," says Masika.
Mwau notes the complexity in determining best vaccine. According to the the researcher, elements to consider range from cost, efficacy and effectiveness in distribution.
A dose of AstraZeneca costs about Sh763 ($7), while other vaccines range from Sh3,488 ($32) to Sh4,142 ($38).
"The best vaccine is the one administered in someone's muscles , yet we cannot talk about best, when it is not even available," he says.
Efficacy
He explains that when it comes to efficacy, mRNA vaccines are better than virus vectored ones, as they have the ability to prevent an individual from getting very sick resulting into hospitalisation or death.
"Overall, mRNA efficacy exceeds 90 per cent like Moderna and Pfizer-BioNTech, but because they are not available, the best measure is to get what is available," he says.
But mRNA are also more costly because their production is more complicated.
"For instance, the virus vector vaccines should be stored in at least minus 20 degrees while mRNA require minus 80 degrees, which means there can be challenges in
transportation and storage in rural areas."
"A bird in hand is worth two in the bush. We should not entertain vaccination selection. Kenyans should pick what is available now," he concludes.
According to the Centres for Disease Control and Prevention (CDC) clinical trials, the efficacy of Oxford/AstraZeneca is between 76 and 86 per cent, while that of Johnson and Johnson is 66.3 per cent.
Johnson and Johnson's effectiveness is 66.3 per cent, while Moderna and Pfizer-BioNTech are rated at 94.1 per cent and 95 per cent, respectively.