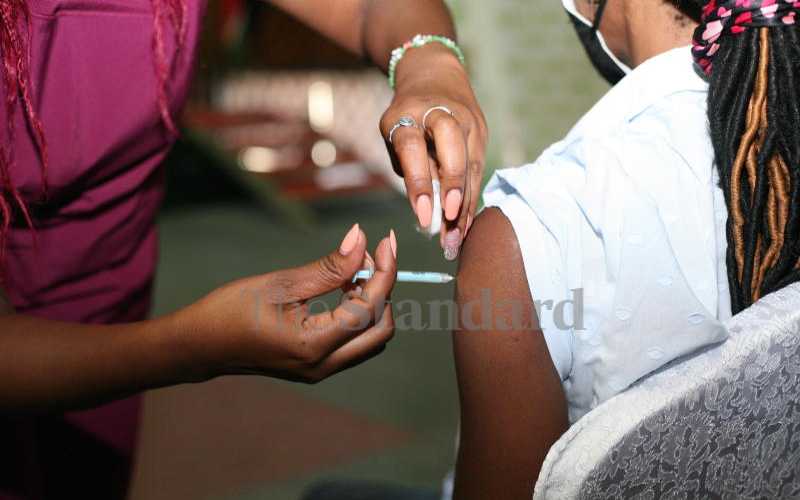 Social media anti-vaccination campaigns have hurt efforts by the government to curb the spread of Covid-19.
Some Nairobi residents have admitted that statements on social media have influenced their decision on not volunteering to get the Oxford/AstraZeneca jab.
For others, the proper lack of information was further aggravated by Covid deniers such as Dr Stephen Karanja.
On March 5, he was quoted by Nation saying, "It seems there is something Bill Gates has invested in that requires the whole world to be vaccinated. What that investment is, remains the million-dollar question."
He spread misleading information on the coronavirus vaccine and later died of Covid-19.
Businesswoman Evelyne Moraa, 24, says some of the social media comments on anti-vaccination, especially Twitter, are hard to ignore.
She questioned why a deadly virus would only have two of the most common symptoms – "headache and a runny nose."
Moraa's worst fear is that the vaccine may interfere with her ability to have children in the future.
User Martin Koss said, "We are told to wear masks, stay away from others, not to have large gatherings, act like we have the virus, restrict our children's lives, keep businesses closed … Our lives are being ruined … ."
Echoing her concerns is Beatrice Mmboga, a 38-year-old mother of four.
Mmboga said even though she has children already, she does not want a vaccine that may hurt her chances of conceiving in the future. She says she may still want more children.
"My mother had five children, how can I have less? I will want more children in future," she says with a chuckle.
A spot check on Twitter showed many anti-vaxxers believe the pandemic is a creation of the media and that it is a conspiracy theory.
One user goes by the name "l Don't Want A Vaccine I Don't Need" under the handle @iAmAntiVaxism.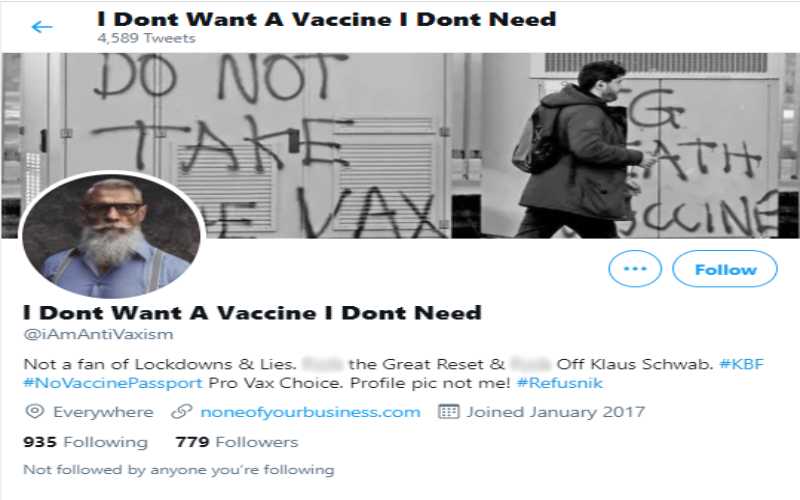 It is difficult to tell whether the user is a man or a woman. The information on the page states that the used picture is not that of the person operating the account. The user also includes #Refusnik in their bio. Refusenik means a person who refuses to follow orders or obey the law, especially as a protest.
The user's pinned tweet states, "I am not a Conspiracy Theorist. I am a critical thinker and I don't believe anything that's on the TV and Radio."
T-Shirt is done! Ready for next weekend! #26June2021 #uniteforfreedom #iAmNotALabRat #IAmProChoice #NoVaccinePassports #NoJabForMe #NoJab4Me pic.twitter.com/lueaNqy1X1
— l Dont Want A Vaccine I Dont Need (@iAmAntiVaxism)
June 17, 2021
Another user going by the name Mother of Hope, criticized a BBC article on headaches and runny noses being linked to the Delta variant.
She said, "How to sell a pandemic - pick two of the most common symptoms in the history of illness, ever … Headache and runny nose linked to Delta variant."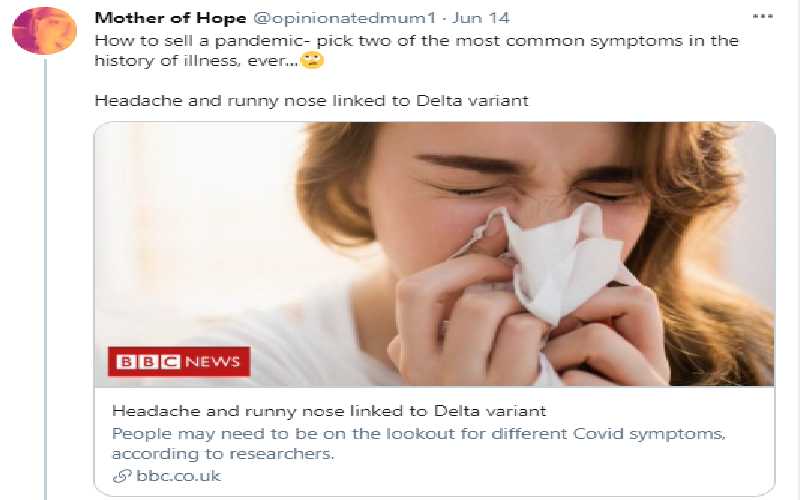 BBC in the June 14 article had reported that a headache, sore throat and runny nose are now the most commonly reported symptoms linked to Covid infection in the UK.
Tim Spector, who runs the Zoe Covid Symptom study, said the Delta variant can feel "more like a bad cold", especially for younger people.
The World Health Organisation has listed Covid symptoms as including fever, cough and shortness of breath. In more severe cases, infection can cause pneumonia or breathing difficulties.
The agency has listed the most common symptoms as fever, dry cough and tiredness.
The less common symptoms are aches and pains, sore throat, diarrhea, conjunctivitis, headache, loss of taste or smell, a rash on skin and or discolouration of fingers or toes.
The serious symptoms are difficulty in breathing or shortness of breath, chest pain or pressure, or loss of speech or movement.
But there have been calls on social media for emergency legislation to prosecute those pushing anti-vaccination campaigns.
Others, however, say using the law that way would be 'unethical' and that instead, the government ought to educate the people about the vaccine.
Some comments on social media, like Moraa's, were that many of the people against the vaccination just don't have enough information on it.
"Even the government does not seem to tell us more about vaccines and pregnancies, or what impact it will have on those thinking about having children in future. Well, we have been told it is safe, but surely there must be side effects – what are they?" she said.
A user named Erdocon said, "There are certainly concerns and risk factors that need to be taken into account. It's not reasonable to use a blanket approach. Think a true discussion of risk and benefit needs to happen…."
Pregnant in the middle of a pandemic
Elsewhere, Priscilla Nyaboke sits in her salon in Mlango Kubwa slum in Nairobi county, waiting for clients.
While she waits for customers, Nyaboke dines on pasta she carried in a plastic lunchbox, comfortably resting it on her growing belly.
She tells me she doubts the doctors understand the coronavirus and thus has little faith in the Oxford/AstraZeneca vaccine currently in use in the country.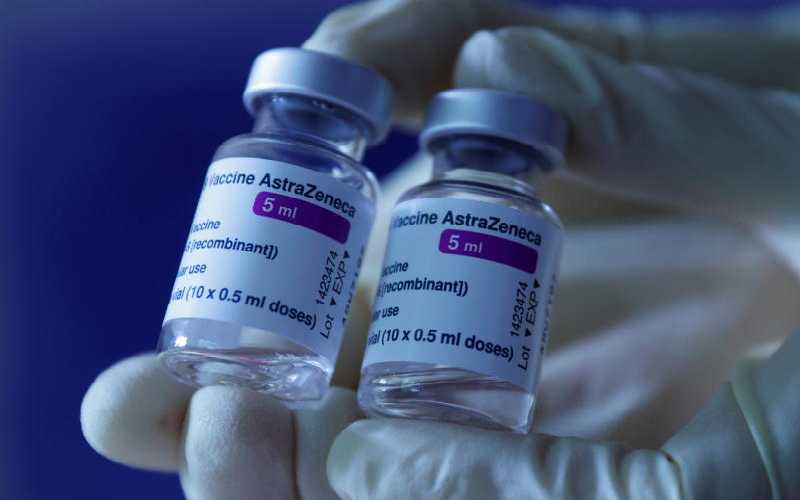 Like many in her condition, Nyaboke is worried about being pregnant in the middle of a pandemic.
A little over one million doses of the Oxford/AstraZeneca vaccine arrived at the Jomo Kenyatta International Airport, Nairobi, on March 3.
The government led by Health Cabinet Secretary Mutahi Kagwe urged the public to come out to take the vaccine.
But what the government did not anticipate were the misconceptions that would surround the vaccine and its subsequent rollout.
One of the misconceptions is that the vaccine hurts the foetus and possibly future chances of conceiving.
Nyaboke is 22-years-old. She says she cannot risk having complications with her first pregnancy. She says she may want to have more children in the future.
"I am currently a single parent on this journey after my boyfriend said he wants nothing to do with it. So if I were to have complications with my pregnancy I do not know who will help me. I am alone."
Nyaboke has blamed the government for what she calls scanty information on what effects the virus has on pregnancies, the mothers, or women thinking about having children.
However, during one of the daily Covid-19 media addresses in the country, Health Chief Administrative Secretary Dr Mercy Mwangangi admitted that there had been a sharp decrease in the number of hospital visits, pregnant women included.
The majority of Kenyans requiring medical attention were avoiding hospitals over fears that they would contract the virus. But Dr Mwangangi called on citizens to visit the hospital to seek professional help when required.
The Aga Khan University Hospital, Nairobi, has posted on its website that the use of Covid vaccines in pregnant women is limited as preliminary animal studies do not indicate direct or indirect harmful effects on either the mother or the foetus.
The quote continues, "The full relevance of animal studies to human risk with vaccines for Covid-19 remains to be established. Administration of the Oxford/AstraZeneca vaccine in pregnancy should only be considered when the potential benefits outweigh any potential risks for the mother and foetus."
Such statements only aggravate Nyaboke's worries about getting the vaccine. She is yet to get vaccinated and says she has no intentions of doing so.
The Aga Khan Hospital website also says there is evidence from some vaccines that the breastfeeding baby may acquire a level of protection if the mother is vaccinated and that the vaccine is recommended for use during breastfeeding.
Nyaboke's fears were further compounded by a Business Daily report in April which stated, "Initial trials which were conducted excluded pregnant and breastfeeding women. Clinical trials that look at the safety and how well the Covid-19 vaccines work in pregnant and breastfeeding people are underway."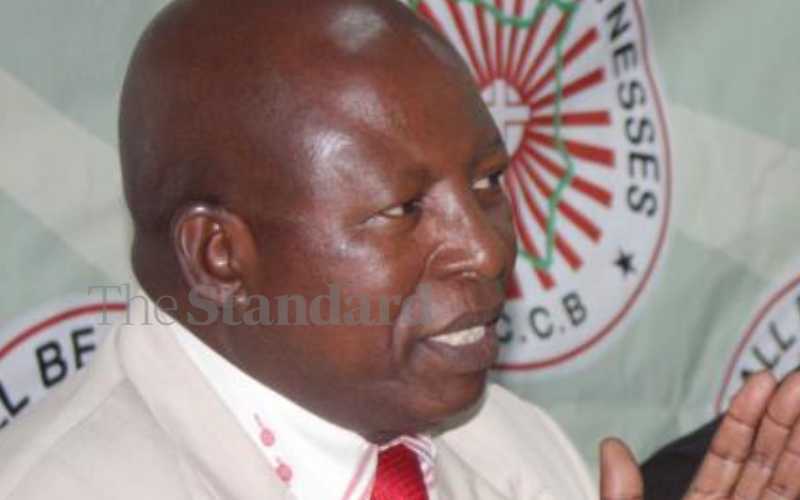 The report added that initial Covid-19 trials excluded pregnant women.
"There is limited data on any potential side effects of the vaccine during pregnancy. However, a very small number of women who were enrolled in the trials became pregnant after receiving the vaccines," it said.
Asked why she is against the vaccine, Nyaboke further cited Dr Karanja, the Kenya Catholic Doctors Association chairman. She said a professional health worker's comments cannot be ignored by the masses and "ordinary people like me".
In March, the Kenyan Catholic church was at loggerheads with the doctors' association for spreading false information against the use of the Covid vaccine.
Last month, the Catholic doctors argued that there is no need for Kenyans to take the vaccine, saying it is unnecessary.
Dr Karanja was against the distribution and administration of the Covid-19 vaccines.
His comments came a few days after he released a statement on March 3 titled "Stopping Ravages And Loss of Human Life from Covid-19".
The nine-page document narrated population control theories and claims about Covid-19 testing and treatment.
According to AFP Fact Check some of the recommendations to treat Covid-19 as explained by Dr Karanja included inhaling steam several times a day, taking Ivermectin tablets and following the Zelenko protocol, which entails taking a combination of drugs daily for a week.
The Zelenko protocol involves taking a cocktail of hydroxychloroquine, zinc, and Azithromycin (an antibiotic), taken for seven days.
Medical experts say none of these methods have been proven to work.
On April 29, Dr Karanja died of Covid-19. He passed away at the Mater Hospital where he was admitted to the High Dependency Unit.
A message seen by The Standard from his colleague Dr Wahome Ngare sent on April 20 said Karanja was admitted due to complications of Covid-19.
Meanwhile, until she gets more information on what effect the vaccine will have on her or her unborn baby, Nyaboke says she will remain hesitant.
Related Topics