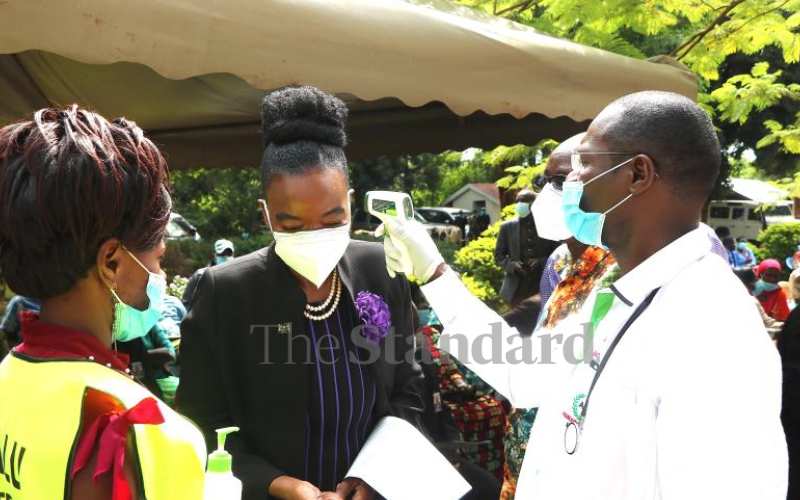 The Covid-19 cases in the 13 Lake Region Economic Bloc counties continued to rise yesterday even as the government implemented tough measures for locals to adhere to Ministry of Health protocols.
In Kisumu, six police officers were arrested while drinking in a club at 8pm on Saturday despite the 7pm to 4am curfew.
In Muhoroni, a family was forced to bury their kin in a huff in the wee hours after they were found to have violated the Covid-19 protocols.
The family had reportedly ignored the burial permit that required them to inter the body of Risper Juma on Friday and had kept the body for a night vigil.
County Commander Samuel Anampiu said that the family was compelled to bury the body under the supervision of police officers at 4am.
Nyanza regional traffic boss Mwangi Ng'ang'a said mobile patrols had been heightened to ensure the curfew measures were adhered to.
"All offenders will be arrested," said Mwangi.
He said police roadblocks had been erected on all major highways.
A spot check in Kisumu, Kakamega, Vihiga, Bungoma, and Busia counties indicated that most churches adhered to the government's ban on services and remained closed yesterday.
Kakamega Governor Wycliffe Oparanya, who doubles up as the bloc's chairman, said medical facilities across 13 counties mapped out as hotshots are overstretched following a spike in coronavirus infections.
Oparanya has petitioned the national government to intervene before things get out of hand.
"We may be looking at a more serious crisis if there will be no financial support to alleviate the situation," said Oparanya.
Kakamega Health Executive Collins Matemba said out of 13 patients admitted to the County General Hospital, three are in ICU.
Two patients, according to Matemba, were intubated.
"Ten patients are in our isolation centres at the facility, with seven on oxygen support.
"Currently, no admission is being done at County General Hospital, the facility is full and it is overflowing with patients, some from Kisumu," said Matemba.
He said the major problem has been de-congesting Kakamega GK Prison which had 59 out of the 79 new coronavirus cases reported on Saturday.
Nineteen of the infected inmates and a warder have been transferred to Busia Prison health facility. "One of them is a prison warder and the rest are inmates."
Health officials in Kisumu County expressed concern over continued flouting of Covid-19 protocols.
Health Executive Boaz Nyunya regretted that public service vehicles were still overloading passengers, most of whom did not properly wear face masks.
Some bars and restaurants were operating with total disregard to social distancing directives.
Yesterday, the county recorded 142 new cases, bringing the cumulative number to 6,681.
[Reports by Matilda Mbenywe, Harold Odhiambo, Kepher Otieno, Nathan Ochunge, and Benard Lusigi]