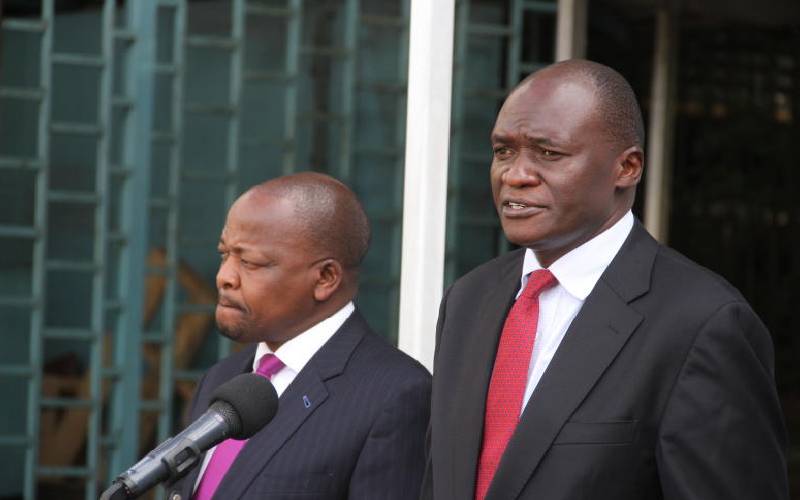 An ODM MP has sensationally claimed that Health Cabinet Secretary Mutahi Kagwe refused to confirm acting Director-General for Health Dr Patrick Amoth because of his ethnic background and age.
Alego-Usonga MP Samuel Atandi said after Kenyans called for Dr Amoth's confirmation, he approached the CS over the same but he flatly refused on what he described as flimsy grounds.
"As the Area MP for Dr Amoth, I went to see CS Kagwe after social media uproar calling for his confirmation. I was taken aback when the CS flatly rejected my request claiming that Dr Amoth was not of the right age group and ethnic background," said Atandi.
Speaking to The Standard on the phone, Atandi said the ministry was setting a bad precedence and was painting the country in a bad light after Dr Amoth's new role.
"The good doctor should be confirmed or given a bigger post that befits his qualifications. We can do better as a country," he said.
Dr Amoth was on Tuesday, June 1 elected the chairperson of the Executive Board of the World Health Organisation (WHO) during the 149th session of the WHO's Executive Board held in Geneva, Switzerland.
While congratulating Dr Amoth for his new role in WHO, Atandi said it was shocking and saddening for the world to recognise his [Amoth] capabilities when in Kenya he was perpetually acting because of his ethnic background.
"As the World recognises Dr Amoth's capability, intelligence and hard work, CS Kagwe has flatly closed his eyes to your long-overdue confirmation," added the lawmaker.
Dr Amoth was appointed acting Director-General in January 2020 and is yet to be confirmed 18 months after his appointment.
City lawyer Donald Kipkorir hit out at the government for disrespecting Kenya's best brains while they are still alive and only recognizes them in death.
He wondered why Dr Amoth was still acting director-general at the Ministry of Health when an international body, WHO had appointed him in a bigger role.
"That Dr Amoth is still a junior official and acting to boot at the Ministry of Health whilst WHO has made him President of its Executive Board shows the disdain we have for our best. In Kenya, we elect and reward the mediocre in life but celebrate the best when they die," Kipkorir said on Twitter on Wednesday.
Former Chief Justice Dr Willy Mutunga likened Dr Amoth's situation Jesus' situation in the Bible when he said prophets are honoured except in their home countries and houses.
Amoth takes over from India's Minister of Health and Family Welfare, Dr Harsh Vardhan, whose term ended on June 2 after chairing three consecutive Board sessions, since 2019.
The World Health Assembly, taking into account an equitable geographical distribution, elects the members entitled to designate a person to serve on the Board.
Each of these members appoints to the Board a person technically qualified in the field of health, who may be accompanied by alternates and advisers.
Kenya was elected to the Executive Board in 2019 and was previously represented by Dr Masasabi John, until January 2020, when Dr Amoth was appointed as the substantive member.
Kenya's Ambassador in Geneva Dr Cleopa Mailu is the alternate member.
Dr Amoth is a medical doctor with a Master of Medicine degree in Obstetrics/Gynaecology from the University of Nairobi.
He pursued his undergraduate degree in Medicine at the same university. He also holds a Diploma in Health Systems Management from Galilee College in Israel.
He previously served as chief medical specialist (obstetrics/gynaecology) and Senior Deputy Director of Medical Services at Mama Lucy Kibaki Hospital Nairobi.
Related Topics