Health DG Dr Amoth, KTN's Dr Korir among persons honoured in Covid-19 fight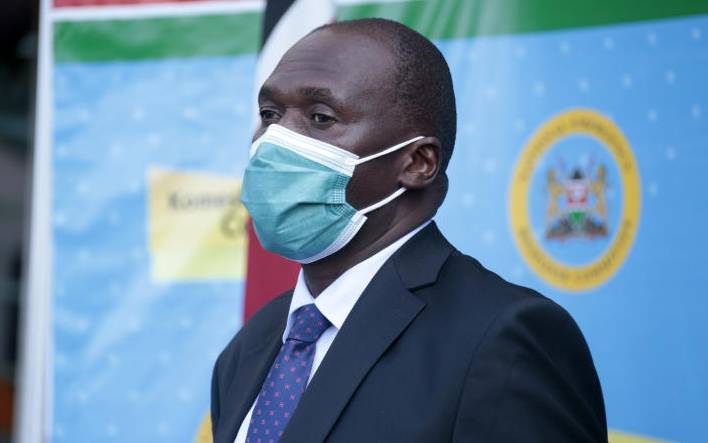 The Health Director-General Dr Patrick Amoth (above) and KTN News reporter Dr Mercy Korir are among 68 individuals who have received National Honours during the 57th Madaraka Day celebrations for their contribution in the fight against coronavirus.
During the virtual Madaraka Day celebrations at State House in Nairobi, President Uhuru Kenyatta announced that the State would honour individuals for their exemplary contribution over the coronavirus period.
"In recognition of their distinguished and outstanding service to the Nation in helping steer our country through the Coronavirus Pandemic, I, Uhuru Kenyatta, President and Commander-in-Chief of the Kenya Defence Forces, confer National Honours on the following persons," read a gazette notice published on Monday, detailing the individuals.
President Uhuru evoked the spirit of patriotism calling on the Kenyans to remain focused in the fight against the pandemic. The Head of State revisited the sentiments of Kenya's founding fathers as he called for resilience in the fight against the scourge.
He stated: "We are further emboldened by the fact that, united in the struggle, we defeated a giant nation. And as we fight the coronavirus pandemic today, our victory over the colonizers should remind us that "…This too shall pass"."
"Although slowed down by the health crisis and the economic downturn caused by Covid-19, I am further comforted by the teachings of our Founding Fathers. They instructed us to be "…our very best at our darkest moment". They taught us not to question in the dark, the dreams we dreamt in the light," he added.
He asked the country to unite and engage in constructive debate as the government handles coronavirus, locust invasion and the flood menace. This he said was the spirit displayed by the founders of the nation.
"Yet in their darkest moments, our founding fathers did not abandon the course. Instead, they re-imagined it, re-grouped and re-engaged differently," he stated.
"Similarly, as we reflect on the progress we have made, as we look inwards for self-introspection, we must not over-criticize ourselves. And I say so because, in the subconscious mind, we become what we repeatedly do."
Below is the list of individuals who have been nominated for National Honours. They majorly comprise journalists and medics who have been in the frontline of fighting the coronavirus.
1. Amoth Patrick (Dr.)
2. Ayub Matiiri (Maj.–Gen.)
3. Jane Karuku
4. James Mwangi (Dr.)
5. Simon Wall
6. Wachira Waruru
7. Bimal Kantaria
8. Evanson Kamuri (Dr.)
9. Macharia Irungu (Dr.)
10. Masasabi Wekesa (Dr.)
11. Nduku Kilonzo (Dr)
12. Wilson Aruasa (Dr.)
13. Matilu Mwau (Prof.)
14. Omu Anzala (Prof.)
15. Wangari Ng'ang'a (Dr.)
16. Kadondi Kasera (Dr.)
17. Loice Achieng Ombajo (Dr.)
18. Marybeth Maritim (Dr.)
19. Sood Mohammed (Dr.)
20. Mbuvi Mutua Paul (Dr.)
21. Victor Njom (Dr.)
22. Jeremy Gitau (Dr.)
23. Zeddy Chepchirchir Komen (Sr.)
24. Margaret Ogonga (Sr.)
25. Audrey Rotich
26. Nicholas Kirui (Dr.)
27. Daisy Chepkemoi Korir (Dr.)
28. Jackline Odawo Opondo (Sr.)
29. Sylvia Kadima
30. Douglas Ambenje Nasio
31. Jacqueline Kiio
32. Amina Guleid (Dr.)
33. Thuranira Kaugiria (Dr.)
34. Dennis Allela Odhiambo
35. Philomena Akoth Owende-Wandayi (Dr.)
36. Jemimah Muthoni Kariuki (Dr.)
37. Jan Mohammed
38. Pankaj Shah
39. Clinton Mwita
40. Mercy Korir (Dr.)
41. Jeff Kuria
42. Asha Mwilu
43. Purity Museo
44. Enoch Sikolia
45. Chemutai Goin
46. Nelson Aruya
47. Nasibo Kabele
48. Rebecca Mutua
49. Priscilla Kioko
50. Faith Mailu
51. Caroline Makena
52. Salome Wairimu
53. Stephen Wamukota
54. Amina Ramadhan
55. David Ochieng
56. Sister Winnie Mutuku
57. Njoki Kariuki
58. Phillip Ogolla
59. Mary Mwangi
60. Mary Muthoni
61. Vincent Ateya
62. Robin Njogu
63. Alvin Otila
64. Tabitha Rotich
65. Sammy Waititu
66. Consolata Ngugi
67. Kingsley Kwanga
68. Wilson Kimani