Home
/
Health & Science
When oxygen causes blindness in newborns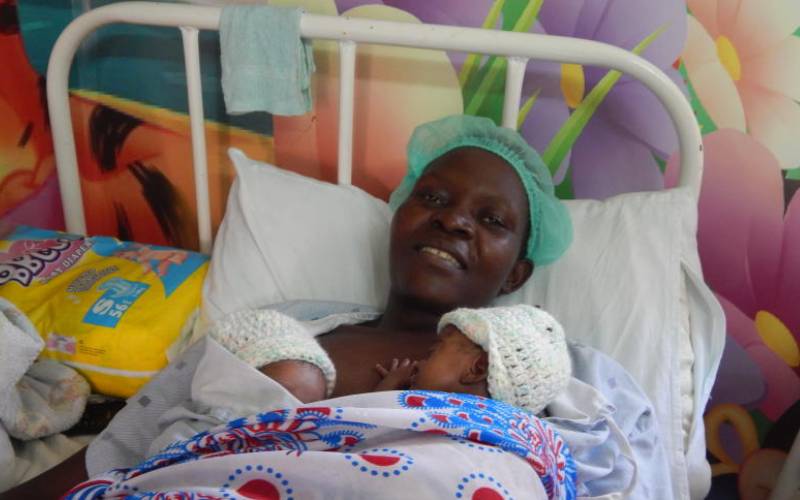 Weighing only 800g at birth, baby Amanda's health condition left her mother anxious, particularly about her survival chances. The girl born at 29 weeks looked weak and in distress. She was shortly moved to the Neonatal Intensive Care Unit at the Kenyatta National Hospital.
Jane Nyokabi, her mother, had developed high blood pressure, speeding up the delivery of her third-born.
Amanda was placed on oxygen (which when not balanced causes all problems related to a newborn's sight) but within a week her weight dropped to 600g. But gradually, she added weight and was moved to the Kangaroo unit to boost her growth.
Nyokabi faced more stress after four weeks when doctors diagnosed Amanda with Retinopathy of Prematurity (ROP), an eye problem that causes abnormal growth of blood vessels in the retina, resulting in irreversible blindness in children.
Nyokabi was confused at the prospect of bringing up a visually challenged child. She recalls how "my daughter's eyes did not seem to have a problem, and as I cuddled her, she would return a big smile, and looked sharp in my eyes".
She was shocked to learn the child's problem could lead to blindness.
The infant underwent surgery that involved injecting a special drug (Avastin) inside the eye to stop the abnormal growth of the blood vessels.
At first, doctors recommended laser surgery (ablation of the abnormal area around the edges of the retina of both eyes), but would later settle on injection, an operation that took about 15 minutes.
But the condition recurred after three months, later forcing the baby, who was under observation at the Kangaroo unit, to have a repeat procedure.
The three operations were successful; and one-year-old Amanda, now 5kg, is gradually making baby steps.
Tears of joy
"I shed tears of joy when I see my baby laugh and play. I never knew she would live a healthy life. I was worried, as the complication kept recurring," says Nyokabi.
The problem was attributed to prematurity and low birth weight.
Hundreds of preterm babies develop ROP, which requires close monitoring for early diagnosis.
Up to 60 per cent of the world's preterm births occur in sub-Saharan Africa and Asia, according to a study on ROP, published by the Pan African Medical Journal. In Kenya, preterm births are estimated at 12.3 per cent.
A study on the condition carried out at the Nairobi Hospital from 2010 to 2015 established that out of 71,888 infants admitted to the hospital, 148 were premature, with less than 37 weeks gestation.
At least 103 had been screened for ROP in the neonatal unit and outpatient eye clinic. The study titled Retinopathy of Prematurity in Kenya Prevalence and Risk Factors was published in 2018 and showed that 43 infants were diagnosed with ROP with a prevalence of 41.7 per cent.
Sarah Sitati was one of the coauthors of the report, which notes that "the strongest risk factor for the development of ROP was gestational age, followed by mechanical ventilation. Other significant risk factors included low birth weight and presence of blood transfusion," with babies suffering heart and respiratory conditions also being at risk.
Of interest though, was the role of oxygen in causing blindness among infants. Dr Sitati says: "Preterm babies are delicate. It, therefore, calls for a doctor to strike a balance between life and blindness. Little oxygen means the baby does not survive, while more oxygen risks blindness. Oxygen blenders are used to measure amount."
The eye specialist says oxygen to newborns should be regulated at between 91 per cent and 95 per cent to avoid causing blindness.
Blindness in children can also occur months after birth.
Jane Wanyaga's son developed sight problems six months after birth at the Kenyatta National Hospital. Emmanuel was born on June 24, 2019, at 31 weeks after she developed high blood pressure.
Emmanuel weighed 1kg at birth and was admitted to the Kangaroo unit, where the eye problem was noticed during regular check-ups.
Wanyaga booked for an operation in March, but postponed to June 17, following the Covid-19 pandemic that saw the cancellation of elective procedures. Emmanuel underwent a successful laser operation that cost Sh25,000. "I was not sure if truly my baby had sight problem because he could see and the eyes were normal. My relatives also discouraged me saying the operation would cause her more infection and health complications," recalls the mother.
My Health caught up with Emmanuel, who at 11 months is crawling and plays with other children.
"I cannot explain the joy of a mother seeing her baby grow strong each day," said the mother from Dandora, Nairobi.
Related Topics