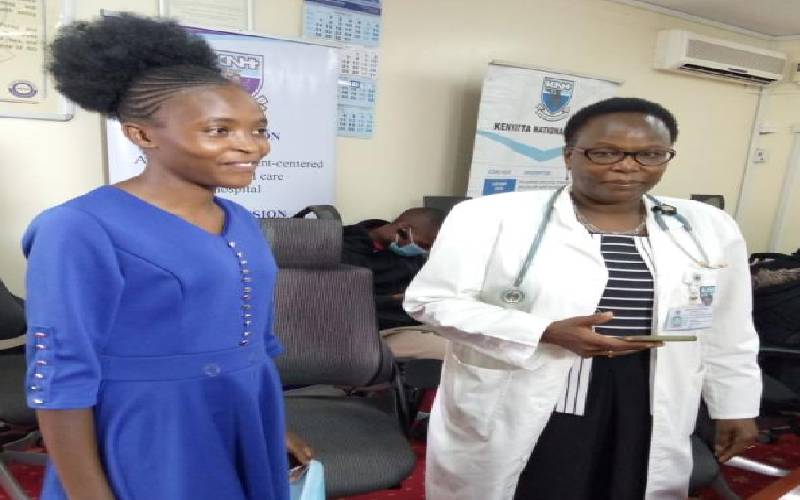 Medics at Kenyatta National Hospital (NHIF) have hit another milestone in cardiology surgery.
The team conducted a heart surgery known as a PDA (patent ductus arteriosus) invasive closure.
Mary Wanjiku, 18, and a Form Three student was born with a heart complication that was only discovered in 2014.
Her mother Tabitha Muthoni says Wanjiku, who is her firstborn daughter, had always been a sickly child, which affected her growth.
Every time they went to the hospital, she was diagnosed with chest problems that would be treated in vain. In 2014, she was diagnosed with a heart problem but the details of the condition were scanty.
Yesterday, her mother emotionally explained how after being told her daughter had a hole in a heart, she thought that was the end of Wanjiku's life as she did not know how she would afford the care her daughter needed.
Tabitha sought help at KNH in August 2020 where Wanjiku was assessed, but due to Covid-19, she couldn't be operated on until January.
The surgery was again pushed to this month and on Thursday last week, she began her new life.
The surgery, which cost Sh180,000, was covered for by the National Hospital Insurance Fund.
This being a congenital heart awareness week, the minimally invasive procedure performed on Wanjiku is a timely triumph for the medical fraternity.
Worldwide, heart problems occur in eight per 1,000 births and they come in different categories.
Children born with heart problems mostly present symptoms like stunted growth, poor breastfeeding habits, sweating a lot, and sometimes breathing very fast.
Dr Naomi Gachara, a paediatric cardiologist at KNH, said after a patient is diagnosed with such a condition, an X-ray is done to ascertain the exact problem is.
"Basically we do an ultrasound of the heart where we pick specific details and know which way we can manage it," said Gachara.
Wanjiku was born with PDA, which is a type of a blood vessel that should close after three weeks when a baby is born. But her vessel remained open and grew bigger.
"When it persists, symptoms vary, but in her case, she couldn't gain weight and couldn't cope with playing with other children as her heartbeat was so fast," said Gachara.
After assessing the patient, the doctors came up with a way to close her PDA without doing surgery and leaving her with a scar. A transcatheter PDA closure is a minimally invasive (non-surgical) procedure, which is done to close the ductus arteriosus.
The procedure is mostly done by specialised heart doctors who use a procedure called cardiac catheterisation to place a small device in the vessel, which closes the PDA.
Doctors can insert a soft wire mesh PDA closure device through a catheter (a long, narrow tube) to stop blood flow through a PDA.
According to Gachara, invasive surgery is done from the leg where large vessels are easily accessible.
"We use long tubes called catheters that can get to the heart, which requires a lot of skill. When we get to the heart, we bring in a small gadget, and that time the patient is asleep. Once we deliver the gadget, we screw it and then we unscrew and the gadget is in position," she added.
Gachara said the beauty of the procedure is that once done, the patient can go home and continue with their normal lives within 48 hours.
"If the right gadget is used, there are usually no complications," she said.
Related Topics