Home
/
Health & Science
The champions risking it all to help Kenya beat coronavirus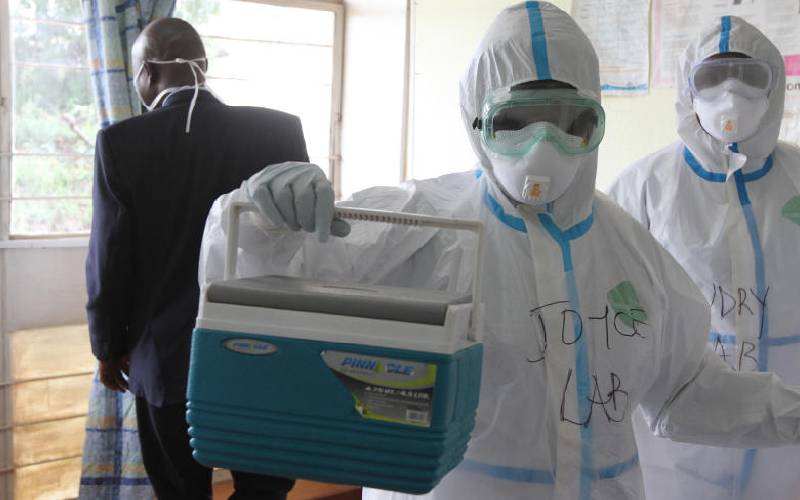 In recent days, talk about the neglect of front-line healthcare workers in the fight against Covid-19 has dominated the news.
Outrage and despair have greeted the statistics on the number of doctors and nurses who have succumbed to the virus as the country takes a hit from the pandemic.
But behind the scenes lies a dedicated team of industrious unsung heroes and heroines in the fight against the pandemic - the non-medical staff.
Just like doctors, nurses, clinical officers and other cadres of medical staff, drivers, logistic officers, cleaners and morticians have greatly been exposed to the virus.
Every day, they put themselves in harm's way to serve the sick, some suffering from the virus.
Vincent Kiptoo is one such unsung hero. A logistics officer, Kiptoo is among front-liners who have been transporting test swabs to laboratories since the pandemic was reported in the country in March.
Delicate duties
His day begins at 4am when he reports for duty at the Rift Valley Provincial General Hospital in Nakuru.
His daily routine involves packing the swabs in a cooler box and transporting them to Covid-19 testing laboratories.
Each swab is packed alongside a reference form bearing the names of individuals tested, the gender and ages. It is a vigorous exercise done under the strict supervision of surveillance officers.
Take a quick survey and help us improve our website
Take a survey
Though with heavy eyes, probably from not having had adequate sleep, Kiptoo does not blink. The fate of many people depends on him, he has to be alert.
"Packing of samples is a delicate exercise. If I mess with a single swab, it means faulty results that will lead to improper contact tracing and surveillance," he says as he leaves for Kemri laboratories in Nairobi with a driver.
But behind the jovial and courageous face is an anxious and scared soul. "How safe am I? What if there is breakage during handling of the many samples?" he poses.
"What I do requires a lot of sacrifices. I sleep for only four hours and have never taken leave since the pandemic was reported," he says.
A report by Kemri-Wellcome Trust reveals that at least 10 health workers attending antenatal clinics at Kenyatta National Hospital (KNH) have been exposed to Covid-19.
At least 50 per cent of the Covid-19 infections in KNH involved patient porters.
Break chain
A porter is an employee who moves a patient to wards and theatres for operation. They are also involved in the movement of hospital supplies.
To break the chain of transmission at hospital and community level, a consultant paediatrician and infectious disease specialist Ruth Nduati says all healthcare providers, including support staff, should be sensitised on safety and policy guidelines on the virus.
"There are guidelines on human resources that come in contact with patients that each hospital should apply. Each staff should be trained to observe infection prevention," she says. "Implementation of policies stipulates that everyone serving in a facility should be well oriented and protected."
Nduati says that although nurses and doctors engage in procedures associated with high risks of being infected, non-medical healthcare staff are also exposed to the virus.
But data on infection between the two categories of employees are not segregated but keyed as health workers.
"Anybody who works in a hospital and gets infected with the virus is classified as a healthcare worker, regardless of their role," Nduati says.
Shema Aluda, a cleaner at Nairobi Hospital, serves in isolation rooms where she has many times seen patients not wearing face-masks, some of them with persistent cough and gasping for air.
Yet she has to attend to them, however, scared she may be. She holds onto faith and goes from bed to bed asking each patient to observe the set public health measures.
"It is God who keeps us safe," she says.
Aluda says personal protective equipment (PPE) are also not comfortable -- they are heavy and affects her breathing.
"Cleaning an isolation ward needs courage and sacrifice. You cannot touch walls, doors and even the air inside is risky," she says.
More often, she is fatigued due to the high volume of work and suffers from persistent headaches.
At a private hospital in Kisumu, a driver who has been transporting Covid-19 samples to Kemri CDC Kisumu says he is worried about his safety.
Besides the samples, he also transports linen beddings used by patients from the facility to a laundry cleaning site in Kisumu town.
"Even though I am not a doctor, I ferry food, bedding and samples everyday, exposing myself to the virus," he told The Standard in an interview.
To keep safe, he always wears a face mask while interacting with people, sanitises his hands regularly and keeps social distance all the time.
A porter at Mombasa General Hospital who identified herself as Mwajuma said she has wheeled people diagnosed with the virus to the theatre.
The porter, who is stationed at a Covid-19 maternity wing, also moves medical equipment to theatres, wards and hospital premises.
"It worries me to wheel someone knowing the person has Covid-19. This work needs courage," Mwajuma says.
To keep safe from the virus, she wears a face mask and protective equipment at all times while in the wards.
An ambulance driver at a Covid-19 isolation ward at Moi Teaching and Referral Hospital (MTRH) Eldoret said he has had sleepless nights serving patients in need of specialised care.
The driver says he has not been off duty for the past three months following increased cases of infections.
"I am alert all the time because I am always called upon to ferry patients from other hospitals to MTRH," he says.
The father of three had to send his children to his rural home in Kapsabet, as he is highly exposed and can easily infect them with the virus.
Aloys Momanyi, a mortician at the Nakuru County morgue, has not gone on leave since the first case of Covid-19 was reported.
There are only two employees and two casuals at the facility that has a capacity to preserve 36 bodies.
Over the last three months, the facility has been admitting approximately 60 bodies monthly, twice the number it used to pre-coronavirus.
Momanyi, who is in charge of the morgue, told The Standard most of the bodies preserved at the facility are of people who succumb to coronavirus.
Some of them are documented to have died at home under unclear circumstances after complaining of persistent headaches, coughs and difficulty in breathing.
"We are not only scared about contracting Covid-19 while dealing with bodies of individuals who have succumbed to the virus, but also overwhelmed by work as bodies keep on coming," he says.
Attendants at the morgue wear clean long-sleeved fluid-resistant gowns to protect their skins and clothing.
They also put on plastic face shields or a face-mask and goggles to protect the eyes, nose and mouth from splashes of potentially infectious bodily fluids that may pass on the virus.
Nduati says the infection prevention team is planning to reach out to everyone working with patients to avert more infections and deaths.
Related Topics