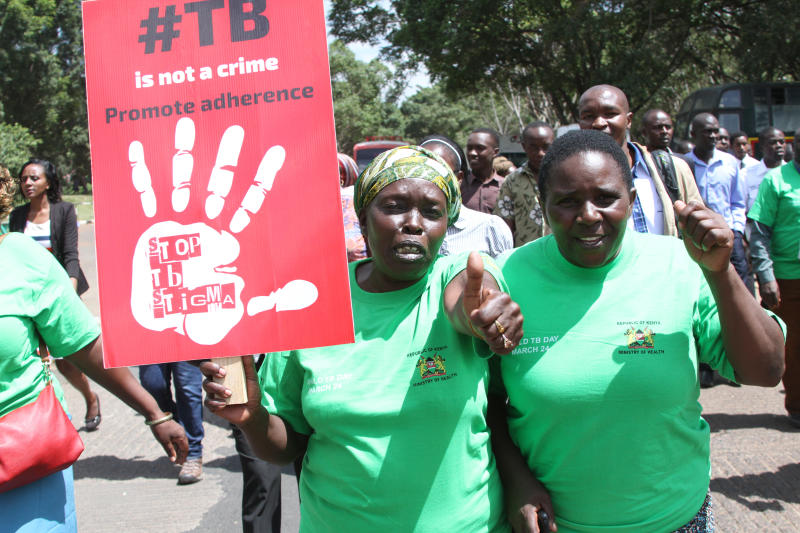 Stringent measures to contain Covid-19 have shifted focus from diagnosis and treatment of tuberculosis (TB), a new UN report shows.
For every month of lockdown, the report projects that about 1,700 Kenyans could die of tuberculosis between 2020 and 2025.
A projected 1,150 will be dying monthly for the next five years for every month spent to restore normalcy after lockdown due to coronavirus, the report warns.
Additional cases
Globally, the report shows a three-month lockdown and a protracted 10-month restoration could lead to an additional 6.3 million cases of TB between 2020 and 2025, and an additional 1.4 million TB deaths during the same period.
The report says due to such lockdowns, global TB incidence and deaths in 2021 would increase to levels last seen between 2013 and 2016 and this implies a setback of at least five to eight years in the fight against TB due to all-focus on Covid-19 pandemic.
The report titled 'The Potential Impact of Covid-19 response on Tuberclosis (TB) in High-Burden Countries: A Modelling Analysis' released on Monday was done by Stop TB Partnership, a UN agency based in Geneva, in collaboration with WHO, Médecins Sans Frontières (MSF), Imperial College, Avenir Health, Johns Hopkins University and USAID.
The Stop TB Partnership has more than 2,000 partners worldwide seeking to promote cross-sectoral collaboration to end TB by 2030.
According to WHO, TB is a forgotten respiratory disease that still kills 1.4 million people each year, more than any other infectious disease.
The new survey found out that millions of people affected by tuberculosis are still diagnosed and treated with outdated drugs. Worse still, there is a 70 per cent drop in the probability of diagnosis per visit by a healthcare provider because of reduced lab capacity and availability of medical staff.
There is a similar 70 per cent drop and 25 per cent drop in first-line and second-line treatment completion rate, whether in public or private facilities, because healthcare workers are unable to monitor and support treatment as usual.
The research was done in three high-burden countries. They include Kenya, where HIV is a driver of the TB burden, India where there is private sector involvement in TB and Ukraine which has high proportion of drug-resistant TB and hospital care delivery systems.
The report advises that to recover the gains made over last years through increased efforts and investments in TB, governments should have supplementary measures and resources to reduce accumulated pool of undetected people with TB.
Some of the measures include active case-finding, intensive community engagement and contact tracing to maintain awareness of the importance of recognising and responding to symptoms suggestive of TB.
Others include securing access to uninterrupted supply of quality treatment and care for every person with TB.
Initiating treatment also dropped by 25 per cent because of stock-outs and supply interruptions.
The report shows that 70 per cent of Kenyans with TB reported not receiving enough support during the pandemic, 50 per cent said they feared contracting the virus at a health facility and another 50 per cent said they felt ashamed because of similar symptoms of TB and Covid-19.
"Earlier this year, the Covid-19 pandemic hit the world with devastating impact, and governments around the world quickly adopted new policies and laws in response," said Dr Lucica Ditiu, STBP Executive Director.
Top killer
She said TB remains the top infectious disease killer even though it is preventable and curable.
"To make matters worse, most countries still use outdated policies, practices, tools and treatment regimens. We all must ensure that every single person affected by TB is diagnosed and treated using the latest available international guidelines and tools," Ditiu said.
Progress though has been noted on the treatment of drug-resistant TB (DR-TB) in children, with 72 per cent of countries introducing injectable-free treatment regimens which benefited 5,000 children in 2019 across the world.
However, the report shows, children with TB are often left without proper treatment because of the lack of adapted tools to diagnose TB in children.
It shows an estimated 30,000 children become ill with DR-TB every year, but only 5,586 were diagnosed and treated in 2019.
"The WHO has been rapidly reviewing new evidence and updating policies and guidelines to ensure that people with TB access quality prevention and care as soon as possible. This includes guidance during the Covid-19 pandemic, promoting home-based care and digital innovations," said Dr Tereza Kasaeva, Director of WHO's Global TB Programme.
She called on all countries to urgently step up implementation and roll out of WHO guidance, especially in high TB burden countries, as this is important for better outcomes for people affected by TB and to save lives.
With just two years until the 2022 deadline for the UN TB targets, urgent investment is required to get global efforts back on track.
[The writer is a 2019/2020 Bertha Fellow]
Related Topics