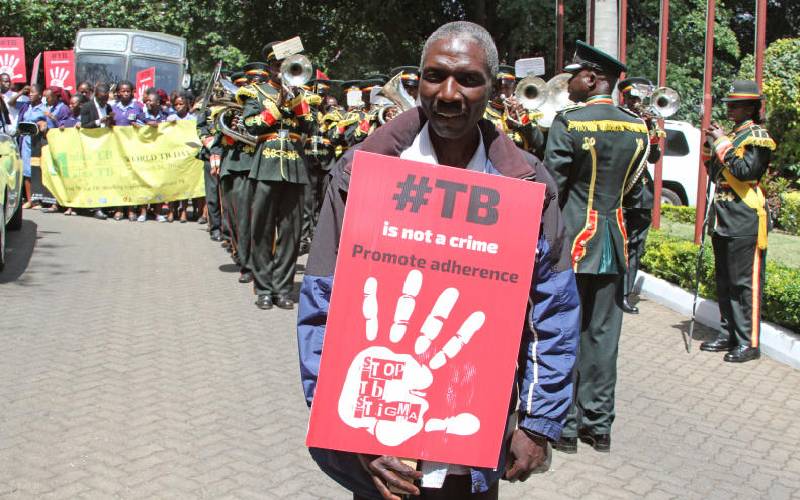 Similarity in clinical presentation of Covid-19 and tuberculosis patients is the main reason behind less cases of TB reported during the pandemic.
As a result, there are less people showing up for diagnosis or to refill their medicine for fear of being tested for Covid-19.
Covid-19 and TB patients report cough, fever and difficulty in breathing as symptoms.
Medics are raising concern that the gains of the fight against TB are at risk of being eroded as more infections or severe forms of the disease are expected.
Dr Lorraine Mugambi of the Centre for Health Solutions-Kenya which runs TB accelerated programmes noted that the low turnout in clinics is based on fear.
"Patients are scared, so many will not present themselves. They do not want to be labelled as Covid-19 patients," she said.
Statistics from some of the clinics attending to TB patients show not only a reduction in the number of cases being recorded but also less traffic.
For example, at Bahati Multi-Drug Resistant TB Clinic in Nairobi, clinician Alex Wanjohi said that during the pandemic, just about 20 to 25 walk-in patients show up.
The same case was witnessed at Reuben Centre Community Clinic in Mukuru kwa Reuben which handles both drug resistant and drug sensitive TB cases
"It was normal to diagnose 15 patients in a month, but these days we hardly get eight cases," said Milly Kamau.
Mugambi said there has been a reduction of between five to 15 per cent in actual cases being diagnosed.
Kenya is among the 30 countries with high burden of TB according to WHO with about 169,000 cases annually.
TB is one of the underlying conditions accounting for two per cent of Covid-19 related deaths in the country.