Home
/
Health & Science
New treatments bring Kenya closer to goal of eradicating TB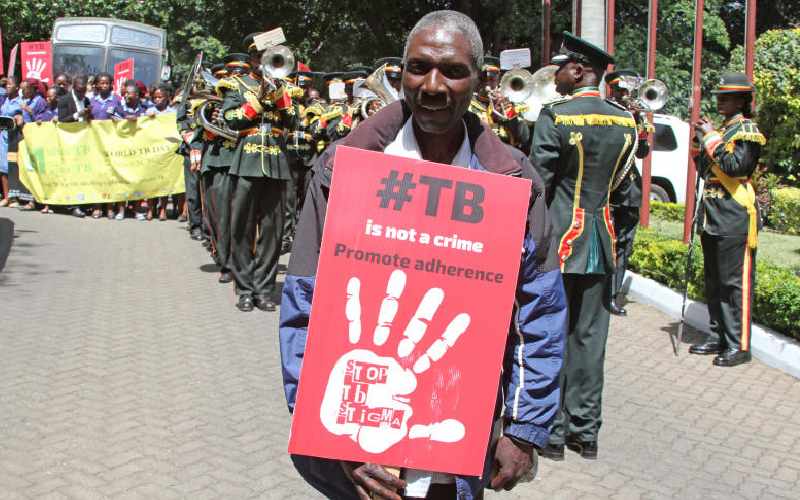 Christine Mbali had high expectations when she started treatment for drug-resistant Tuberculosis in December 2017. For weeks before her diagnosis, a series of alarming symptoms had frightened her.
"A visit to the hospital led to my diagnosis with drug-resistant Tuberculosis." But as she soon discovered, the Injectable Regimen [FM1], the TB treatment she was put on at the time, came with its fair share of challenges. She had to visit the clinic daily for some pills and an injection.
"I began my nine-month treatment with a prescription of one injection and 18 pills daily."
Alex Wanjohi, the clinical officer in charge of the Bahati MDR Clinic where Mbali was receiving treatment, explains that the initial diagnosis was done using a GeneXpert machine. It showed that Mbali was infected with a drug-resistant strain of TB. Further tests showed that it was specifically resistant to Rifampicin, one of the drugs used in TB treatment.
But barely a month into the treatment, Mbali's condition worsened. "My whole body was itchy and I would feel weak after receiving the injection," she says.
After the side effects manifested, Mbali's clinician advised her to pause treatment, as tests showed that she had an adverse reaction to the injectable regimen for drug-resistant TB. She had a [FM2] Multidrug-Resistant form of TB.
Introduced globally in 2010 and in Kenya in 2012, the GeneXpert machine has found popularity in Kenya's healthcare facilities in diagnosing TB cases.
The machine's technology, which has a turnaround time of just two hours, not only produces more accurate TB diagnoses, but also identifies Multidrug-Resistant strains of TB even before patients commence treatment. Testing and treatment is done free of charge at public healthcare facilities.
Lorraine Mugambi-Nyaboga, the Chief of Party of USAid TB Accelerated Response and Care II ( TB ARC II) activity at Centre for Health Solutions-Kenya (CHS), one of the key partners of the National TB programme, says the National TB programme has procured more than 189 GeneXpert machines, with each county having at least one machine.
"We do upwards of 150,000 tests each year and it ensures people get accurately tested for TB and if so, whether they have Multi-Drug Resistant TB. By testing for drug resistance at the point of initiating TB treatment, we are able to capture drug resistant patients earlier and faster," says Lorraine.
Better option
Mbali's treatment was discontinued as she was beginning to suffer from hearing loss, a common side effect of the injectable TB treatment. Further, the blood tests revealed that the treatment was beginning to damage her liver, also another side-effect associated with the injectable regimen, especially among multidrug -resistant TB patients like Mbali.
But in 2018, luck came for Mbali when the World Health Organisation endorsed a newer revolutionary treatment that was touted in the medical field for its reduced side effects, more comfortable experiences for patients and improved efficiency in treating TB, including the stubbornest form of the disease to treat, such as Rifampicin Resistance or Multidrug Resistant TB.
In mid-2018, Mbali became one of the first TB patients in Kenya to receive the new injectable-free regimen.
At the time, the clinic had started offering TB patients treatment under the new injectable-free regimen, following a partnership with MSF France that made the new drugs available at the clinic.
"I did not experience any more side effects after switching to the oral regimen. I felt better until the time I completed treatment in March 2020," she says.
"Injectable-free treatment /regimen (IFR) is a treatment regimen for drug-resistant TB disease using a combination of drugs that are administered orally by mouth," says Elizabeth Onyango, head of National TB Programme. Usually, TB patients remain on the treatment between 18 and 24 months.
Although the regimen went into use in 2018, Kenya officially transitioned to the new treatment on January 1, this year.
Data from the National Tuberculosis, Leprosy and Lung Disease (NTLD) Programme reveals that between January and September 2020, there were 774 patients on the injectable-free regimen across the country.
No cost­­­­
Since the launch of the regimen, patients at both private and public facilities have received the treatment at no cost, despite the extremely high costs incurred by the government in treating patients.
The free treatment has been made possible by government funding and key government partnerships that have made donor funding available, thereby eliminating the economic burden that patients would otherwise have borne.
In recent years, the Ministry of Health and the National TB Programme have worked with partners such as the Centre for Health Solutions-Kenya as well as donors like the United States Agency for International Development to minimise Kenya's TB infections and deaths through activities such as funding treatment and promoting awareness.
Lorraine explains that sub-Saharan Africa and certain Asian countries have a higher incidence of TB due to poverty-related factors such as crowding, poor housing, and malnutrition which increase the risk of transmitting TB. Further, the poor health systems in developing countries make it difficult for healthcare workers in these countries to detect TB.
"Another reason for the high number of cases is the prevalence of immunity-compromising diseases. TB became more common in Kenya in the early 1980s, with the beginning of HIV cases in the country."
However, she notes that while HIV patients are at an increased risk of contracting TB due to their compromised immunity, thanks to improved care in Kenya, fewer HIV patients in the country are contracting TB.
Short-term benefits
Additionally, the new non-injectable regimen offers several short-term benefits for patients.
"The new regimen is fully oral, easier to administer even by non-technical healthcare workers and highly effective. As such, it reduces the risk of relapses, treatment failure, and mortality among patients, leading to a better quality of life for TB patients," says Onyango.
Also, unlike the injectable regimen, the new oral regimen does not produce severe side-effects such as hearing loss among patients.
In the long-term, the National TB Programme and partners such as CHS expect that the injectable-free regimen will significantly help Kenya to achieve its goal of eradicating TB over the next 15 years, in line with the global goal of ending TB by 2035.
"The injectable-free regimen is associated with better treatment outcomes and quality of life for patients because of the safety, efficacy, simplicity and tolerability to all oral medicines," says Onyango.
However, the National TB programme also warns that even with the highly successful outcomes of the non-injectable regimen, there is a chance of the treatment failing if patients do not adhere to treatment, or if there is poor storage and quality of the drugs or irregular supply.
A newer therapy for Latent Infections
Persons with Latent TB infection are those who have the TB bacillus in dormant stage, hence not multiplying. They do not have symptoms of TB and can't transmit the disease as it is inactive.
"If untreated they can progress to active TB disease," says Rhoda Pola, a programme officer in charge of Latent TB infections at the National TB Programme.
It is estimated that a quarter of the world is latently infected and about 10 per cent of them are likely to progress to TB disease. The programme has been offering TB preventative therapy to:
People living with HIV and Aids
Children below five years who are household contacts of TB patients.
But the National TB programme now has plans to scale up its target population to all household contacts of TB patients, healthcare workers, prisoners and those working in prison settings, people preparing for organ transplants and those with other medical conditions that lower their immunity, predisposing them to a higher risk of developing TB.
The drug that has been in use (Isoniazid) would be taken for six months and was associated with some adverse drug reactions like numbness on the fingers and lower feet and in extreme cases can cause injury to the liver. This would make the clients to discontinue treatment. However the newer regimen will be taken for three months.
The new treatment for children is already in effect in healthcare facilities across the country, while the national rollout for the new latent TB treatment is expected by early 2021 to an estimated 190,000 people.
With the new treatment for latent TB, a patient only needs to visit the facility once a month. "All patients have to present themselves to the facility at the time of treatment initiation as we need to screen them for TB to rule out any contraindications and also get to know their weight among other things," says Pola.
To eradicate TB by 2035, the National TB programme and its partners and donors such as CHS and USAid are also undertaking extensive mass awareness.
Related Topics