The burden of caregiving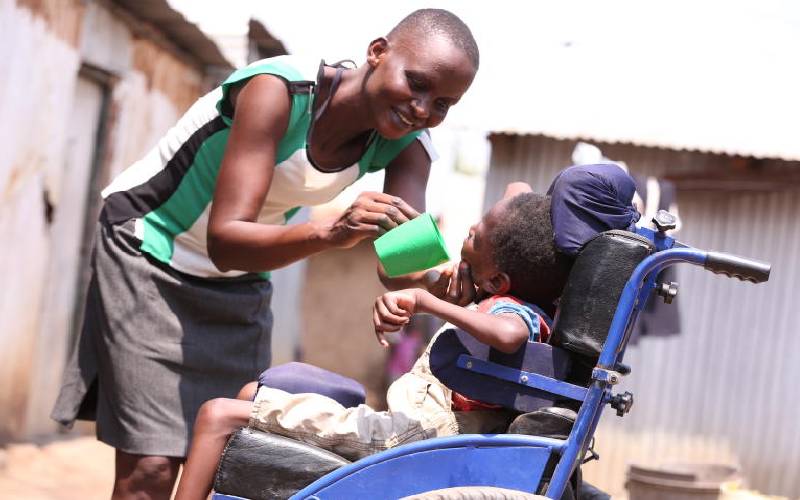 One bright May morning, Lilian Achieng' left her children under the care of their father - her husband - to run an errand. He was gone by the time she returned home.
"He left a note saying that he could not go on living with disabled children. He disowned them as if they were strangers," she recalls.
Achieng' remembers that day like it was yesterday. It is the day life dealt her a fate to be the sole provider and caregiver for her three children - two of them very sickly.
She also remembers how it all started one day in 2015, when a clinician at the Kisumu County Hospital examined her daughter, Gift Atieno, and diagnosed her with cerebral palsy. Atieno, then four, was as active and bubbly as children her age were. Then she started eating less and sleeping more. She became less steady on her feet and seemed uninterested in playing with her friends.
So Achieng' took her to a doctor, and it turned out Atieno had cerebral palsy. Achieng' thought it would be a few weeks of nursing the child back to health. It turned out to be a life-changing moment for Atieno, and a daily struggle for Achieng' to make sure her daughter was well taken care of.
However, the worst was to come, when Naomi Akoth, her last born daughter, was diagnosed with the same condition in 2018. And just like that, Achieng' became a full-time caregiver to two of her children.
Last month, Akoth died after two years of battling the condition, and meningitis. She was only four.
Take a quick survey and help us improve our website!
Take a survey
"I saw her breath her last; I was holding her in my hands. There was nothing I could do to save her," she told My Health at her home deep inside Bandani slums in Kisumu.
Achieng' has spent five years caring for her fragile children. She quit her job as a hotelier to nurse her daughters. Atieno is now 10 and is confined to a wheelchair. "She cannot speak, all she does is cry," the 35-year-old mother says.
Managing cerebral palsy is her biggest burden. Drugs that stop convulsions are expensive, with a dose going for Sh1,000. Atieno also has to undergo occupational therapy as well. Every session costs Sh3,000.
Achieng's life mirrors the tribulations most caregivers go through. Bernard Ndemo, an occupational therapist at the Kisumu County Hospital, says caregiving is a long term commitment full of significant challenges.
Caregivers of children with cerebral palsy are at significantly higher risk of depression and stress, Ndemo says, adding that they need mental help.
They also have to grapple with the high costs of managing the disease. Cerebral palsy is a costly disease. With medication, food and equipment, one can spend up to Sh15,000 a month to manage the condition, money most cannot raise.
"Poverty reduction measures to improve social and economic statuses of caregivers can enhance positive long-term outcomes for them and the patients they give care," he says.
Every month, an average of 250 patients are diagnosed with cerebral palsy at the Kisumu County Hospital.
"Prolonged labour pains for mothers who live far from the hospital has led to many children being born with the lifetime condition," Ndemo says.
This has turned many into full-time caregivers. Some of them are also the sole providers for their families.
Care-giving can be a risky undertaking. The burden is more gruesome when you have to deal with a highly contagious disease, as is the case with John Oketch.
When his wife Angeline Akello contracted a drug-resistant TB, his life was turned upside down. Besides the high costs of treatment, Oketch's biggest fear was that his two children could contract the disease. And they did.
Taking care of three TB patients is an experience he does not wish on anyone.
"I have to ensure they don't miss their doses and still provide for them," he says.
This has taken a toll on his mental health. He now gets counselling and support services available to caregivers for TB patients at the Jaramogi Oginga Odinga Teaching and Referral Hospital.
Here a group of caregivers speaks freely about their individual tribulations, asking for information on how they can serve their patients well while keeping themselves safe.
The facility records an average of 90 to 100 TB patients in a month.
Kephas Onyango, the TB screening officer at the facility, says weekly visits by patients offer a chance for medics to meet caregivers and guide them on how well to care for patients and avoid being infected.
Many caregivers have ended up being infected with TB, as they care for their patients.
Care-giving can take a toll on a patient's family, especially when taking care of terminally ill patients.
Zipporah Ali, the Kenya Hospices and Palliative Care Association executive director, says terminally ill patients feel better when with people they love. But this can take a toll on the family, because of what is involved in taking care of the ailing.
"They undergo various types of stress - mental and psychological. They get burn-outs and that's why they need support to ensure they do not completely get overwhelmed by the responsibilities," says Dr Ali.
A terminally ill patient can only be taken care of at home when they have shown signs that their vitals are stable.
"If these are patients under hospice care, the hospice provides psycho-social support to these people to help them ensure the patient is well taken care of and at the same time the family gets all the support it needs," she says.
"We also do counselling for families, we facilitate meetings and conversations to help them vent so they are able to continue and avoid things like depression, stress associated with taking care of a sick person. We also support them during grieving to help them get through the grief."
Hospices and palliative care
Contrary to misconceptions, hospices and palliative care are not for the dying. Hospices give patients better quality of life after they are diagnosed with terminal medical conditions.
"There are patients who can live for years with debilitating health conditions. The purpose of a hospice is to provide care to improve the quality of life for terminally ill patients, and help them manage their pain," says Nyeri Hospice CEO Steve Musya.
The World Health Organisation (WHO) defines palliative care as a human right to health, a right that should be provided through person-centred and integrated health services that pay special attention to the specific needs and preferences of individuals.
Palliative care is required for a wide range of diseases such as cardiovascular diseases, cancer, chronic respiratory diseases, Aids and diabetes. Other conditions that may require palliative care are kidney failure, chronic liver disease, multiple sclerosis, Parkinson's disease, rheumatoid arthritis, neurological disease, dementia, congenital anomalies and drug-resistant tuberculosis.
Pain and difficulty in breathing are two of the most frequent and serious symptoms experienced by patients in need of palliative care. WHO says 80 per cent of patients with Aids or cancer, and 67 per cent of those with cardiovascular disease or chronic obstructive pulmonary disease will experience moderate to severe pain at the end of their lives.
Such patients will need regular pain management medication.
"Hospice offers comfort for such patients and their families through counselling, pain management, and training on how to offer home-based care. Palliative nurses are able to administer pain medication such as morphine, depending on what the patients are experiencing. There are also ways to address the spiritual, psychological and emotional pain of living with a terminal illness," Musya says.
The Nyeri Hospice also helps families set up home-based care for their relatives through training and constant support from their staff.
"Home-based care is affordable and provides a friendly and relaxed environment for terminally-ill patients. The Covid-19 pandemic has normalised home-based care, which is a good thing for palliative care patients who face stigma when being cared for at home," Musya says.
The most basic needs for home-based care are high levels of hygiene, good nutrition as well as consistent follow-up on the medication needed by the patient.
Palliative care nurse and psychologist Eunice Nderitu says the psychological toll on care givers can be devastating, especially the ones who get attached to their patients, only for the latter to die.
"We often need debriefing and support to continue working in this environment, which is why we live by the slogan 'we cannot add days to a patient, but we can add life to their days'. This is to remind us that our purpose is to improve the quality of life," Nderitu says.
Caregivers experience burnouts caused by anxiety and the emotional burden of caring for a loved one devastated by an incurable disease.
"Caregivers need to undergo therapy and support often to help them cope with the burden. It affects them emotionally and physically," says Nderitu.
[Mactilda Mbenywe, Lydia Nyawira and Yvonne Kawira]