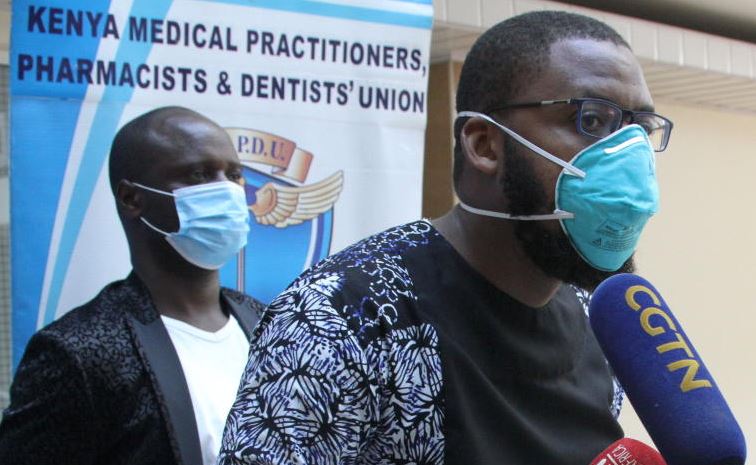 Doctors countrywide will stay away from hospitals beginning December 6 if demands they have addressed to the government would not have been met.
Kenya Medical Practitioners and Dentists Union (KMPDU) yesterday issued a 21-day notice in the wake of the increasing number of medics who have succumbed to Covid-19.
The notice came moments after another healthcare workers' union gave a similar ultimatum.
The Kenya Union of Clinical Officers (Kuco) also issued a seven-day notice to the government to meet their nine-point demand following unsafe working environment and deaths of their members.
Kuco's demands are that the government releases the Sh6.2 billion personal protective equipment (PPE) being held by the Kenya Medical Supplies Authority, equipping of all facilities, comprehensive medical cover, medics who fall in the vulnerable group to work from home, salaries of Universal Health Coverage staff to be paid in seven days, same as health risk allowance.
Retraining and sensitisation
Others are employment of 3,000 clinical officers, a health service commission as a constitutional body, and retraining and sensitisation of health workers on infection prevention and control.
Kuco General Secretary George Gibore said almost all health workers who have succumbed to the virus belong to the vulnerable group of the elderly, pregnant, and those with pre-existing conditions.
"The deaths could have been avoided had the government heeded to our advisories and those of the World Health Organisation to excuse this category from active duty as it is with other countries like Ethiopia, Ghana, Rwanda, Egypt and Australia," he said.
Gibore said because healthcare workers have no medical cover, those who fall ill are forced to depend on their colleagues to fundraise yet the government, through the Health Cabinet Secretary Mutahi Kagwe, had pledged to foot the bills.
"The recent declaration by the Health Cabinet Secretary that the National Hospital Insurance Fund has no money to foot the bills for Covid-19 patients has put healthcare workers in confusion and leaves a lot to be desired in terms of priority of our country," said Gibore.
Among the healthcare workers who have succumbed are four clinical officers, one intern, and three senior clinical officers.
21 days
Similar demands have been issued by KMPDU, who said it will be a waste of time if the government – as it is known to – attempts to stop their impending strike in 21 days.
"This time round it is our lives on the line. If you (the government) issue orders against this strike (as you are used to), that order will be just a piece of paper," said KMPDU Secretary General Chibanzi Mwachonda.
The doctors, who are mourning the deaths of 10 of their colleagues – four of whom died in just a day – pointed fingers to the classic corruption scandals in the health sector, which has led to the holding hostage of Sh6.2 billion worth of PPE, with no money being available to buy the same.
Mwachonda said while a resolution was made earlier that the medics will not engage in industrial action that will involve downing tools owing to their role in the pandemic, the situation has forced them to set aside that resolve.
"Doctors will not engage in a suicide mission in the war against Covid-19," said Mwachonda. "Let Kenyans not be lied to that doctors are the problem."
He termed the decision as painful but necessary, saying doctors have relatives who are as well at risk of the virus.
"In these three weeks we are open for deliberations but if the government starts the usual ways of running to court, that will be the wrong direction because if you take us back to work in the same environment we will die," he said.
Mwachonda, accompanied by KMPDU Chair Oroko Obegi, listed a seven-point demand to the government which involved provision of PPE in all hospitals, both private and public.
Obegi said the political class and leadership has failed the healthcare workers and Kenyans at large, with the relevant reaction to the pandemic being just releasing daily updates.
"Are these numbers making sense or we are just counting the dead," he posed.
"The number of cases have increased with the rise in political activities and in turn hospitals are overwhelmed and doctors are forced to work in difficult environments."
In the daily Covid-19 situation statement, Kagwe noted the grievances by the medics, saying he has convened a National Emergency Response Committee meeting today.
"The meeting is to review, among other issues, the rise in positive cases and the current containment measures," he said as he reported 972 more cases and 20 deaths.
"We shall also deliberate on the issues affecting our healthcare workers countrywide, including the supply of personal protective equipment and other enabling measures as they go about combating the virus among our people."
Kagwe said the death of the doctors was a big blow to the health sector considering their role as front line soldiers in the pandemic.
Mwachonda said apart from the 68 designated Covid-19 facilities, healthcare workers in other facilities cannot access PPE.
Other demands by KMPDU are compensation for all doctors and healthcare workers, enhancement of existing risk allowance, employment of 2,000 doctors, comprehensive medical cover for all doctors, dedicated health facilities for healthcare workers who get infected with the virus and a constitutional health service commission.
Revising terms
The employment of doctors should also involve revising the terms of those employed on contract to permanent and pensionable.
Mwachonda said the dedicated facilities for healthcare workers who test positive for the virus should be in each of the country's 47 counties.
"We are not talking about just having beds, but provision of oxygen and air evacuation, which should be footed by the government," he said, adding that one of the doctors died while waiting for an intensive care unit in Nakuru.
The secretary-general said the union has severally reached out to the government as well as Parliament, yet there has been no change.
"The neglect of doctors has resulted to other deaths of over 30 health workers, 10 of whom are senior medical workers," he said.
The 10 are Adisa Lugaliki (obstetrics and gynaecology), Ndambuki Mboloi (pulmonologist), Daniel Alushula (senior orthopedic surgeon) and Vladimir Schukin (bariatric surgeon).
Others are Hudson Inyangala (public health specialist), Robert Ayisi (pediatrician), Hudson Alumera (periodontology surgeon), Faith Mbuba (pharmacist) and Jackline Njoroge (physician).
Related Topics