Home
/
Health & Science
Surge in Covid-19 cases puts strain on hospitals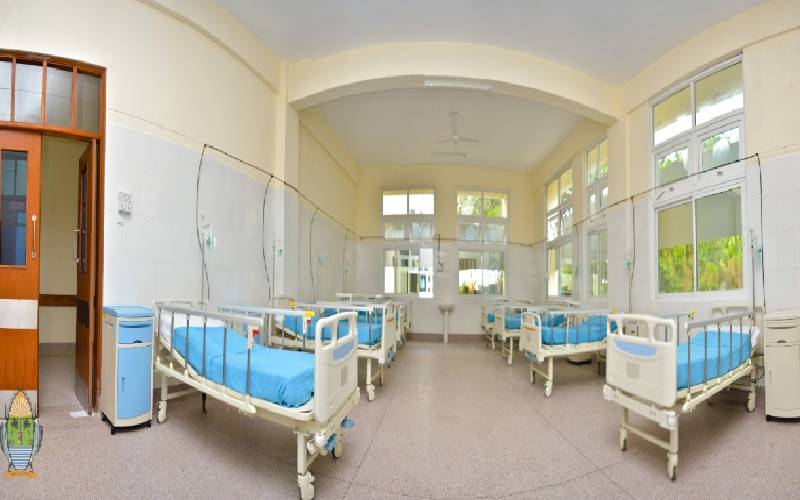 Many counties have had record high coronavirus cases in recent days, leaving hospitals struggling.
Most of the patients are symptomatic and require admission to break the chain of transmission, according to medics.
On Sunday, 1,198 patients were admitted to various hospitals across the country. Eighteen were in Intensive Care Unit (ICU), 49 on supplementary oxygen, while 16 were in the High Dependency Unit (HDU).
The country recorded the highest hospital admissions — 1,167 — on October 24, while 3,464 were on home-based care.
Moi Teaching and Referral Hospital (MTRH) is among the public hospitals that have recorded a high number of admissions.
A source at the hospital said the facility has 48 beds that are fully occupied.
But the hospital's CEO, Dr Wilson Aruasa, said there are 100 isolation beds. Aruasa said there are over 80 Covid-19 patients admitted to the referral facility.
A medic said Jaramogi Oginga Odinga Teaching and Referral Hospital is almost full. There are 130 isolation beds at the facility, with 87 admissions.
Reports by the Health Department said the hospital has 20 ICU beds for managing patients in critical state.
The Covid-19 isolation ward at Kisumu County Hospital is full. The facility has 85 isolation beds that are all occupied, according to a healthcare giver who requested anonymity.
County Director Health and Sanitation Fredrick Oluoch told The Standard that plans are underway to open the 100-bed Lumumba Sub-county Hospital to manage patients.
Dr Oluoch said there is a worrying trend where patients who were asymptomatic are now turning symptomatic.
"In the past two months, we have recorded a surge in symptomatic cases, and those in home-based care have begun being symptomatic. We are linking families and referring them to hospitals for best care," said the official.
A source at a private hospital in Kisumu, who requested anonymity, said the facility had a single Covid-19 bed that has since been occupied.
"We do not have any space for admitting patients because we had a single bed that is already occupied," said the employee.
And the Coast General Teaching and Referral Hospital in Mombasa has a total of 150 isolation beds, with 38 admissions.
Mombasa Communication Health Services Richard Chacha said though there is a surge in the number of cases, there is room for admissions.
"More patients are turning positive, but we still have room for admissions," he said.
On Sunday, the county recorded 95 cases, after Nairobi that was ranked highest with 333 cases.
Last week, Kakamega County opened up Likuyani Sub-county Hospital, following a surge in symptomatic patients.
Initially, patients were being admitted to Mumias Level Four Hospital which has 58 beds.
County Acting Chief Officer of Medical Services John Otieno said the facility has a capacity of 50 isolation beds.
"A number of patients who require admissions are symptomatic, with majority having coughs, fever and chills," said Dr Otieno.
And the Covid-19 isolation wing at the Rift Valley Provincial General Hospital in Nakuru is also full, according to a health employee.
A report by the Kenya Medical Practitioners and Dentists Council (KMPDC) said there are 7,612 isolation beds and 319 ICU beds.
The August 14, 2020 report documented Nairobi County as having the highest number of isolation beds - 1,085 and 66 ICU beds.
KMPDC CEO Daniel Yumbya, said the country has adequate isolation and ICU beds to manage Covid-19 patients.
Yumbya said though 60 ICU beds across the country were occupied, there were more for patients in need of specialised care.
"People should not panic. In case a county does not have isolation and ICU beds, they can look for the services in another," he said.
Director-General of Health Patrick Amoth said hospital admissions have gone up by more than 100 per cent in the past two months.
"Some counties made a mistake by closing isolation facilities prematurely when the caseload went down. They should therefore open them, for admission of symptomatic patients," said Dr Amoth.
Related Topics