Home
/
Health & Science
Partial lock-down likely solution to the second wave of Covid-19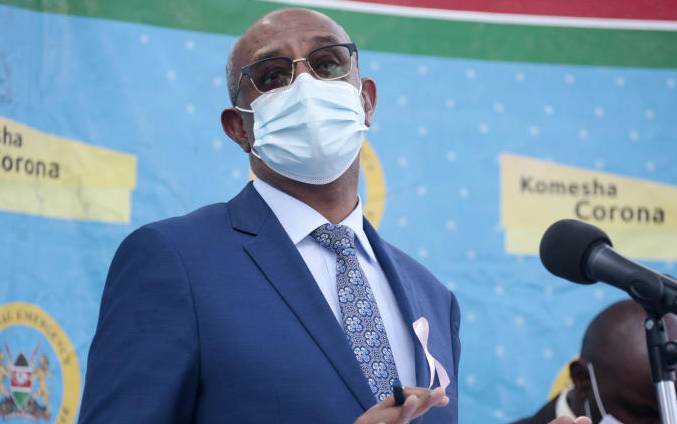 As life across the country slowly regains a semblance of normalcy after months of a stifling curfew and restriction of movement, one would be forgiven for thinking the fight against coronavirus has been won.
The number of people walking the streets without masks is rising by the day while many public service vehicles are once again packed with commuters in disregard for social distancing rules.
But the danger posed by the Covid-19 pandemic is far from over and counties risk throwing away the hard-fought gains achieved through limitations that have since been softened.
Ministry of Health officials have reminded Kenyans every day that if they fail to adhere to the laid-down guidelines to prevent spreading the viral disease such as washing hands and wearing masks, it could sweep through the country with deadly consequences.
On Tuesday, Health Cabinet Cabinet Administrative Secretary Rashid Aman warned of the possibility of reverting to a partial lockdown if the country continues to record high infection numbers.
Dr Aman said if the government finds the numbers unmanageable, action will be taken to restrict movement and possibly close schools. "We hope we do not get to that position, but it is a real likelihood that a second wave can happen."
Positivity rate
He continued: "I think with the data we have seen coming in, we need to watch it carefully over the next few days and weeks. We are beginning to see another steady climb. Like today our positivity rate is above 12 per cent."
Kenya had conducted 584,357 tests as of October 13 against a population of 47.5 million people, a figure startlingly low at little over one per cent.
A health report shows that Nairobi and Mombasa counties have the highest Covid-19 attack rates at 493.9 and 268.2 for every 100,000 people, respectively. The national average is 88.2.
In the last one month, 153 people have died with the highest daily death toll reported on September 25 when 13 people passed away. Of the period between September 15 and October 13, a positivity rate of more than five per cent was recorded on at least 16 days.
The highest positivity rate was on October 13 (12.2 per cent) while the lowest was on September 15 (2.9 per cent).
The World Health Organisation stipulates that a country should sustain a positivity rate of five per cent and below consistently for two weeks before it can declare the virus under control.
A country should also look at fatalities and the percentage of persons who test positive against those tested.
A number higher than 50 per cent shows the testing strategy is not as targeted as it should be.
"The positivity rate can fluctuate anytime but when we look at the past seven days, we are seeing it climb. It is a dangerous sign that we are moving in the wrong direction," said Aman. In response to reports of testing hitches, Aman said, "Testing levels at times go down because we cannot get all the reagents. Everyone is scrambling to get the products."
He, however, noted that the government had received over 150,000 test kits with a further 300,000 yet to be delivered.
The Health Ministry report also revealed that counties such as Turkana, Nakuru, Trans-Nzoia and Kisii that once recorded few cases are becoming the latest hotspots.
Nakuru, in particular, may soon gain the dubious distinction of becoming the epicentre of the pandemic with positive cases rising 6.7 per cent compared to 4.6 nationally.
Public Health Chief Officer Samuel King'ori said residents have become complacent and feel that they can return to their regular lives.
"They do not wear facemasks in public or observe social distancing, among other measures aimed at averting infections," Dr King'ori said.
He added: "We are witnessing a worrying trend of people flocking to social places like bars where they become reckless after drinking alcohol."
On October 11, out of 4,287 tests, Nakuru led with 86 positive cases followed by Nairobi with 84 and Mombasa with 51.
Related Topics