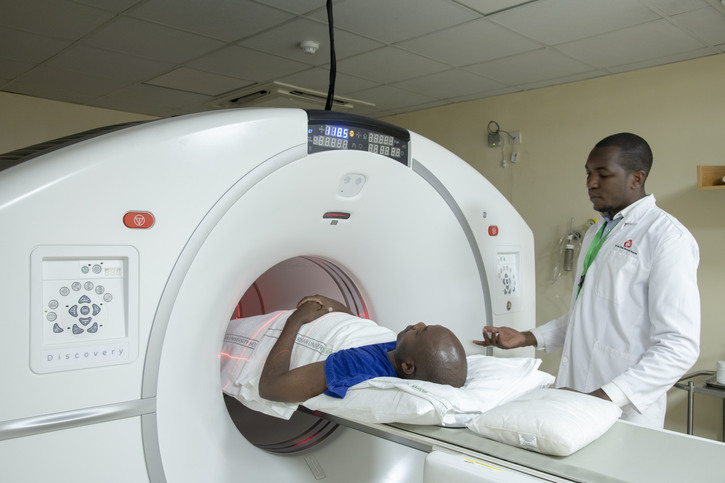 Prostate cancer is the fourth deadly cancerous disease in Kenya that causes at least 1,663 deaths every year out of 2,864 cases recorded.
According to a report that was tabled in Parliament by National Cancer Institute of Kenya (NCI-K), Globocan 2018 estimates show that there are 47,887 new cases in Kenya daily and 32,987 deaths due to cancer annually.
The study of prostate cancer in the country has been done through MRI and CT scans for quiet sometime by providing anatomical information.
With advancement in technology, the Prostate Specific Membrane Antigen (PSMA) PET-CT scan is now available in the country.
The PET-CT scan is able to provide vital additional functional or molecular information, which significantly increases the ability or sensitivity of the scan to detect the spread of prostate cancer.
It is achieved by injecting a small amount of a radioactive substance which binds to prostate cancerous cells in the body.
The PET CT scanner detects the radioactivity emitted from the radioactive substance using the PET scan and correlates it with the exact anatomical location provided by the CT scan of the cancerous cells.
PSMA PET CT scan takes approximately 2 hours. Usually it involves the injection of a small amount of the radioactive substance (radiotracer) through a vein.
The radiotracer is then allowed around one hour to distribute within the body after which the patient is placed in a PET CT scanner and the scan.
It is the most sensitive scan to look for spread of prostate cancer within the body, which happens mainly in the bones and lymph nodes. The scan takes approximately 20-30 minutes and no particular patient preparation is required for this examination.
In comparison to the presently established methods of imaging prostate cancer such as MRI and bone scan, PSMA PET CT scan has higher sensitivity for identification of sites of prostate cancer spread be it in the bones or in any other organ such as lymph nodes, liver and lungs.
It can be used for this purpose at the initial diagnosis of the disease, during follow-up and when disease recurrence is suspected.
In view of its higher sensitivity, PSMA PET CT scan can identify sites of early prostate cancer spread before they are picked up by conventional imaging modalities.
This allows for better treatment options of the disease at a very early stage which was not possible till now. This is bound to have a major impact on the successful outcome of the treatment for those with prostate cancer.
The technology being the latest in the medical field will now be in service at Agakhan University Hospital.
Related Topics