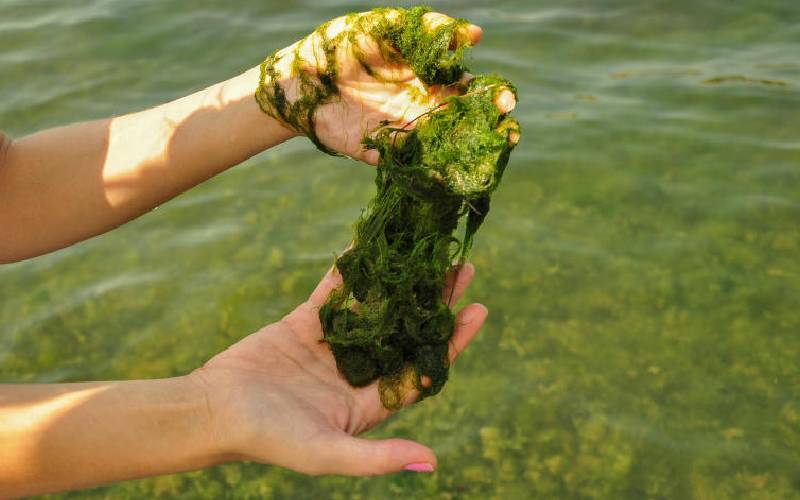 It is 6am on the Winam Gulf of Lake Victoria. Fishermen who had spent all night sailing and casting nets in the night, are returning to the shores... but with only a handful of fish.
"Times are bad," laments John Ouma. He is talking about unpredictable waves carrying blue-green algae in the waters. According to him, the algae has been "blooming in quantities never witnessed before."
Another fisherman, James Okoth, observes that there is hardly any fish in areas covered by the algae bloom and "no other living animal in the waters can be spotted at those points."
The algae are aquatic, plant-like organisms encompassing a variety of simple structures floating in the water.
Algae bloom, on the other hand, refers to a rapid increase or accumulation in the population of algae in fresh or marine water systems.
Dr Chrisphine Nyamweya, the assistant director at Kenya Marine and Fisheries Research Institute (KEMFRI), warned of an increase in algae bloom, which make water unsafe for both human and aquatic life in areas like Winam Gulf.
Fueled by hot, sunny weather, the blooms are thriving and may further spread given the conducive conditions in the lake.
Currently, KEMFRI estimates algae bloom covers 7, 825 hectares of Lake Victoria and "such huge algae blooms are considered signs of declining water quality and a stage leading to the biological death of a lake," says Dr Nyamweya.
When there is enough sunlight, the temperatures are right, nutrients are available with calm waters, the algae blooms are bound to occur.
Some algae blooms cover about 8,000 hectares or 80 square kilometres of the lake within the Winam Gulf.
"Such places become unconducive for fish survival since fish depend on oxygen, just like algae, hence competition for oxygen in water," he explains.
According to KEMFRI surveillance in December the coverage of algae bloom was becoming frequent and widespread as a result of warm and calm weather.
Scientists attribute the current state to climate change and high levels of pollution of the lake as factors. Sientists say the bloom is thriving and producing toxic substances in the waters.
Back in July, when it was windy and cold, the coverage was lower; meaning there have been cycles of high and low blooms.
In early January, the region experienced light rainfall, which affected water temperature and algae blooms were less frequent. However, with sudden inceases in temperatures, high blooms are likely to occur.
Dr Nyamweya says that when it rains, the algae bloom do not disappear but move below the water surface and can kill fish.
Algae blooms have biotoxins that have an impact on all animals that live in the lake.
"This can be assimilated up to the food chain and when we eat these toxins from algae they can affect our health," says Dr Nyamweya.
Even having physical contact interacting with the algae is hazardous as it can cause skin diseases and, in some cases, cancer.
An increase in algae bloom has contributed to the death of the lake's prolific stock of fresh-water fish, especially the speckled perch, Tilapia and catfish.
KEMFRI data shows that species like Tilapia have shrunk by more than 50 per cent in the last decade but the resilient Nile perch shrunk by 23 per cent.
In the last 50 years, Lake Victoria produced about 60,000 metric tonnes of Tilapia annually. Currently, however, it can barely produce 20,000 tonnes.
The bigger Nile Perch has been resilient because one Nile Perch can produce 17 million eggs compared to Tilapia's 300 eggs.
But still, Nile Perch was about 340,000 metric tonnes a decade ago, but htis number has steadily dropped to about 200,000 metric tonnes.
KEMFRI scientists have cited climate change, pollution evident with the presence of algae blooms and water hyacinth and wrong fishing practices as reasons for dwindling stocks.
''We are absolutely up against the biological limits of the lake," said Dr Nyamweya. ''The lake is screaming that it can no longer be all things to all people."
However, he said the lake could still serve important functions as a source of drinking water and as a water storage area for flood control and irrigation.
Runoffs from the lake, which replenish wells and underground aquifers for household water, could continue to be used, but the water would have to have additional chemical treatment.
The wider environmental impact is harder to measure, according to experts, but some predict dire consequences for the region if the algae bloom continues to thrive.
Evans Gachana, the Kisumu County Director of Climate Change, shared concerns over the lake's condition, but does not envision a rapid collapse of its vitality despite the algae blooms having appeared for several years, but the situation has never been this bad.
Related Topics