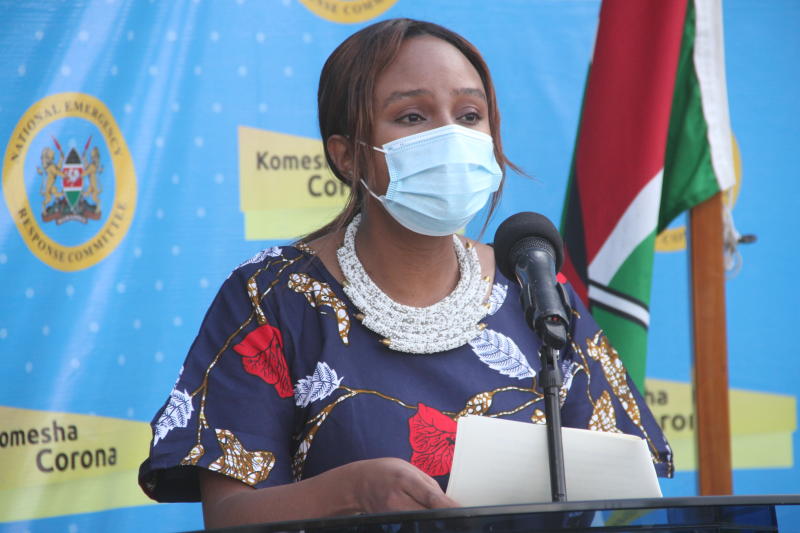 The government seeks to employ technology in managing the spread of Covid-19 at home as the numbers surge.
An additional 134 persons tested positive for the virus yesterday, as announced by Health Chief Administrative Secretary Mercy Mwangangi (pictured), raising the total tally to 2,474.
This is while the number of recoveries has gone up to 643 after 51 patients tested negative for the virus. Fatality now stands at 79.
President Uhuru Kenyatta is today expected to give an update on the measures in place as the Ministry of Health seeks to implement home-based care to manage the disease.
Dr Mwangangi said one of the ways the government will manage the home-based care is through an application.
"We have an application, Jitenge App. That is one approach we will use to monitor the patients," she said.
The app, she said, will be used to monitor those who will be asked to quarantine or isolate themselves at home.
The home-based care protocol will also contain ways in which persons who cannot quarantine themselves at home, and fit the criteria for the programme as they are asymptomatic, will be housed at community level.
She said these patients will be accommodated in designated community centres. Some of the areas that will fall in this batch are slums due to the challenge of home based self-isolation and lack of means to self-isolate at home.
Mwangangi said with this programme, the government is seeking a hybrid approach where the protocols will be customised to fit the Kenyan situation.
"Looking at the anticipated case load, it becomes important to review our approach and come up with a hybrid approach that will ensure rational deployment of resources and that those who can be isolated at home do so to help manage resources," she said.
Director Nursing Services at the Ministry of Health Mary Nandili said there are over 874 Covid-19 patients across 50 hospitals in the country, a figure she said is challenging to healthcare workers.
"That is why we are introducing home-based care so that we balance the care of patients both at home and in health care facilities," said Dr Nandili.
A model by the Ministry of Health places Kenya's peak of the virus to be around August and September when the daily tally of confirmed cases is projected to be 200.
By then, the total number of confirmed cases will be around 5,000, with about 160 to 180 deaths.
However, the advantage Kenya has is that up to 80 per cent of the confirmed cases are asymptomatic, which means while these individuals are super spreaders of the disease, they do not need hospitalisation as the virus will clear itself from their system, without even them noticing.
It is on this premise that the government seeks to have a home-based care to relieve hospitals of the burden of patients who are not sickly.
Mwangangi said the adaptability of this programme, which has been applied in other countries, will take into account the slums.
"What you will see from now henceforth is the move from isolation facilities towards a hybrid model where we are assessing, can you be managed at home? If yes, then how can we ensure you adhere to the measures in terms of home based quarantine," she said.
Related Topics