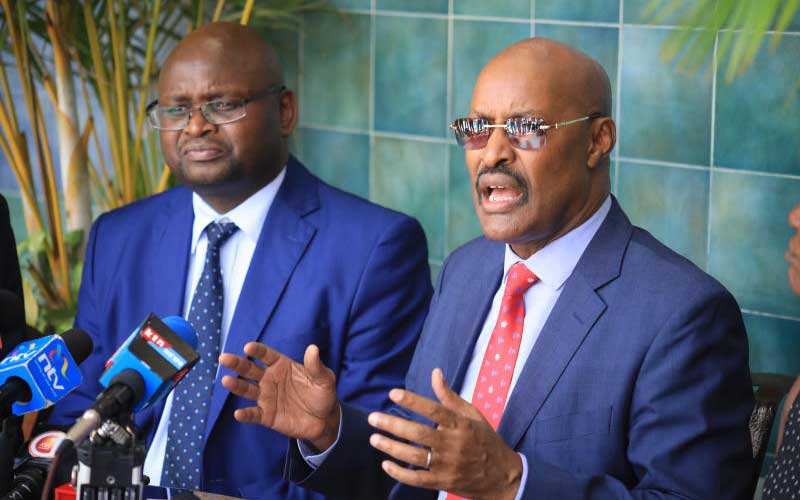 Health workers have protested exclusion from promotions that only benefited doctors.
Representatives of five associations demanded that government addresses the "unlawful" promotion of a single cadre of health workers while sidelining 17.
Leaders of National Nurses Association of Kenya, Kenya National Union of Nurses (KNUN), Kenya Union of Clinical Officers (KUCO), Kenya National Union of Medical Laboratory Officers and the Kenya National Union of Pharmaceutical Technologists yesterday demanded a fair appraisal and promotion system applicable to all health workers.
Under the umbrella body of Kenya Health Professionals Society (KHPS) that is chaired by Mohammed Duba, the practitioners, for the second time in less than a week, sought dialogue with the government, failure to which they would announce a nationwide strike.
In a letter dated April 8, the Public Service Commission (PSC) approved the promotion of 200 medical personnel under different respective cadres. The list for promotions was forwarded to PSC by Ministry of Health last September 24.
However, according to KHPS, the promotions discriminated against other cadres of healthcare workers, who are more at the front line in the fight against Covid-19.
In the letter, PSC advises that names of more medical personnel who had stagnated in their positions be forwarded by Ministry of Health to be considered for promotion. The ministry has, reportedly, not done so.
"We have said for a long time that the Ministry of Health is not taking all like people who are contributing to the healthcare services... Yesterday we got information that Ministry of Health, which is run by doctors 99 per cent, had promoted 200 doctors," KNUN Secretary General Seth Panyako said at the joint Press conference at Railways Club, Nairobi.
"Even in the response, the PSC recommended that other health workers be included in the promotions list. The question we are asking PSC is, was it so hard to reject the list and direct the person responsible to produce a comprehensive and inclusive one?" Mr Panyako posed.
"The ones constantly with patients on the ground are the ones earning the least and never being promoted. Those up there keep getting hefty appraisal packages. The President gave a health package for health workers. Why haven't we seen its benefits?" he added. "We are more than ready to dialogue, and we can do teleconferencing. But we are sounding a warning to CS Mutahi Kagwe, the good work you are doing may go down the drain if we leave the doctors alone in the hospitals."
George Gibore, who is KUCO secretary-general, said: "We have two types of promotion in public service guided by Human Resources manual by PSC; the common cadre (applicable on between the first two job groups after the entry point), and competitive promotion depending on the performance of an officer, and higher professional achievement. This means the post must be existing and advertised for any promotion to be fair formally".
Mr Duba termed the promotions unconstitutional and expressed fear of exclusion from the President's welfare package for health workers. "We're not second-rated medics. Doctors make up a very small number of health workers in the country, whereas we are 95 per cent. It is okay if doctors want to work alone," he said.
The representatives vowed to call a nationwide strike on Wednesday if their concerns are not addressed.
Related Topics