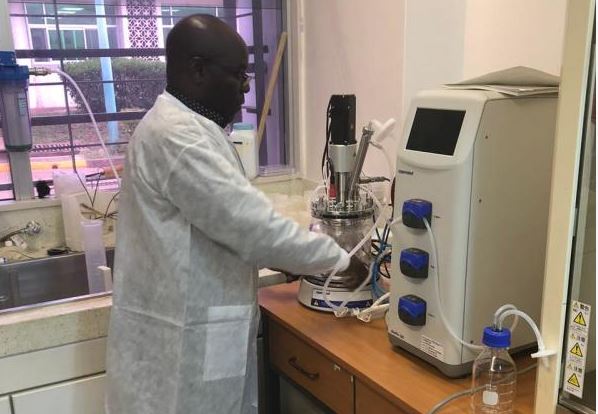 A national agency responsible for carrying out health research has unveiled plans to start producing cheaper cancer drugs.
The initiative by the Kenya Medical Research Institute (Kemri), if successful, could dramatically reduce the cost of some crucial cancer medicines by up to 70 per cent.
"We have already procured a Sh100 million fermenter, the main technology for making biosimilars, and we could have a product in the market within five years," said Kemri head of production James Kimotho.
Many cancer and chronic disease medicines are made from living organisms hence are called biologicals. Their generic equivalents are known as biosimilars.
Last year, the World Health Organisation (WHO) approved the first biosimilar medicine, trastuzumab, for use in the treatment of breast cancer. It is sold under the brand name Herceptin.
On average, WHO indicates the original trastuzumab to cost about Sh2 million ($20,000) per treatment, while the biosimilar version costs about Sh65,000.
To put this into perspective, the availability of generic anti-retroviral HIV drugs from Asia two decades ago saw the cost of treating HIV drop from about Sh1 million per patient annually to around Sh5,000.
This, while helping put more than one million Kenyans on ARVs, has made Asia home to some of the richest pharmaceutical manufacturers in the world. For example, India's Sun Pharmaceutical Industries has 32,000 employees and records about Sh500 billion in sales annually.
Underutilised medicines
The move by Kemri comes at a time dozens of locally developed but underutilised medicines find it impossible to move from the labs into the market. If the new venture is successful, it would end up making money for the research agency while creating more jobs.
"Biosimilars are the next big thing after generics and we want to be right at the head of the queue," Dr Kimotho told The Standard in an interview.
This will be the second time that Kemri is taking a stab at the multi-billion shilling global pharmaceuticals production and supply market.
Around 2007, with technical assistance and a Sh760 million grant from Japan, Kemri opened a fully equipped manufacturing unit and quickly started producing HIV and hepatitis diagnostic kits.
But in less than a year, Kemri had been outmaneuvered from the lucrative HIV commodities market that is controlled by large donors and transnational pharmaceutical companies.
Kemri Commercial Manager Cecilia Wanjala said they had not given up on plans to commercialise their research.
The institute's strategic plan for 2018-2030 shows earnings of a paltry Sh25 million annually mainly from the sale of a hand sanitiser, Kem-Rub, and an anti-tuberculosis disinfectant, TB-Cide.
"We sell these mainly to the Kenya Medical Supplies Authority and the Mission for Essential Drugs and Supplies for use in hospitals. But since the advent of Covid-19 we have seen a spike in sales to the private sector," said Dr Wanjala.
Michael Odotte, who in 2004 developed a herbal drug for managing HIV, said innovating may easier compared to turning the product into money.
Sixteen years later, even after the drug, Sunguprot, had been registered with the Pharmacy and Poisons Board, patented, gone through clinical validation and incubated at the Kenya Industrial Research Development Institute, Dr Odotte has yet to take the product to market.
"We still need about Sh10 million to commercialise the product and a supportive policy, otherwise many brilliant local innovations remain white elephants," said Odotte.
Our investigations revealed many local high-potential biomedical innovations that are underutilised, abandoned or stagnant. This is mainly due to lack of finances, commercialisation skills, or supporting policies.
Alternative medicine
For example, although the Health Act 2017 directed for the formation of a body to regulate the practice of alternative medicine in Kenya, this is yet to happen.
The products, the Act says, will only be required to meet 'minimum standards' like happens with the Chinese traditional medicines now becoming popular in the country.
But Kemri, working on a directive from the Ministry of Health, says it has just completed a draft policy on traditional medicine and medicinal plants that it will soon present to the government.
Last year, the government put Sh8.2 billion in health research against a requirement of Sh13.6 billion, but the Treasury says it is not getting value for the investment.
Supported by the African Academy of Sciences. Journalist from Africa can pitch to the academy for a grant to do a science story but it has no influence on choice or handling of the story. https://www.aasciences.africa/calls/africa-science-desk-call-pitches
Related Topics