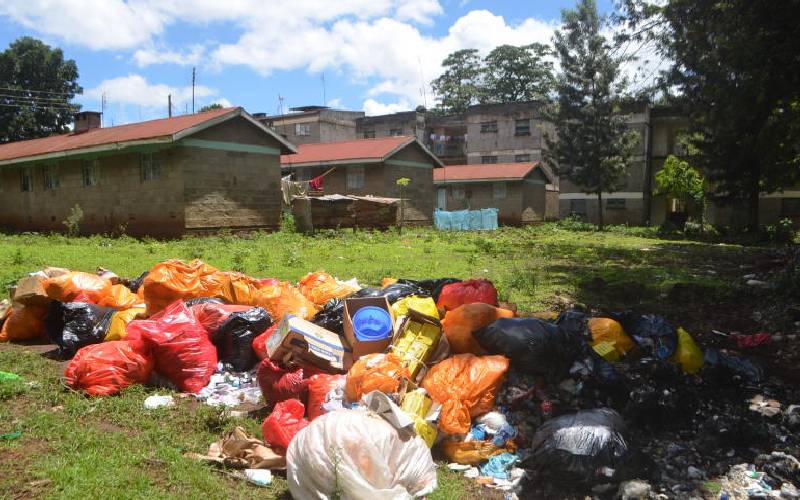 Healthcare providers in Kirinyaga have issued a 72-hour ultimatum to the county government to address the filthy situation in its hospitals or down their tools after two nurses got infected with Hepatitis B virus.
The professionals said two other nurses have been hit by diarrhea due to the pathetic conditions the health facilities are in.
They also fear the 100 newly-born babies at Kerugoya Referral Hospital maternity ward could have been infected with tuberculosis following the admission of a woman suffering from the drug-resistant disease.
The woman, according to the professionals, was brought to the facility to deliver while her infant and the rest in the ward might have been infected by the contagious disease since she was not kept in an isolation section as required.
Professionals included the Kenya National Union of Medical Laboratory Officers (KNUMLO), Kenya Medical Practitioners and Dentists Union (KMPDU), the Kenya National Union of Nurses (Knun) and the Kenya Union of Clinical Officers (KUCO).
After a tour of the facility on Saturday, the professionals who also double as trade unionists of their respective areas, said unless the hospital was cleaned, they will resort to industrial action.
"If nothing will have been done to restore the situation at the expiry of the 72 hours ultimatum, all our membership will withdraw their services to avoid further infection caused by the filthy situation they are operating in," said Paul Mwangi, KUCO branch chairman.
Some patients have already started requesting their relatives to transfer them from the facility.
"I was admitted to this hospital suffering from a leg fracture but I am afraid I might contract other communicable diseases due to the poor state of health prevailing in this hospital. I want my people to transfer me urgently," said Ruth Maina.
Yesterday, the county government deployed its employees from the Environment department who embarked on an early morning cleaning of the hospital.
Senior county officials led by the County Secretary Joe Muriuki and the Chief of Staff Sellah Bogonko said the casuals thoroughly cleaned the facility.
While admitting all was not well, Mr Bogonko said the referral hospital has a bed capacity of 200 against 346 casuals whose monthly pay stood at Sh4 million.
"We are here this morning (yesterday), to assure our people that never again shall we allow our health facilities get to this messy situation," she said.
Related Topics