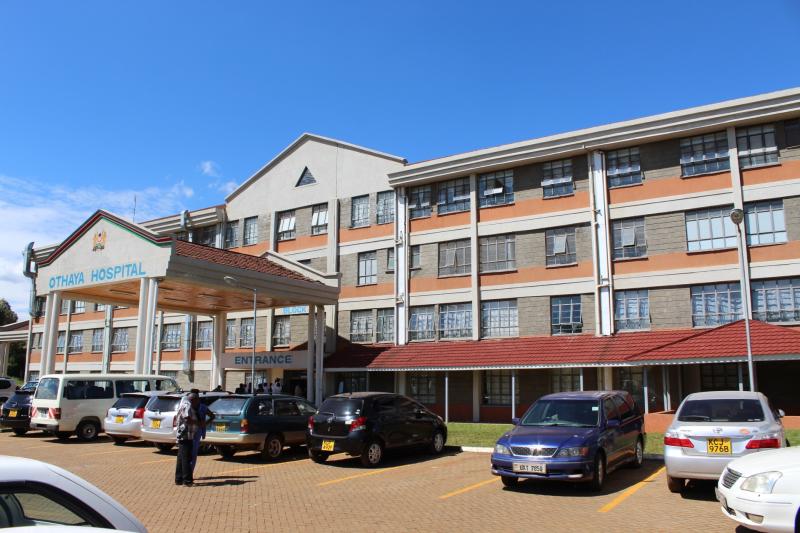 Othaya Level Six Hospital, constructed at the cost of Sh1 billion, would have been the first teaching a referral facility in Mt Kenya region.
However, after nine years of construction works, countless test runs and empty promises from the national government, the hospital is yet to open its doors to patients.
The facility remains deserted after the 20 medics and casual labourers hired in December 2018 left.
In November last year, then Health PS Peter Tum, while on a tour of the facility, announced it would start operations within two weeks.
However, five months later, this promise has not been fulfilled. The only people that can be seen around are guards. Two brand new ambulances also remain parked at the entrance, wasting away.
Failure to open the facility has put pressure on Othaya Level IV Hospital which is now handling most patients in the region.
Mr Ryan Nderitu, from Othaya Town, lamented that the Government wasted public resources constructing a hospital that has not been of use to residents.
"We were hoping the hospital would help handle some of the conditions referred to Kenyatta National Hospital and save residents the costs of having to travel to Nairobi or even India," said Nderitu.
Lawrence Wachira, a boda boda operator at Karima village, said the hospital would have eased the burden on shoulders of residents.
"We have so many people suffering from conditions that need specialists, including cancer, not just in Othaya but across the region. This hospital would have played a key role in their treatment but as we speak, it has remained a mirage," said Wachira.
He said despite promises by local MPs and national government officials since 2011 that the hospital would be opened, nothing has happened to the disappointment of residents.
"So many families are forced to hold fundraisers to take their loved ones to Nairobi or India for treatment. It would be easy for them if this hospital is opened and specialists posted here," said Wachira.
Mahiga MCA James Kanyugo said expectations of residents have been dashed by government's failure to open the facility.
"The county is currently piloting the Universal Health Coverage Programme, which has put a major strain on existing facilities and human resources in the health sector," said Kanyugo.
He added: "Othaya Level Six would have eased the congestion at Nyeri County referral hospital and served residents from neighbouring counties who end up in Nairobi."
"This hospital has taken too long to start operations. We are asking the national government to fastrack it to ease the burden on the county."
Local leaders have been pushing to have the facility opened and even proposed that it should be named after retired President Mwai Kibaki who had launched its construction in 2011.
Related Topics