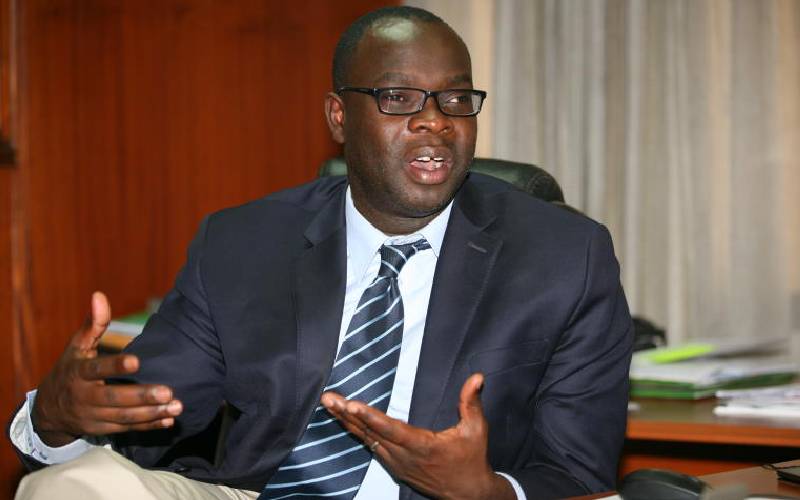 At the age of 41, Kibra MP is one of the youngest Members of Parliament and a visionary who describes himself as an educator and humanist.
But in the recent years, at the turn of 40, when life literally begins, the inimitable politician has added another title to his checkered public life - a cancer warrior!
Away from the glare of the fast-paced public life, Ken Okoth has been battling colerectal cancer but still putting on a brave face to work for his people.
And he admits the diagnosis came a little too late but he will pull through.
"I was diagnosed with stage four colorectal cancer with metastases to the liver," he told the Sunday Standard.
Symptoms of ulcers
Colorectal cancer, as defined by Mayoclinic.com, is when cancer develops from both the colon and rectum.
A 2017 study published by National Centre for Biotechnology Information (NCBI) found that 50 per cent of colorectal cancer patients develop metastasis disease of the liver, which are tumour growths in the liver, spread from cancer causing cells in some part of the body.
This diagnosis, however, was not easy to come by. For over a year, he presented symptoms of ulcers, at times bacterial infections and that is what he was being treated for.
He was even put on drugs to manage stress. Okoth says that all that time, he was battling abdominal pain and weight loss.
By the time his doctor ordered some advanced scans, the cancer was found at stage four. It was shocking news to his family.
"The fear of the unknown that accompanies a cancer diagnosis is immense. Cancer changes your life completely," he says.
The only support system became his family, friends and the medical team.
Last year, Okoth was put through vigorous treatment that involved combined radio- and chemotherapy to avert the impending risk of organ failure.
He responded well, he says, but that was just the beginning of his long-term treatment. Considering his cancer was discovered at stage four, he will have to take medication for life - a tablet each day.
"I will be using chemotherapy tablets that I can take every morning. Because my disease was discovered at a very advanced stage; it cannot be cured. It can only be managed," he says.
Okoth admits that getting treatment for advanced cancer is not easy in the country, a challenge he has had to deal with himself upon recommendation by his doctors in Nairobi.
He was given two options where he could seek advanced care for his liver: the US or Europe. He settled for Europe.
"I could not afford the US because it was too expensive. My wife is from Europe, where the cost is more affordable and I could get a residence permit quickly for the duration of the treatment. Sadly, not everyone is as lucky; we need to make cancer care in Kenya a national priority," he says.
Statistics by the Kenya Network of Cancer Organisations, show that at least 40,000 people are diagnosed with cancer every year. At the same time, there are 27,000 deaths.
Of the types, oesophageal cancer is the leading killer as revealed by National Cancer Institute (NCI) boss Alfred Karagu. He explains that the major reason is because many of the patients present themselves in hospital too late - at stage four - leaving little to be done to save their lives.
Also, the only way to treat oesophageal cancer, is by operation, which involves removing the affected part of the food pipe and replacing it with an artificial one, which leaves one with a poor quality life due to numerous diet restrictions.
Kenya will join other countries tomorrow (February 4) to commemorate World Cancer Day.
Okoth said Kenya has very good healthcare policies, at least on paper, which include a national cancer strategy that later begot the NCI.
"In terms of implementation we are far behind; so many patients cannot get care in country. Patients seeking treatment abroad are not guaranteed protection from exploitation," he says.
Okoth says the country must endeavour to invest in human resource, equipment and medicine to enable access of cancer treatment.
This could be the reason the MP decided to draft a Bill to have marijuana - a controlled substance - legalised. It has been documented by the American Cancer Society that smoking marijuana can help relieve the nausea experienced after chemotherapy. The herb can also relieve pain.
"Medical cannabis and cannabis oils are documented for being effective in pain relief and non-addictive treatment of certain symptoms and side effects. We need to empower doctors to safely prescribe medical cannabis in Kenya," says Okoth.
Very expensive
Okoth says imported cancer drugs should be zero rated and value added tax on equipment like computerised tomography (CT) scans removed.
"The cost of cancer treatment is very expensive. Many families go into bankruptcy and sell all their investments to have it," he says.
"One of the major expenses is the cost of moving away from home closer to your place of treatment and the lost income of a family member who becomes the primary caregiver."
Above all, a national campaign on preventive lifestyle choices like smoking, alcohol, diets and exercise will go a long way. These, the MP says, should be accompanied with regular check-ups to enable early diagnosis.
Related Topics