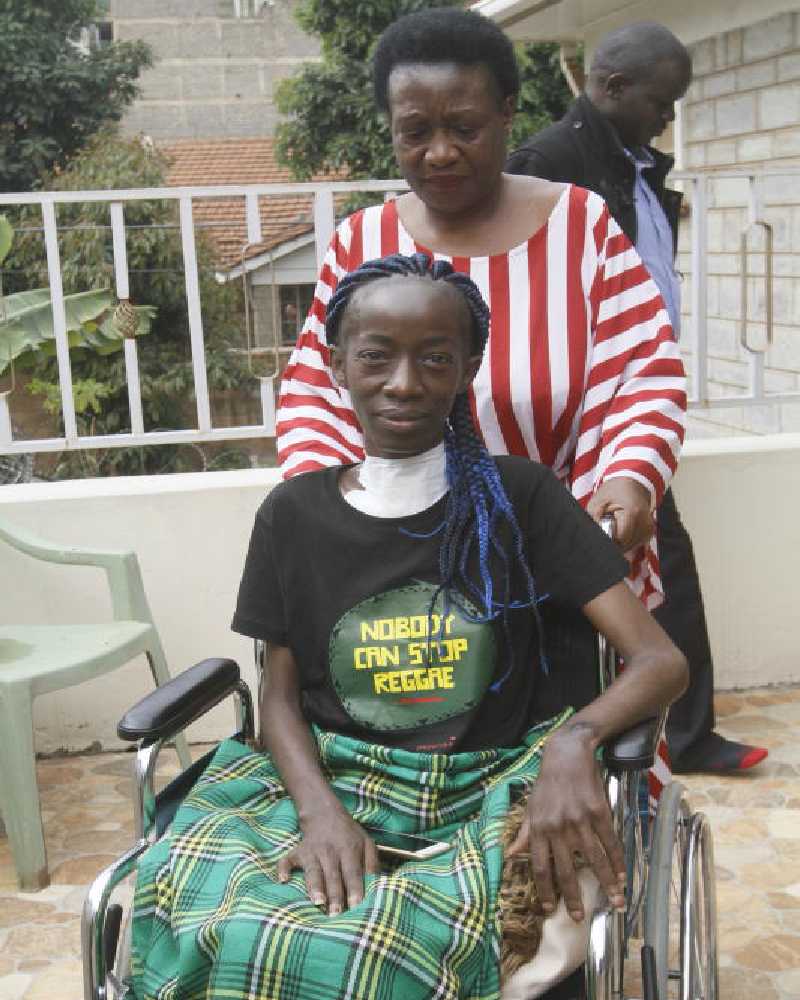 Four years ago Jeremiah Musumba retired from the Kenya Army after 30 years of service.
"It was a happy retirement; I had served my country and the time had come," he said without a hint of regret.
Mr Musumba had done his best to ensure his children got an education and provide for his family. He purchased a piece of land in Kasarani, Nairobi, and built his retirement home – a one-storey house – where he resides with his wife, four children and a grandchild.
All was well until April this year when Musumba's oldest daughter, Irene Musumba, was admitted to Nairobi Hospital.
"We were called and told that our daughter had been admitted to hospital," Christine, Irene's mother, said.
Irene, 38, started feeling sickly in November last year. She had pain in her joints and struggled to walk. She had shortness of breath and was not holding down food. She was losing weight drastically.
"She would go to hospital, be given painkillers and antibiotics, go back home, and head back to hospital barely a week in," Christine says.
On April 8, the day Irene was admitted, she suffered cardiac arrest and lost consciousness. She was admitted to the ICU in the evening.
"I don't remember much," Irene says. "I just remember waking up and not knowing where I was, what I was doing there and the duration."
The Musumbas later learned that Irene's major organs – kidneys, lungs and liver – had failed, hence her admission to the ICU.
Doctors struggled to diagnose her condition, sending samples abroad for tests that could not be done in Kenya.
It was not until June that the family was told what Irene was ailing from.
The doctors said Irene had APS (antiphospholipid antibody syndrome), a condition that was affecting her because of lupus. Irene said she was not aware she had lupus.
In lupus, body's immune system attacks tissues and organs, explains Dr Philip Simani, a rheumatologist with a private practice at the Prof Nelson Awori centre in Nairobi.
Irene was in the ICU from April to September. The bill was Sh23,009,488.
"Sh23 million is a number I was not expecting. We have never had that amount of money," Musumba said. So far, fundraising and family contributions have yielded about Sh7 million. The family still owes the hospital Sh15,428,214.
The hospital discharged Irene after her parents agreed to an arrangement that allowed the family to pay up within a year. In addition, Musumba surrendered five title deeds of the family upcountry.
"I have been promptly informed that if I fail to adhere to the agreement all these properties will be auctioned," Musumba said. "I believe even this house will be sold off. I will lose everything."
A few years ago many would have regarded his family rich and well-resourced. But now, aged 63, Musumba is staring at the possibility of losing everything he has worked hard to acquire over the years.
"When I retired and built this house my wife and I were looking forward to blissful years of retirement. But now I know that you are only well off until a family member suffers from such a debilitating disease," he says.
Lupus, says Dr Simani, is a lifelong autoimmune illness.
"This is a disease you live with. There are medications that one has to take throughout their life," he says.
Irene, a graduate of computer technology, was self-employed and did not have private medical insurance. She was, however, a paid-up member of the National hospital Insurance Fund (NHIF).
Musumba says the family has not received any help from the national insurer.
"We have written to NHIF asking for assistance. I have asked for their help before but I got a call from one of their officers who told me they only cater for Sh600,000," he said.
He added that the family had exhausted every possible avenue to raise money and was now out of options.
"We need help. This house is the family home," he said.
Irene is now at home in Kasarani, where she is recuperating and taking medication. A homecare nurse visits daily to dress her wounds and check her progress. She is paid Sh700 for every visit.
Related Topics