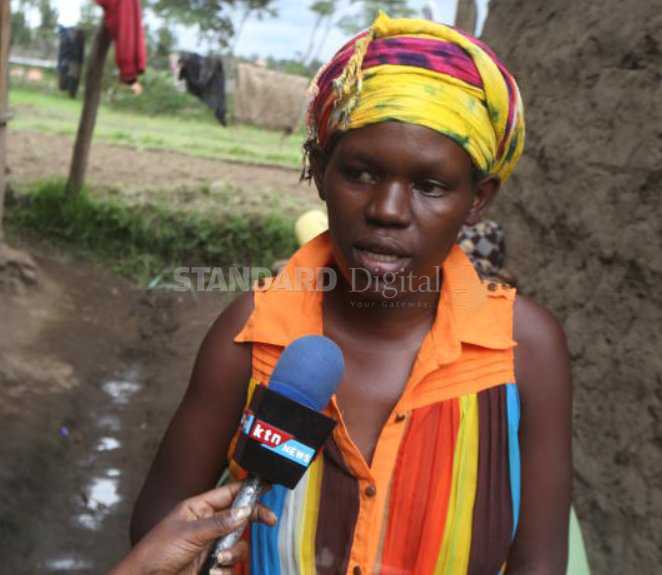 When she first learnt she was pregnant, Sharon Khayeri, 21, was excited. For nine months, she religiously attended ante-natal clinics. When the time to give birth came, she was taken to the Rift Valley Provincial General Hospital, where she successfully delivered on March 6, 2018 through Caesarean Section (C-section).
That was the beginning of her woes, as doctors who operated on her allegedly left cotton wool in her womb, causing an infection in the uterus. "I had a smooth pregnancy and was happy after giving birth to my first-born daughter. But the joy faded away because of the infection in my uterus," says Ms Khayeri.
Khayeri is weak, has a fresh open wound on her lower abdomen covered with a piece of cotton wool. The wound sometimes oozes pus. She has difficulty breastfeeding her baby, Gloria. She is forced to lie on her side and slowly move the little one with her feeble hands to feed her.
She recalls how she began to feel labour pains on March 4, before she was rushed to Bondeni Maternity Hospital, where she had been attending antenatal clinics. She was then referred to the Rift Valley Provincial General Hospital for the surgery.
Khayeri spent a night at the provincial hospital and was discharged on March 5 on grounds that she was not ready to give birth.
She returned home, but her mother Caroline Losuli took her back to the hospital after she developed acute labour pains and became unconscious.
Booked for theatre
Khayeri was immediately booked for theatre, and successfully gave birth through C-section. She was discharged on March 9, in a stable condition.
Two days later she developed pain in her lower abdomen and the newly stitched area oozed pus. Her mother took her back to the hospital, again.
Medics took her for an X-ray that revealed she had infection in the uterus, caused by pieces of cotton wool allegedly left inside after the operation. She was re-admitted and operated on, leaving her with an open wound, which doctors said would be managed.
Ms Losuli says that during the first week of admission, her daughter was well taken care of. But that changed to neglect a few days later. She says she had to tell a lie to have Khayeri discharged, as there lacked proper care at the health facility.
Put on antibiotics
Khayeri was discharged on March 23 and taken to a private health facility in Langalanga, Nakuru, where she was admitted for two weeks. She was put on antibiotics and the wound dressed.
Losuli says her daughter's condition is improving. She goes for check-ups at a private facility twice every week to have the wound cleaned and dressed. She is on pain killers.
Rift Valley Provincial General Hospital medical superintendent Joseph Mburu said the patient was admitted on March 6, observed and underwent an emergency C-section following a prolonged labour.
Mr Mburu was, however, reluctant to comment on the "bungled" operation. "It is difficult to confirm or dismiss the allegations. The lead surgeon who operated on her said there was a gap in the uterus and that there was infection. There was no evidence of a foreign body in the uterus," said Dr Mburu.