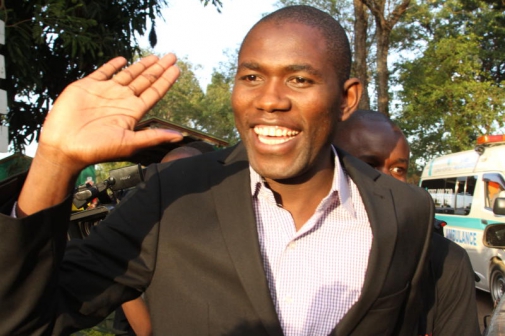 Doctors' union officials who were jailed for contempt of court spent their time in prison offering inmates free medical treatment.
The seven officials of the Kenya Medical Practitioners, Pharmacists and Dentists Union (KMPDU) said for the 26 hours they were guests of the State, they attended to the needy cases they came across.
After 26 days of evading the one-month jail sentence issued on January 12, and which was suspended three times, the officials were finally put behind bars on the eve of Valentine's Day by Industrial Court judge Hellen Wasilwa.
The reality dawned on them when their spotless white lab coats were exchanged for faded, blue-and-white striped prison uniforms.
The doctors were forced to mingle with those considered socials misfits because of their criminal activities.
Some of the officials said they were not on strike as they attended to inmates who needed their services.
"It was as if I was on night shift when I was taken to prison. Actually, I overworked but it was just fine," said KMPDU Secretary General Ouma Oluga.
"I spent the night in the hospital at Kamiti Prison. I came face to face with people who really needed me," said Dr Oluga.
He said he did ward rounds when he woke up on Tuesday morning.
"These people have no doctors. If I were to stay longer I know they would have been happy."
Oluga sought to dismiss claims that prison is a bad place, saying he actually enjoyed his stay there.
"I also enjoyed the dreaded 'sukuma wiki' and 'ugali'," he added.
"I have been poor and my life then was no different from prison life. This is the life many Kenyans live or have lived and so there is nothing strange about it as far as I am concerned," Oluga said. "In fact, I was treated well by other inmates, better than the way the Government treated us."
At Langata Women's Prison, KMPDU Treasurer Daisy Korir also attended to prisoners who were ill.
And she still has a card showing her designation as a doctor at the prison's clinic.
"Senior officers allocated me duties at the dispensary. Our plan was that if we were sent to jail, we would extend our services to the needy people there," said Dr Korir.
She said other prisoners as well as prison officials treated her kindly.
"I gathered a lot of experience that I will never forget."
Korir admitted to getting sick and needing treatment in prison after she ate 'githeri', 'sukuma wiki' and 'ugali' that triggered her ulcers. Her condition worsened the next morning, when she started vomiting.
Both Korir and her deputy, Evelyn Chege, were locked up at the Langata prison. They are said to have been given a room with a double-decker bed. The room is said to have had water and a bathroom.
Titus Ondoro, KMPDU's first vice chairman, said he attended to inmates at Industrial Area Prison.
"I will not say if I was harassed or not. All I will say is life behind bars is neither good nor bad. We ate the same food the prisoners ate and mingled with them. I actually treated them in the dispensary," said Dr Ondoro.
Other union officials jailed were chairman Samuel Oroko, who spent the night in a prison in Athi River, deputy secretary general Mwachonda Chibanzi who was sent to Shimo la Tewa Prison and second vice chairman Allan Ochanji who was at the Kiambu GK Prison.
Dr Chibanzi works at the Coast General Hospital.
Dr Ochanji said his lowest moment was when they were separated and sent to different prisons.
"We thought the men would go to one prison like the women but special orders were given and I found myself in Kiambu," he said.
"To tell the truth, we were not willing to go to prison. However, the sentence was a price we had to pay for what we believe in."
He said he was not harassed in prison.
"We were put in a common hall that had a 'chief' and 'wazee wa nyumba'. They were very friendly. I actually made friends like Chege, Kimani and Mike. I am not afraid of going back."
Related Topics