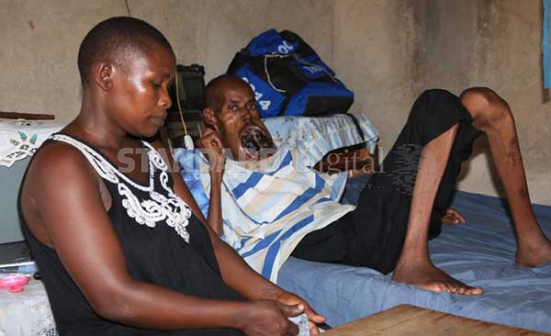 As one approaches Charles Odhiambo's house in Nyalenda, Kisumu, a strong stench hits you as you open the door.
His wife, Monica Akinyi, can be seen flapping him with a hand kerchief to keep off flies from a wound that has eaten up Odhiambo's entire jaw.
Akinyi's friend takes over the flapping as she turns to narrate her husband's story.
Two years ago, Odhiambo, 48, was a strong man going about his work as a mechanic in Kamas. That was until February last year, when his tooth started aching.
Odhiambo decided to seek medical attention and to his shock, doctors told him he was suffering from cancer. "It is unfortunate that what started as a tooth ache is now a cancer that is beyond treatment," said Akinyi.
Odhiambo went to Jaramogi Oginga Odinga Teaching and Referral Hospital to see a dentist and later to Yala in Siaya, where two incisors were removed.
"He came back to Kisumu and was just fine but later started to feel pain again and his jaw started swelling," said Akinyi. Doctors referred Odhiambo to Moi Teaching and Referral Hospital, where he underwent a lower jaw operation on July 2, last year. It cost the family Sh80,000. It is here that a pathology lab report revealed high-grade osteosarcoma, which is a cancerous tumour in a bone.
When he went back home, it did not take long before another wound developed just below the jaw that had already started dropping.
But the lower jaw would break again after two months and he was rushed back to the hospital, where he was operated on.
After a few days, doctors at the hospital gave Akinyi a message that has continued to haunt her to date.
"They told us it was cancer and there was nothing more they could do to help him, advising me to discharge him," she said.
She later brought her husband back home. She said they have now lost hope and are only "waiting for the angel of death" to take Odhiambo away, since they have not found any doctor who can tell them otherwise.
Odhiambo's body is dehydrated and his bones can barely hold together his frail brown skin. He is weak and cannot walk to the door without being supported. His dehydration is as a result of saliva that drips from his mouth uncontrollably from the jaw that has dropped.
His body is frail since he can only drink milk using a straw and has not tasted any solid food for six months.
Related Topics