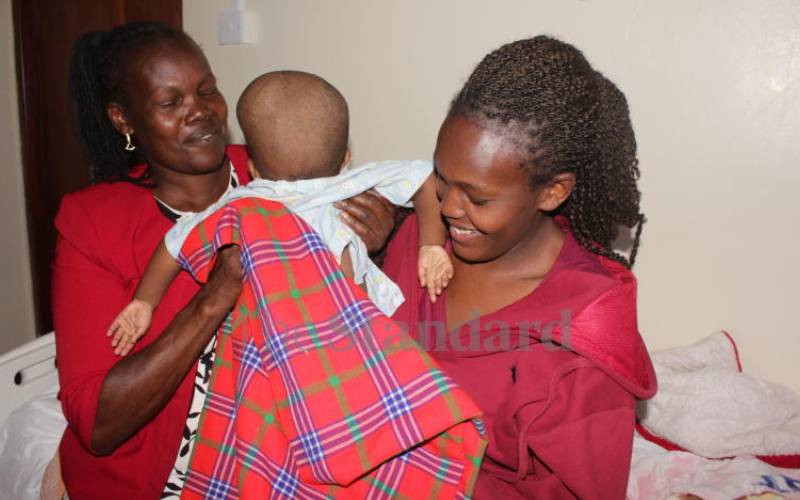 Ladasha Njoki was only 14 months old when she started having seizures. She was irritable, distanced herself from fellow children and walked while supporting herself as she couldn't move on her own.
Medics told her mother, Sheila Cheruto, that her head was bigger than expected for a child her age and "I thought she had delayed growth milestones, but the seizures which came almost thrice a day worried me," she recalls.
Ladasha's grandmother, Jennifer Kimeli, sought medication from a herbalist, but after using herbal medicine for three weeks little changed.
"Actually, the condition worsened, and we were forced to seek medication in a hospital," says Jennifer.
Ladasha underwent a test to measure her brain activity, at the Moi Teaching and Referral Hospital, Eldoret where a Focal Onset Seizure was detected.
She also underwent a CT scan on the head that revealed a mass and Ladasha was "referred to a neurosurgeon, but we decided to seek further medication in other cancer institutions, thinking it was something related to cancer. But we were referred back to a neurosurgeon."
Dr Florentious Koech, a neurosurgeon at Tophill Hospital examined Ladasha and advised an MRI scan which gave a clearer picture of the growth in her brain.
"The doctor advised an open head surgery," recalls the mother. "I was devastated. In fact, I refused and we decided to go home and discuss it first," says Cheruto who was also informed that the growth was very big and in a delicate part of the brain.
After consultation, the family allowed the surgery but still, "I was scared that my child would not make it as she was still a small baby and then I had heard stories how people who undergo head surgeries don't make it," says Cheruto.
According to Dr Koech, the tumour had grown big, contributing to the abnormal size of the child's head.
"The MRI confirmed that she had a Primitive Neuro-Ectodermal Tumour, a type of tumour that grows over time. Some children are born with it while in some cases it grows during the early childhood stages and continues growing slowly occupying a lot of space," explains Dr Koech adding that the tumour was situated on the eloquent side of the brain that controls movement, speech and other important body functions, making the surgery complicated.
Ladasha underwent surgery and the tumour was successfully removed after three hours. "I thought it was a miracle. I was told to wait for an hour before I could breastfeed her. Thirty minutes later, I was able to breastfeed her. The next day, around midday, Ladasha responded well and was moved from the ICU to the ward."
The surgery cost Sh470, 000. National Hospital Insurance Fund (NHIF) paid Sh450,000 while family members raised the remaining Sh20, 000.
Dr Koech explains that Primitive Neuro-Ectodermal Tumour is one of the rarest tumours, contributing to 0.5-1 per cent of all brain tumours in childhood cases.
Its common symptoms are irritability and abnormal head size at an early stage. If not diagnosed early the condition is life-threatening.
Related Topics